Video: Alds. James Cappleman, Jeanette Taylor, Andre Vasquez and Michele Smith discuss Chicago gun violence on "Chicago Tonight." Watch part two of our discussion here. (Produced by Blair Paddock)
---
Hours after Mayor Lori Lightfoot blamed the shutdown of the Cook County court system by the COVID-19 pandemic for escalating violence across Chicago's South and West sides, several aldermen told "Chicago Tonight" that rising inequality and distrust of the police is to blame. 
Police are still investigating two mass shootings Sunday night, one in South Shore that left one dead and five injured, and another in Marquette Park that left one dead and 10 injured. 
Lightfoot said Monday morning at an unrelated news conference that the two mass shootings were caused by "gang conflicts" and were retaliation for previous shootings.
After calling the violence "heartbreaking and frustrating," Lighfoot called on Cook County court officials to restart regular criminal trials, which have been suspended since March 2020 because of the COVID-19 pandemic. 
"Open up the courts," Lightfoot said. "People need to get their day in court. Justice delayed is justice denied. And you're hurting not only those who are charged, but also those in the community. The victims, the survivors and the witnesses who need to have a measure of justice." 
Since March, Cook County judges have presided over 25 criminal jury trials and seven civil jury trials, said Mary Wisniewski, a spokesperson for Chief Judge Tim Evans. Evidentiary hearings, bench trials, guilty pleas and other proceedings in the criminal courts have all continued throughout the pandemic, in person or through Zoom, Wisniewski said.
"The courts are not closed and haven't been closed," Wisniewski said.
Ald. Jeanette Taylor (20th Ward) said crime is driven by the income inequality that divides Chicago, not the closure of the courts, saying that Chicago is a city of extreme wealth and grinding poverty.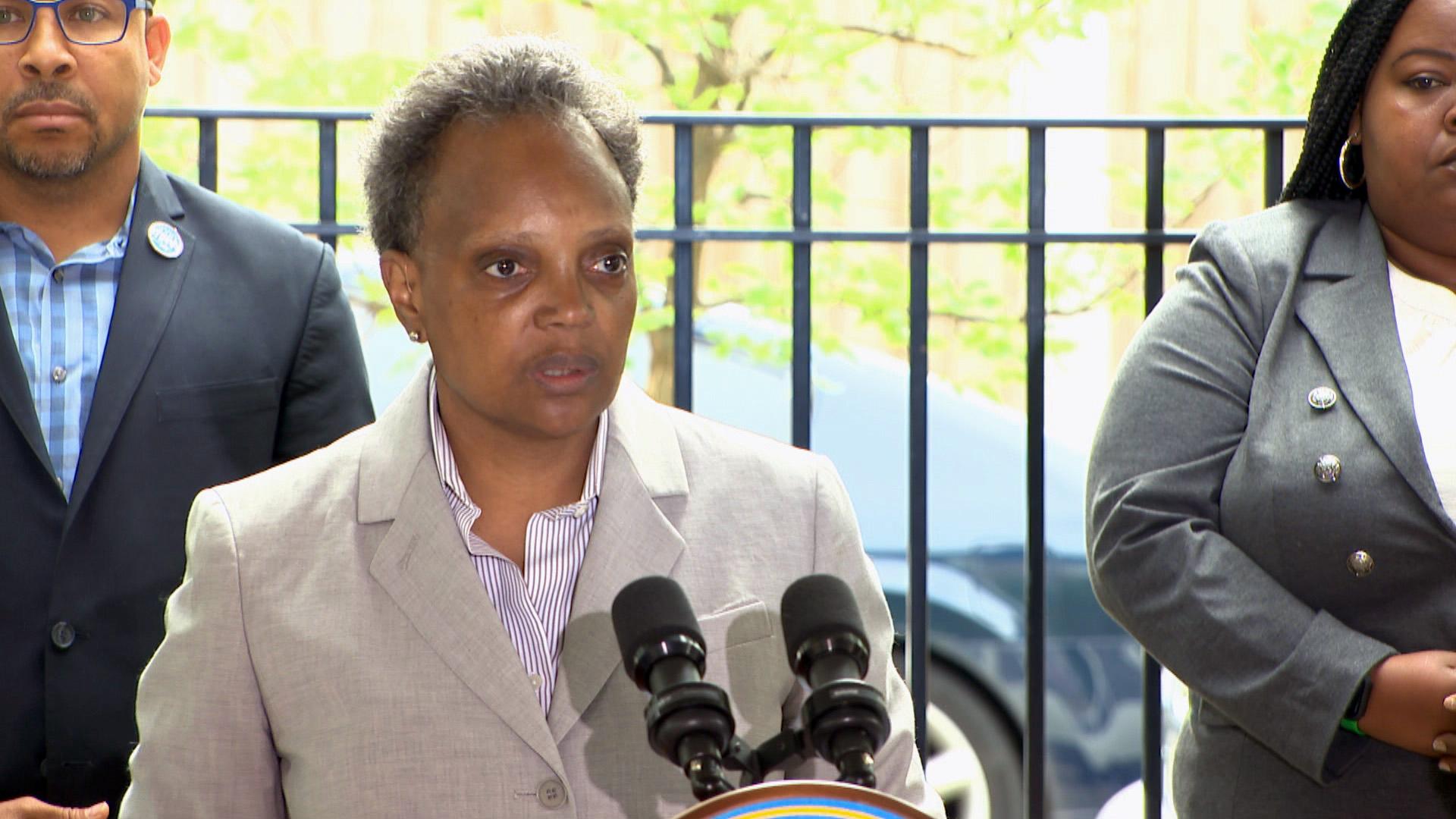 Mayor Lori Lightfoot addresses weekend violence in Chicago at an unrelated news conference Monday, June 28, 2021. (WTTW News)
Ald. Andre Vasquez (40th Ward) said crime is rising because the Chicago Police Department does not have the trust of Black and Latino Chicagoans and cannot solve crimes.
"Without that, everything else is window dressing," Vasquez said, like putting "Band-Aids over bullet wounds." 
But Ald. Michele Smith (43rd Ward) said the huge number of victims is due to the high-capacity weapons used by the offenders in many of these cases. Those who use those weapons should be held accountable, and the city should welcome the help of the federal government, she said. 
Efforts to increase trust in the Chicago Police Department by putting an elected board in charge of the department stalled June 18, after Public Safety Committee Chair Ald. Chris Taliaferro (29th Ward) blocked a vote on a measure supported by the three biggest City Council caucuses and a host of community groups. 
Lightfoot opposes that proposal, and on Friday called the plan a "backdoor attempt to defund the police department by taking control of the policy making authority." 
The fact that Taliaferro, an ally of Lightfoot, is blocking the City Council from having a debate on the proposal is highly problematic, Taylor said. 
"We can't even have a conversation," Taylor said. "What we've done with the police hasn't worked." 
The proposal should be brought directly to the floor of the City Council since the Public Safety Committee has refused to act, Vasquez said.
Video: Alds. James Cappleman, Jeanette Taylor, Andre Vasquez and Michele Smith talk about last week's raucous City Council meetings and the name change for Lake Shore Drive. Watch part one of our discussion. (Produced by Blair Paddock)
---
Contact Heather Cherone: @HeatherCherone | (773) 569-1863 | [email protected]