Video: A contentious proposal to rename Lake Shore Drive heads to City Council again. We talk with Alds. Scott Waguespack, Jason Ervin, Sophia King and Carlos Ramirez-Rosa about that and other city business. Watch part two of our discussion here. (Produced by Marissa Nelson)
---
There are at least 26 votes on the Chicago City Council to rename 17 miles of Lake Shore Drive for Jean Baptiste Point DuSable, Chicago's first permanent non-Indigenous settler, four alderpeople said Tuesday during a panel discussion on "Chicago Tonight." 
With less than 24 hours before a key vote, the City Council appears poised to buck Mayor Lori Lightfoot, who opposes what would be the largest street renaming in the city's history, even as potential compromises ricocheted around City Hall. 
"We have enough votes to go through," said Ald. Sophia King (4th Ward). "We plan on moving forward." 
A proposal to rename outer Lake Shore Drive "DuSable Lake Shore Drive" emerged Tuesday, as well as a proposal to rename Millennium Park. It is not clear whether either proposal could win a majority of votes on the City Council. 
The proposal from King and Ald. David Moore (18th Ward) would rename outer Lake Shore Drive from Hollywood Avenue in Edgewater to 67th Street in Woodlawn.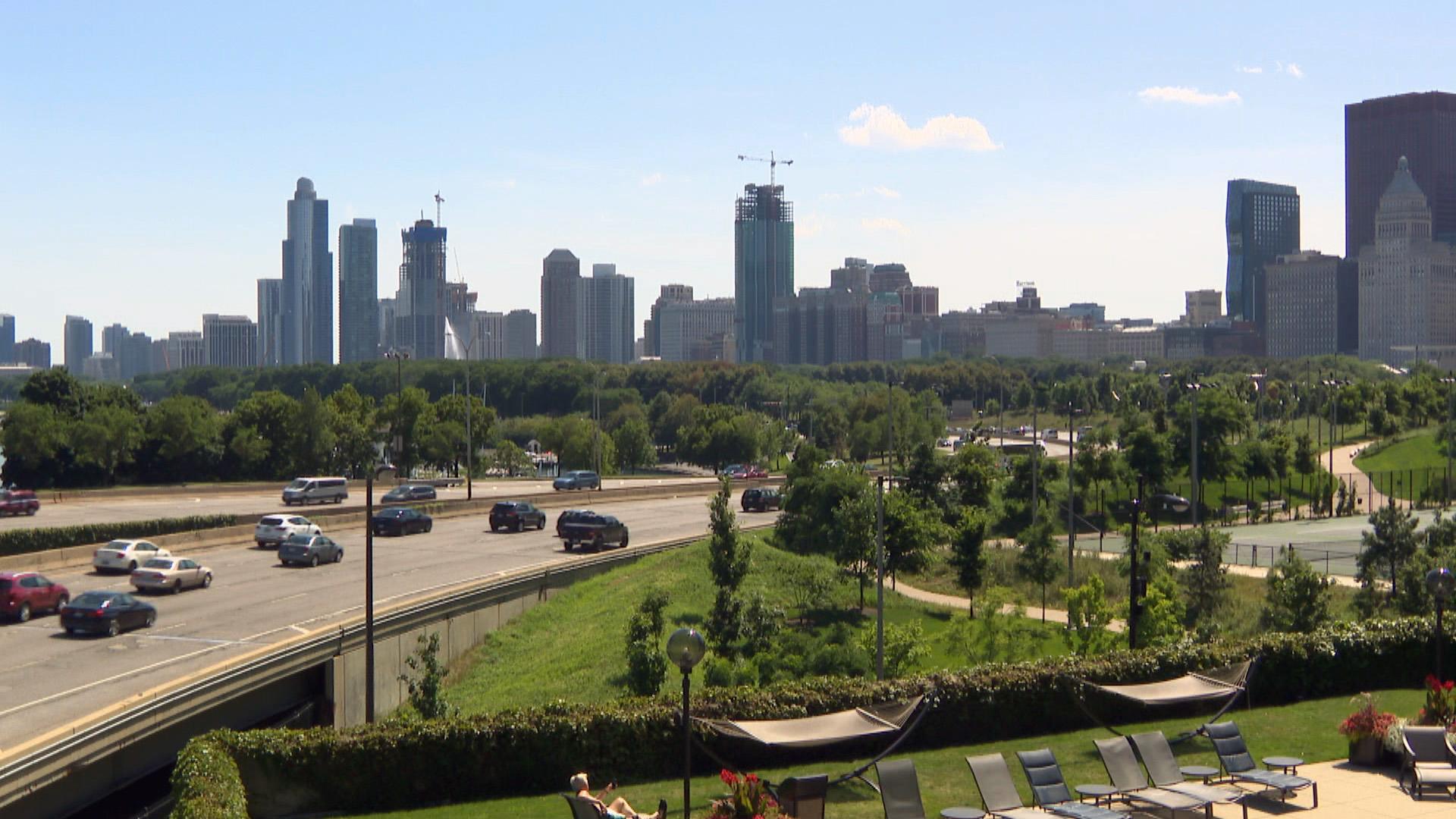 City Council members are expected to vote on a proposal to rename Lake Shore Drive after Chicago's first non-Indigenous settler, Jean Baptiste Point DuSable (WTTW News)
Lightfoot has said a better way to honor DuSable and his wife, Kitihawa, a member of the Potawatomi tribe, would be to complete the long-delayed DuSable Park along the lakefront and connect it to a Riverwalk renamed in DuSable's honor. Three statues would mark the way, Lightfoot said.
Lightfoot said that would cost $40 million, with $10 million coming from Related Midwest for the long-delayed completion of DuSable Park on a 3.3-acre peninsula adjacent to two planned towers. Former Mayor Harold Washington proposed creating the park to honor DuSable. 
Lightfoot has not committed to allowing an up-or-down vote on the measure Wednesday, setting the stage for parliamentary shenanigans in an attempt to avoid forcing Lightfoot to veto the measure. 
It would take 34 votes of the City Council to override that action. The last veto came in 2006 when former Mayor Richard M. Daley vetoed a measure that would have required big-box stores like Walmart to pay employees at least $10 an hour by 2010. The city's minimum wage will rise to $15 an hour July 1. 
Aldermen are also set to consider a measure that would ban the sale of alcohol at stores after midnight as part of a massive package of initiatives Lightfoot said was designed to help Chicago businesses recover from the COVID-19 pandemic.
Video: Watch part two of our panel discussion with alderpeople.
Originally, Lightfoot proposed a liquor sales curfew at 10 p.m., a proposal that "drew a cry from the community," prompting some revisions, Ald. Jason Ervin (28th Ward) said. 
"I think that the compromise that was reached was a good compromise," Ervin said. 
The measure would also give the commissioner of the Department of Business Affairs and Consumer Protection the final say on sign permits. Several aldermen oppose that provision, saying it would leave them wearing the jacket for signs that anger the community. 
However, Ald. Scott Waguespack (32nd Ward) said that would speed up the process, and help businesses draw more customers. 
"There are a lot of great things in this package," Waguespack said. "Overall, it is really going to be helpful to businesses." 
The proposal would also reimpose a 15% cap on fees charged by delivery services such as Postmates, Grubhub, DoorDash and Uber Eats until Dec. 8 or 180 days after the last of the city's COVID-19 restrictions were imposed. 
The measure also calls for the city to use $10 million in federal relief funds to offer targeted grants to businesses "that have been particularly impacted by the pandemic." 
Also included was a proposal to create payment plans for businesses in debt to the city in order to allow them to renew their licenses and keep operating, according to the mayor's office. 
Other proposals include a mechanism to expedite permits for restaurants opening in once-vacant spaces as well as a provision legalizing A-frame sandwich signs for businesses, which can now trigger a fine of $100. 
The package is also designed to "streamline regulations" on taxis, which have been battered by the ride-share industry, and allow them to stay on Chicago's roads longer.
The measure also smooths the path for those with criminal records for cannabis offenses to get jobs driving public vehicles and to work in the hospitality industry.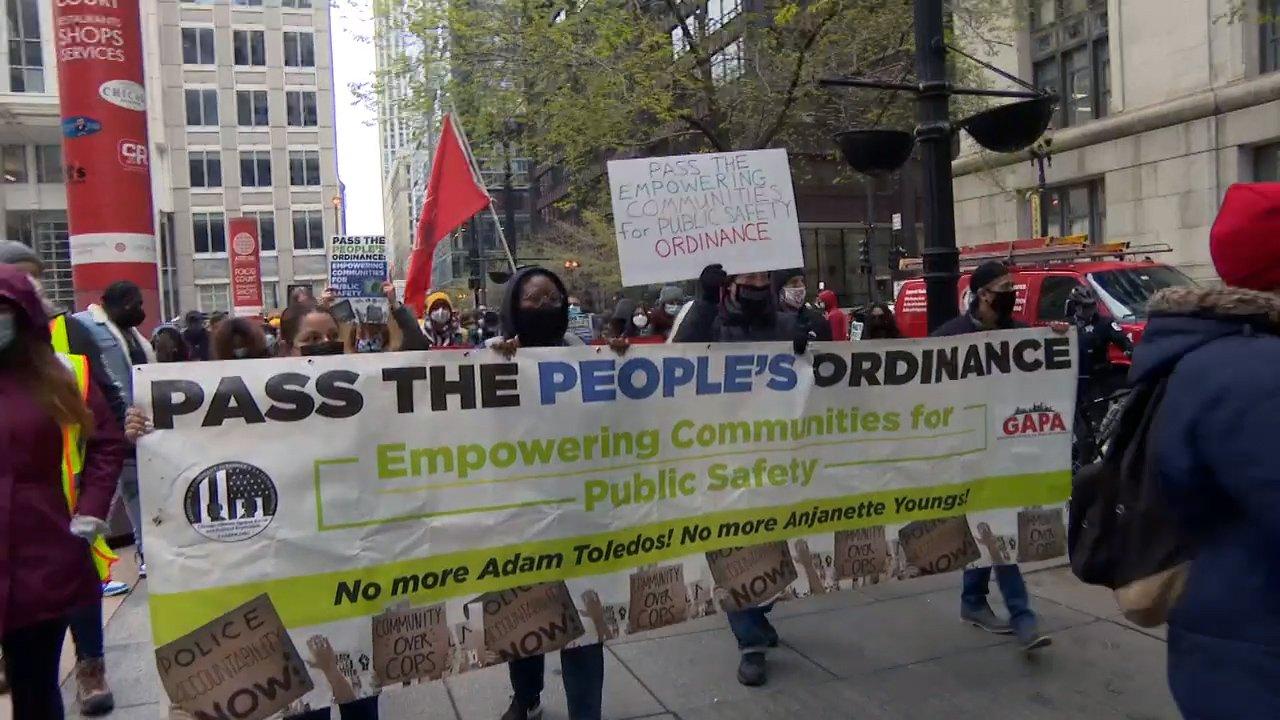 Supporters of the Empowering Communities for Public Safety plan call for more police accountability during a rally April 21, 2021. (WTTW News)
However, a long-stalled plan to put an elected board of Chicago residents in charge of the Chicago Police Department will not be up for a vote Tuesday after it failed Friday to advance. 
Ald. Carlos Ramirez-Rosa (35th Ward) told "Chicago Tonight" that he would not seek to force a floor vote Wednesday, saying Ald. Chris Taliaferro (29th Ward) promised to bring a revised proposal crafted by a coalition of community groups and endorsed by the council's Progressive Caucus, Black Caucus and Latino Caucus back for a vote before the July City Council meeting. 
Ramirez-Rosa said he hoped Taliaferro would "do the right thing" and hold another vote. 
King said she was confident that the measure would pass the City Council on an up-or-down vote. 
Ervin said increased oversight would help increase the public's trust in the police department. 
---
Video: Part two of our discussion with Alds. Scott Waguespack, Jason Ervin, Sophia King and Carlos Ramirez-Rosa. Watch part one of our discussion. (Produced by Marissa Nelson)