For many Chicagoans, the Bishop Ford is just a bustling freeway through the South Side.
But the man it's named for, Bishop Louis Henry Ford, was part of a pivotal point in American history.
"He was the eulogist at the funeral of Emmett Till," said Mary Jo Hoag, a tour director for the Chicago Architecture Center who wrote the Civil War to Civil Rights Tour at Oak Woods Cemetery.
Till's funeral would galvanize the civil rights movement on that fateful day in 1955 after the 14-year-old Chicago boy was lynched in Mississippi. 
"The pictures of his corpse were then published in John Johnson's Ebony and Jet [magazines] for whole world to see, and every African-American in the country was able to see what had happened," Hoag said.
Today, both Johnson and Ford lie in rest just next to each other inside Oak Woods Cemetery in the Greater Grand Crossing community. 
Their final resting places are shared with so many other Chicagoans who helped write the history of the city and country.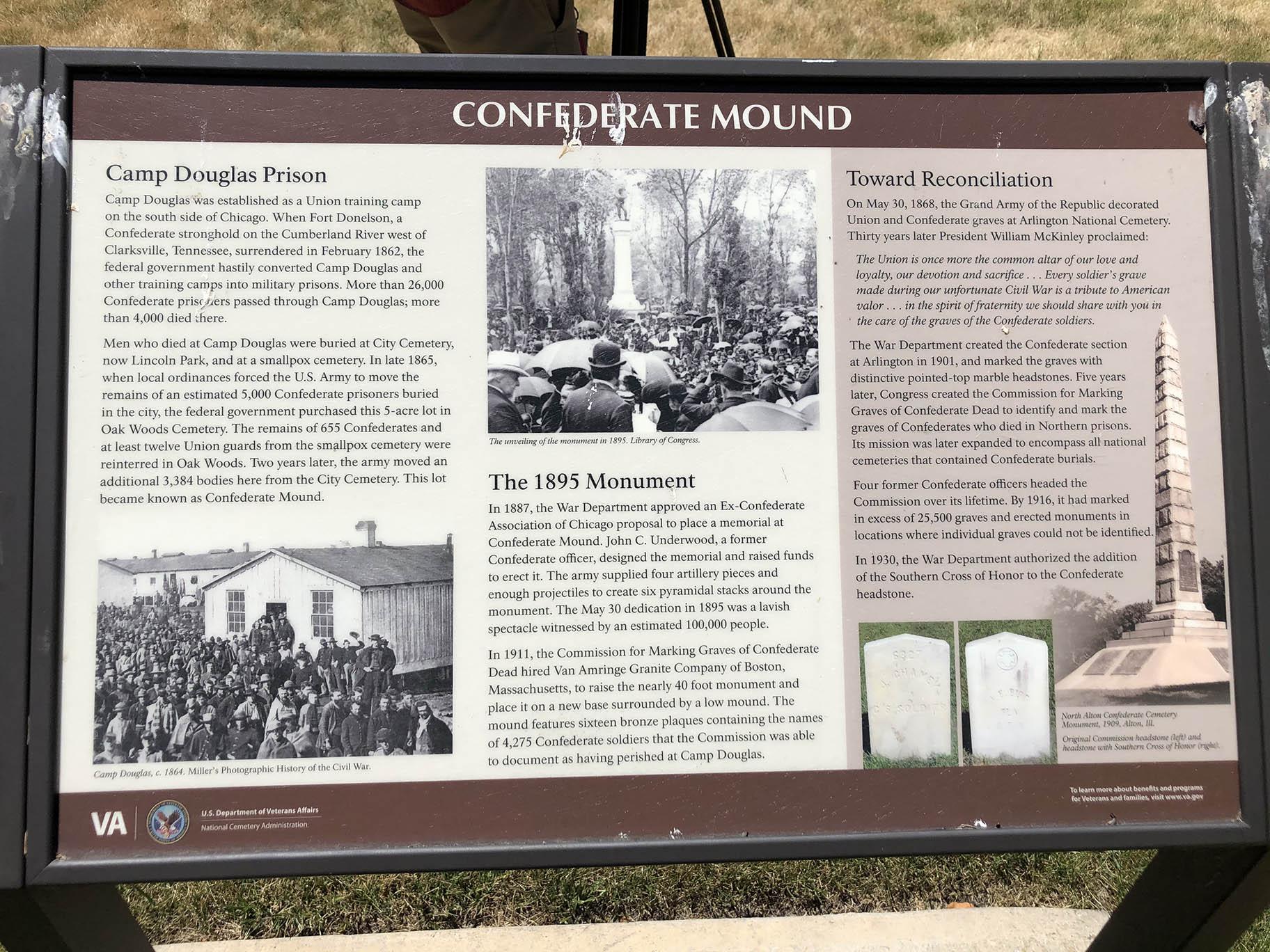 (Quinn Myers / WTTW News)
The CAC's walking tour traces history through those buried on the cemetery grounds. Among them are more than 4,000 Confederate military prisoners in a mass grave. 
"We begin at the Confederate Mound, but that's not where we end. That's the end of the Civil War and then we move into Reconstruction, the Great Migration and the modern civil rights movement. All of the people here, they were involved in that difficult transition for our country," Hoag said. 
"Another thing that is a part of the tour is that when we talk Reconstruction, people often have the feeling that history is always about progress, always moving forward, things are always getting better," said Erica Myles, a volunteer docent for the CAC. "But what we see in some examples on this tour, is there is often a lot of regression."
During the tours, visitors learn more about the significance of Harold Washington, Chicago's first Black mayor.
"He was elected in 1983, and unfortunately passed in 1987 but if you look at what he was able to do in that span of time is pretty amazing," Myles said.
Also buried here is Olympic great, Jesse Owens, who beat Hitler's Nazis in track and field at the 1936 Olympics; and anti-lynching crusader and journalist Ida B. Wells.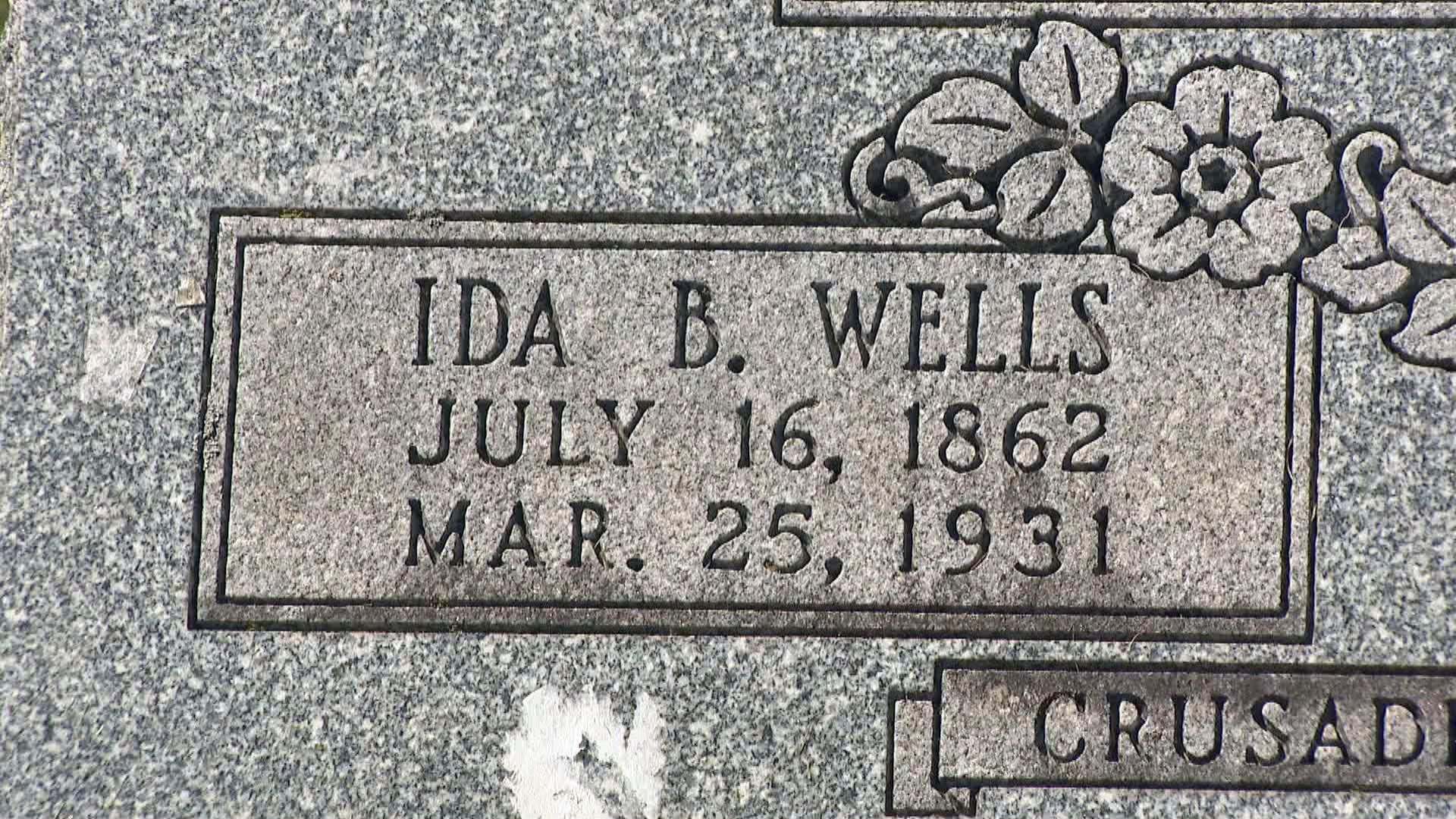 (WTTW News)
"It's just amazing to me to learn about what she did, the time that she did it, how very dangerous it was, and how significant it was, in terms of raising the awareness of what was happening to African-Americans," Myles said.
While history dates and places are important, Myles says she really hopes visitors can sense the context of the time. 
"We tend to mythologize these people, we tend to make them larger than life and say, 'Well they were able to accomplish this because they were this super-human person,'" she said. "But that's often not the case. It's often just regular people who are rising to the challenge."
Other notable people buried at Oak Woods include social services advocate Ada S. McKinley; Negro League baseball icon Ted "Double Duty" Radcliffe; and Illinois U.S. Sen. Lyman Trumbull, who wrote the 13th Amendment, the Civil Rights Act and the Freedmen's Bureau Act. 
The Chicago Architecture Center is offering the Civil War to Civil Rights tour this year on July 9, Aug. 14, Sept. 4 and Oct. 2.
Follow Brandis Friedman on Twitter @BrandisFriedman
---