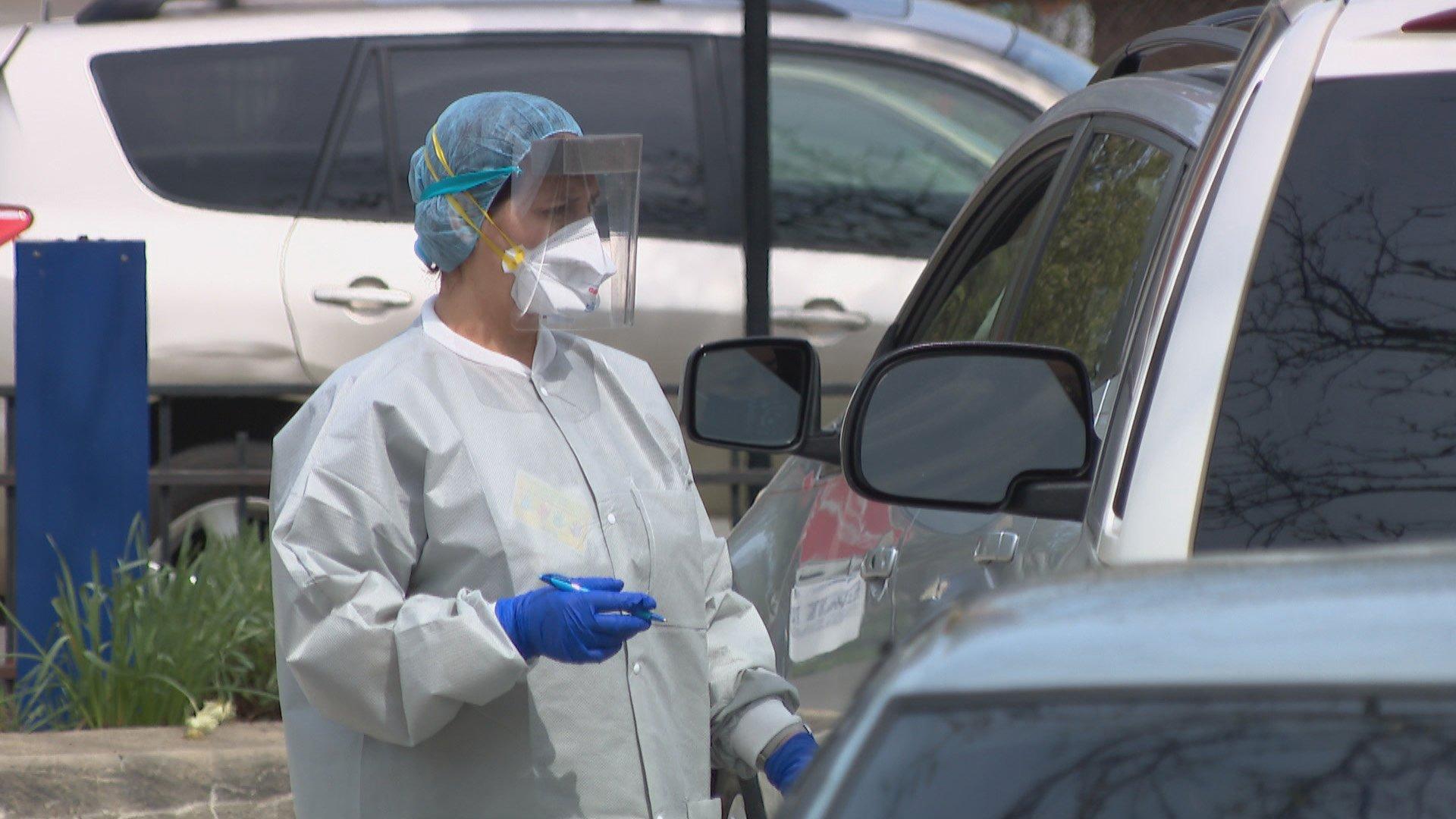 (WTTW News)
The Delta variant of the coronavirus, which was first discovered in India and believed to be highly transmissible and more dangerous, is present in Illinois, state health officials told WTTW News.
More than 107 cases of the COVID-19 variant, also known as B.1.617.2, have been discovered in Illinois since the end of March, concentrated in the northeastern and central parts of the state, said Melany Arnold, a spokesperson for the Illinois Department of Public Health.
At least 15 of those cases were identified in Chicago through Tuesday, said Andrew Buchanan, a spokesperson for the Chicago Department of Public Health.
The Centers for Disease Control classifies the Delta variant as a variant of interest, which ranks below variants of concern.
Five variants of concern have been identified in Illinois, including the B.1.1.7 variant which was first discovered in the United Kingdom. That variant, now known as the Alpha variant, is now the dominant variant in Chicago, Dr. Allison Arwady, the commissioner of the Chicago Department of Public Health, said during an online question-and-answer session Tuesday.
The World Health Organization changed the way it refers to COVID-19 variants in recent weeks because referring to the variants by their lineage was confusing and identifying them by the location in which they were first discovered could cause that place to be stigmatized, Arwady said.
Chicago tests all cases of COVID-19 that are confirmed in people who were previously diagnosed with the virus, as well as those who became infected after being fully vaccinated, which is defined as two weeks past the final dose of a COVID-19 vaccine, Arwady said.
That will help epidemiologists track whether the variants are evading the protection created by vaccines, Arwady said.
Dr. Anthony Fauci, head of the National Institute of Allergy and Infectious Diseases and an adviser to President Joe Biden, said Tuesday that the Delta variant now accounts for more than 6% of cases being sequenced in the U.S.
The Delta variant appears to spread more easily and may cause more severe illness and a higher risk of hospitalization, Fauci said.
A study conducted in the United Kingdom showed two doses of the Pfizer-BioNTech vaccine were 88% effective in preventing illness caused by the Delta variant, as compared with 93% effectiveness against the Alpha variant. The vaccine only provided 33% protections after just one dose, according to the study.
Fauci urged all Americans to get fully vaccinated as soon as possible to prevent the Delta variant from becoming the dominant strain in the United States as it now is in the United Kingdom.
Arwady said she was thrilled that the number of confirmed COVID-19 cases in Chicago are showing signs of "exponential decay," dropping quickly and significantly even as the city "pretty aggressively" allows businesses to resume operations and gatherings.
An average of 79 Chicagoans have been diagnosed each day with the coronavirus during the past week, a 41% decrease from the previous week, according to Chicago Department of Public Health data. The city's test positivity rate has dropped to 1.4% from 1.9% during the past seven days, according to city data.  
The city — along with the rest of the state of Illinois — is poised to fully reopen Friday.
However, Arwady said she is concerned about a surge of COVID-19 cases in the fall and winter, particularly in areas with low rates of vaccination.
Cases of the coronavirus remain highest among Black Chicagoans, and vaccination rates are lowest on the South Side, according to city data. Only 30% of Englewood residents have received at least one dose of the COVID-19 vaccine, while nearly 53% of all Chicagoans have been vaccinated.
Chicagoans interested in getting vaccinated against COVID-19 can find an appointment or walk-in opportunity on the city's calendar or by calling the city's vaccine hotline at 312-746-4835.
Chicagoans ages 65 or older, or anyone with a disability or medical condition are eligible to have COVID-19 vaccines brought directly to their homes, and can make an arrangement by calling the city's hotline.
More than 70% of Chicagoans older than 65 have gotten at least one dose of a COVID-19 vaccine, while approximately 64% are fully vaccinated, according to city data. That lags behind vaccination efforts statewide.
White Chicagoans are more likely to have been vaccinated against COVID-19 than Black or Latino Chicagoans, according to city data. 
Approximately 60% of White or Asian Chicagoans have received at least the first dose of the COVID-19 vaccine, outpacing Black and Latino Chicagoans who are significantly more likely to contract the virus and suffer severe illness or die, according to city data through Tuesday.
Approximately 36% of Black Chicagoans have gotten the first shot, while approximately 43% of Latino Chicagoans have gotten at least one dose, according to the city's data.
Contact Heather Cherone: @HeatherCherone | (773) 569-1863 | [email protected]
---