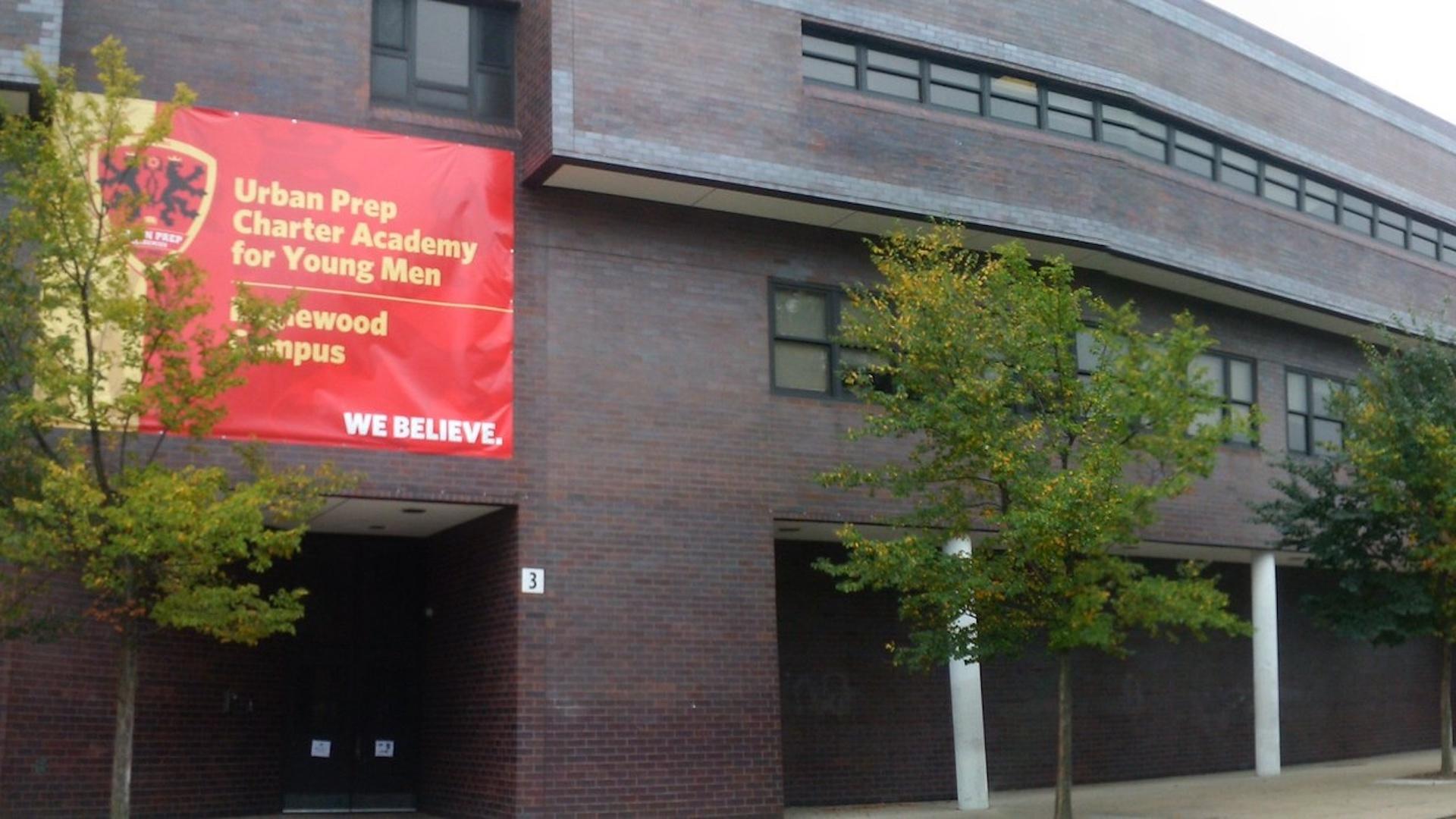 Urban Prep Englewood campus (artistmac / Flickr)
With just days left of classes this school year, educators at a trio of Chicago charter school campuses have announced they're going on strike after years of bargaining over a new contract.
Thirty-four Urban Prep Charter Academy teachers walked off the job Monday morning, weeks after a unanimous vote to strike over pay raises and an alleged refusal by the charter operator to provide some legally-mandated special education services.
"We never envisioned that we would be here on the picket line at this point," Latoyia Kimbrough, an attorney with the Chicago Teachers Union said outside Urban Prep's Englewood campus Monday morning. "We're here because of Urban Prep, not because of the teachers. The teachers do not want to be here."
Urban Prep operates three predominantly Black, all-male schools, with campuses in Bronzeville, Englewood and the Loop, that seek to get 100% of seniors enrolled in colleges following their graduation. Teachers there have been without a contract since November 2018.
According to the union, Urban Prep teachers are at the bottom of the teaching pay scale — with a starting pay that's approximately $11,000 below other Chicago Public Schools educators — even as these schools receive the same per-pupil funding as other charter and district-run schools.
Teachers claim these low wages and difficult working conditions lead to "high turnover and profound instability for the schools' students."
The union also said about 30% of Urban Prep students require special education services. But they claim the charter administration has failed to fund those services and is refusing to put language into a contract to protect those students' rights.
"I absolutely love my students and they deserve access to the resources that they need in the classrooms, access to the resources that Urban Prep has the funding for, but the funding is just not hitting the classrooms the way it is supposed to be," said Ashlee Lewis, a teacher at Urban Prep's Bronzeville campus.
Troy Boyd, Urban Prep's chief operating officer, denied that claim, saying Urban Prep has met its "statutory responsibilities" with regard to its special education students, and has provided "students with the support they need and teachers with professional development opportunities."
"The reality is that we have a tough road ahead to recover from the pandemic and the toll it has taken on our young men, both academically and socially-emotionally," he said in a statement. "This strike is not in the best interest of our students, particularly during the last six days of school after more than a year of COVID-related school disruption."
Boyd said the charter officials are "very disappointed" over the teachers' decision to strike. He said the administration presented the CTU with a three-year contract offer last week, which would include retroactive raises for the past three years, as well as guaranteed raises in each of the next three years.
But the union wants only a one-year deal, according to Boyd, which means negotiations would have to begin again within months.
"That is not in the best interest of teachers," he said, or "the students for whom we all are working."
CTU President Jesse Sharkey said Urban Prep educators realize the strike will be "disruptive." But they plan to remain on strike "until we get a settlement that allows us to go back into the building with dignity, respect and allows us to provide the services our students need to succeed."
Bargaining is set to continue Tuesday morning, but educators said they've asked Urban Prep administrators to resume those talks sooner. Boyd said he hopes to resume bargaining Monday evening.
"We deserve the fair pay that CPS is paying to every other school. Urban Prep has access to the same finances, but for some reason we're not receiving that pay," Lewis said. "We deserve the things that we are asking for. They are not impractical and they make sense and our students deserve these things too."
Contact Matt Masterson: @ByMattMasterson | (773) 509-5431 | [email protected] 
---