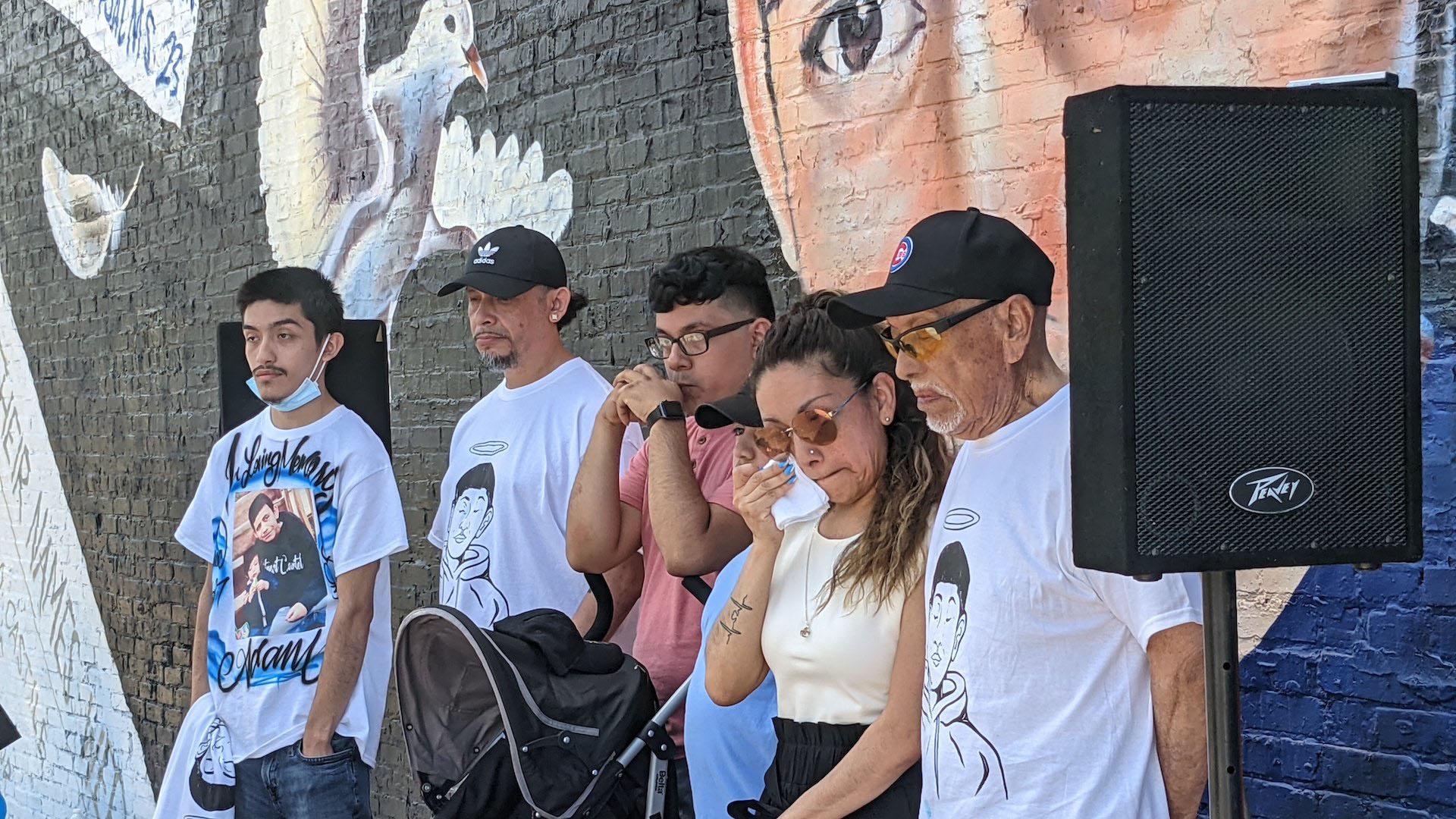 Adam Toledo's mother Betty, second from right, wipes away tears as family members of the 13-year-old fatally shot by police on March 29, 2021 announce the launch of a nonprofit honoring their son and brother on May 26, 2021. (Matt Masterson / WTTW News)
Members of Adam Toledo's family wiped away tears and recounted memories of their son and brother on what would have been his 14th birthday as they announced the start of a new program aimed at helping at-risk boys. Toledo was shot and killed by a Chicago police officer in the Little Village neighborhood nearly two months ago, on March 29.
Toledo's family on Wednesday said they plan to launch Adam's Place, a nonprofit aimed at providing boys a chance to develop skills and values in a rural environment away from city streets.
"I don't need to tell you how tragic this was for the family and the community," Adeena Weiss Ortiz, one of the family's attorneys, said during a news conference held in front of a new mural of Adam Toledo at Ogden and Lawndale avenues. "Yet this family wants something good to come out of this horrific event."
The Toledo family is raising money to purchase a 71-acre plot of farmland in southwest Wisconsin, more than three hours away from Chicago. The goal, they said, is to provide a space for teens and youth from across the Midwest to grow and learn to care for themselves and others "away from the dangers of urban streets."
More than that, the Toledos want to help others avoid the "excruciating sorrow" they've experienced following the death of their son.
"We want Adam's Place to be the kind of place where boys like Adam can make friends who will care about them and not get them into trouble," Toledo's mother Betty said in a statement read by Weiss Ortiz.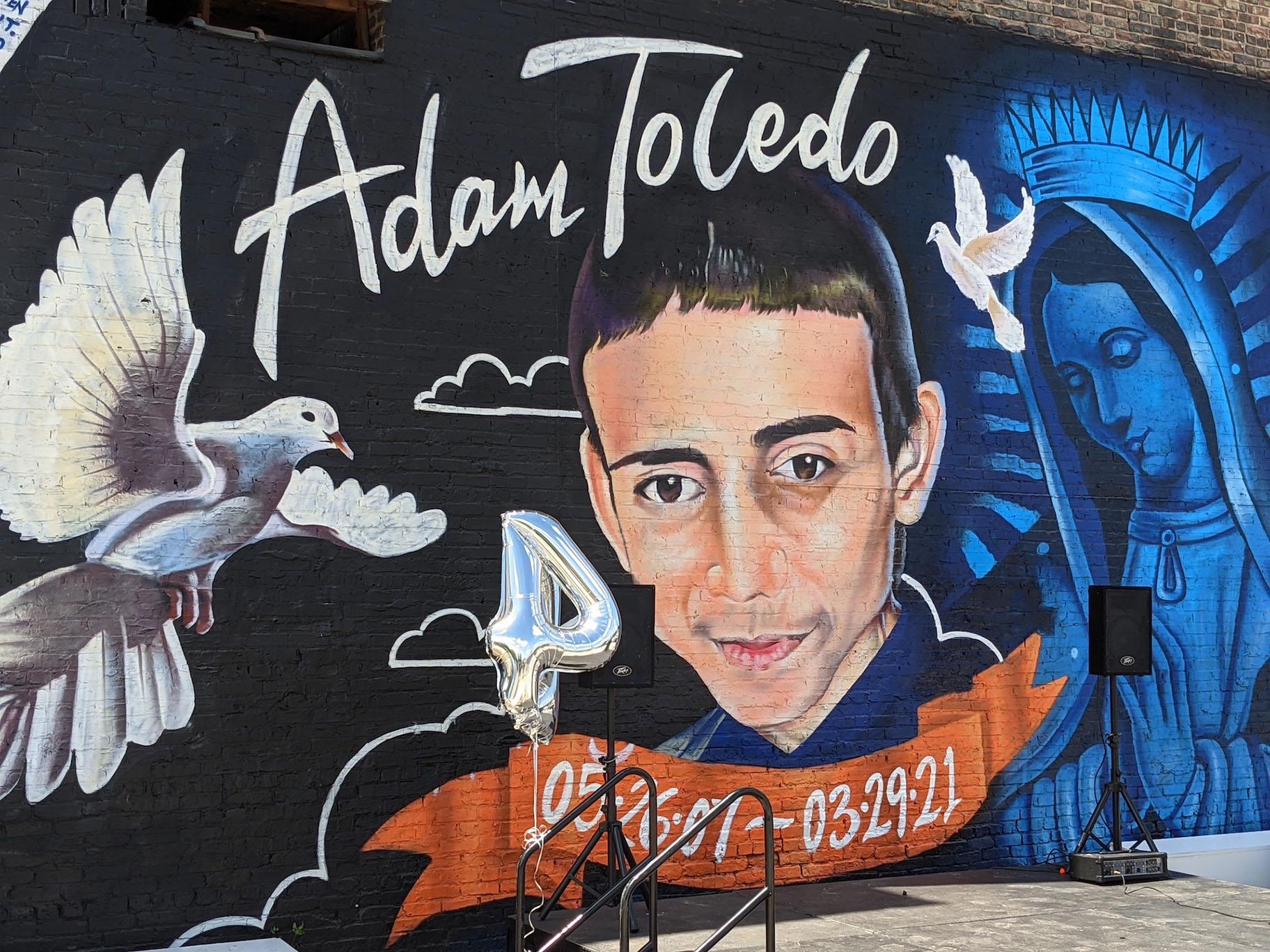 A mural of Adam Toledo painted by Milton Coronado. (Matt Masterson / WTTW News)
Toledo was shot and killed by Chicago police Officer Eric Stillman in an alley in the early hours of March 29, following a report of shots fired in the area. Body camera footage released weeks later showed Toledo was carrying a handgun as Stillman ran after him down the Southwest Side alley, but he appeared to drop the weapon and put his hands up an instant before the officer fatally shot him.
The release of that video in April sparked protests and calls for police reform, particularly surrounding a new foot pursuit policy for Chicago officers that remains in development.
In a statement, the Toledos said Adam had never been involved with police before March 29, but he snuck out of their home on the night of his death because he'd been "lured by older youth and the thrill of the street."
Ruben Roman, the 21-year-old who was with Toledo the night of the shooting, was arrested after the incident and faces multiple charges, including reckless discharge of a firearm and felony endangerment of a child.
Attorneys for the Toledo family said that, despite the distance of Adam's Place from Chicago, they hope to get a majority of the program's residents from the Little Village area where Toledo grew up.
The family is hoping to break ground on constructing the new facility in September or October, with operations beginning sometime next year.
"God bless the Toledo family, they are finding something to live for in Adam's Place," Joel Hirschhorn another one of the Toledo family attorneys, said Wednesday.
Contact Matt Masterson: @ByMattMasterson | [email protected] | (773) 509-5431
---