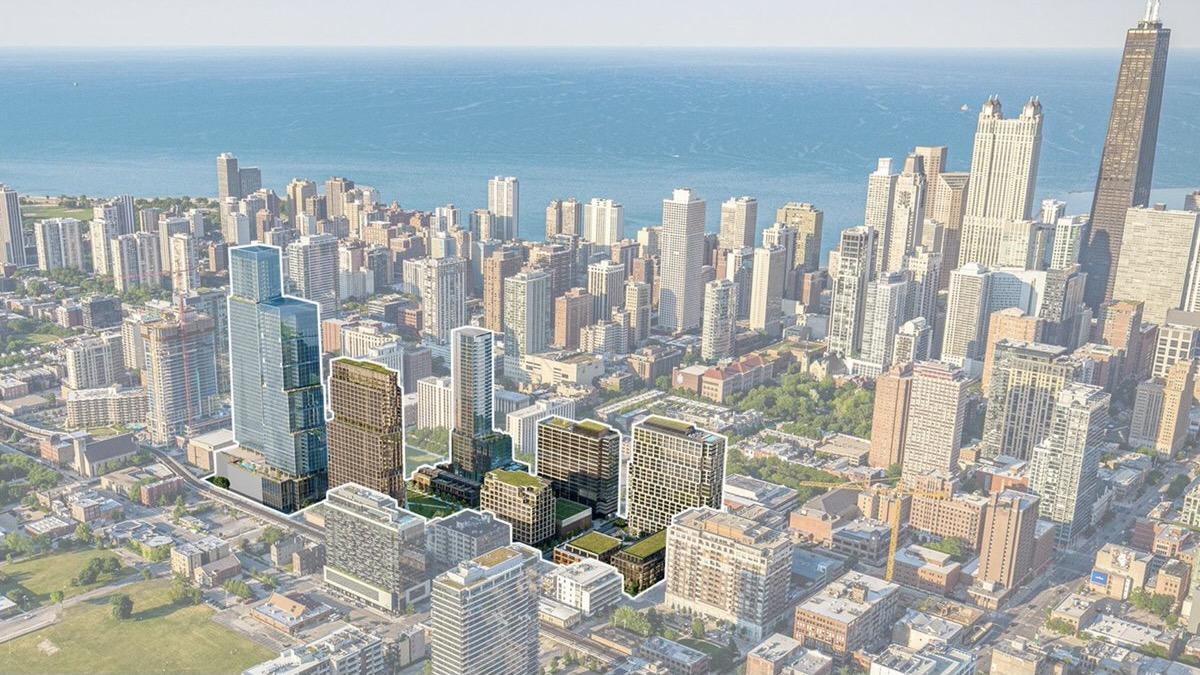 A rendering of the proposed North Union Development. (Credit: JDL Development)
Aldermen on Tuesday advanced plans to create a new neighborhood on what was once the Moody Bible Institute's campus on the Near North Side, putting one of the largest residential developments in Chicago in decades one step away from final approval.
The City Council's Zoning Committee unanimously endorsed the $1.3 billion plan to transform 8.1 acres sandwiched between the CTA Brown Line and the Gold Coast into the North Union neighborhood, featuring 2,656 homes and apartments, 30,000 square feet of shops and stores and 2.5 acres of parks and open space.
Unlike the Lincoln Yards and The 78 mega-developments, the North Union development does not rely on a city subsidy or funding from a Tax Increment Financing District.
The development is poised to reshape the River North skyline, building a 65-story tower and a 57-story tower in the 300 block of west Oak Street, according to plans.
The project is backed by Ald. Walter Burnett (27th Ward) and Ald. Brian Hopkins (2nd Ward), putting the massive development on track to win final approval at Wednesday's City Council meeting.
Burnett grew up not far away from the Moody Bible Institute in public housing at Cabrini-Green, and recalled during Tuesday's Zoning Committee meeting that bible students would take him and his friends to play ping pong before encouraging them to embrace Christianity.
The more than 100-year-old Moody Bible Institue will continue to call Chicago's Near North Side home after selling its "non-core" campus to JDL for the North Union development, said institute spokesperson Adam Gypalo.
The development is a vote of confidence in Chicago's economy as the COVID-19 pandemic wanes, and more evidence that an area that was once home to some of Chicago's poorest residents is continuing to gentrify, officials said.
"This is probably one of the most optimistic developments that I've seen since my time here," Planning Commissioner Maurice Cox told the Plan Commission on May 20 before it unanimously endorsed the development. "I think it comes at a really critical moment for the city as we imagine coming out of the COVID pandemic, so to know that there is this confidence in the future of Chicago bodes incredibly well for us all."
During a November 2020 community meeting, JDL Development CEO James Letchinger said his firm was committed to ensuring the new neighborhood welcomes Chicagoans of all incomes. 
City rules require at least 10% of the new units — some 266 — to be earmarked for low- and moderate-income Chicagoans. Plans call for 236 units built as part of North Union to be set aside for Chicagoans earning no more than 60% of the area's median income, or $55,920 for a family of four.
Another 118 affordable units will be built within 2 miles of North Union, or the developer will pay no more than $22.1 million in fees to the city's affordable housing fund to build homes for low- and moderate-income Chicagoans elsewhere in the city, officials said.
That is 88 more units than required, which brought praise from aldermen.
Contact Heather Cherone: @HeatherCherone | (773) 569-1863 | [email protected]
---