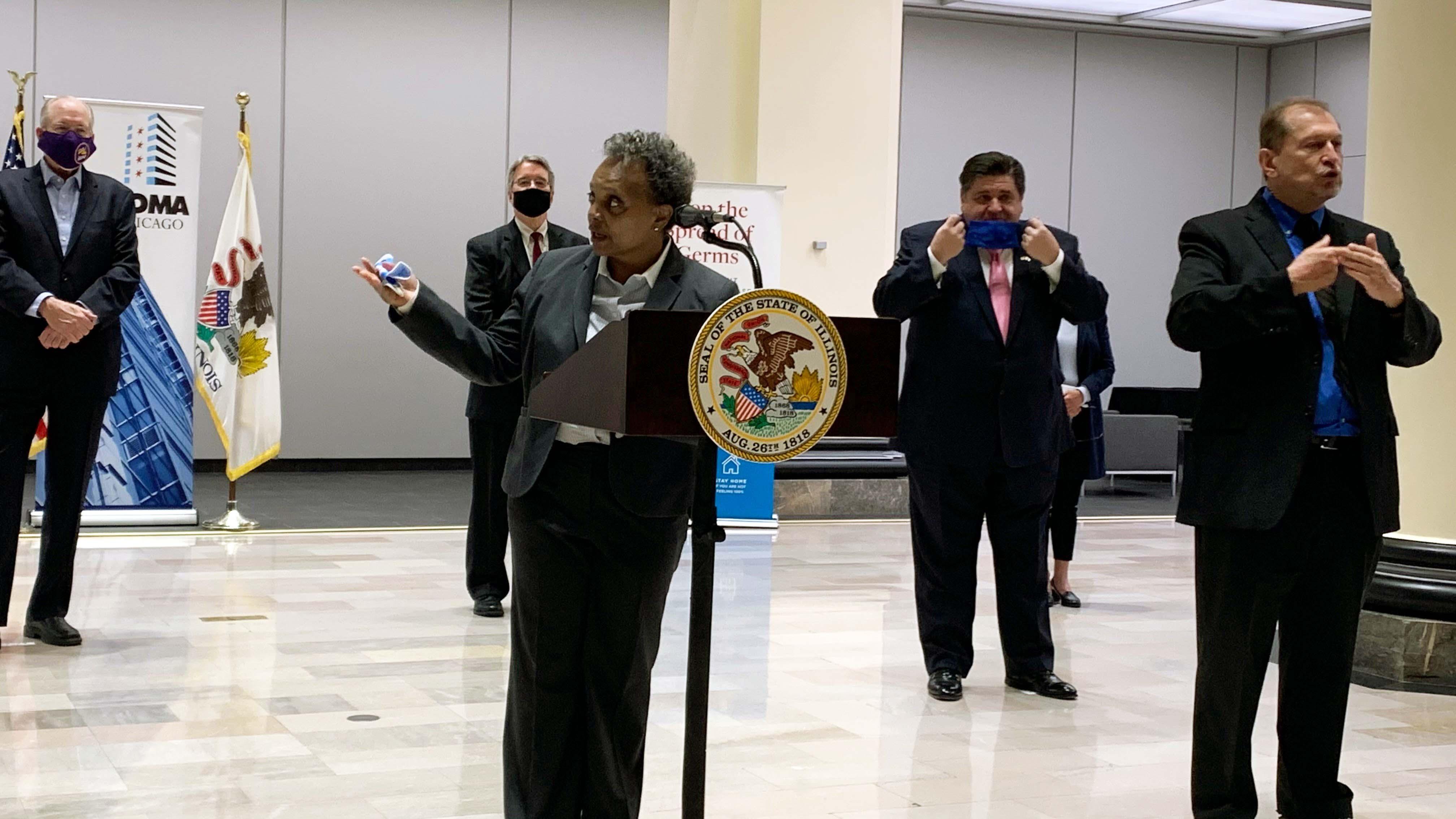 Mayor Lori Lightfoot announces that COVID-19 vaccination clinics will be held in office buildings as employees return to work at a news conference Monday, May 10, 2021. (Heather Cherone / WTTW News)
Vaccination clinics will open in office buildings in downtown Chicago and across the state as officials continue to get as many people vaccinated against COVID-19 as quickly as possible, even as demand for the life-saving shot drops and supply grows, Gov. J.B. Pritzker and Mayor Lori Lightfoot said Monday.
The first vaccination clinics, set to be operated by Walgreens, will open in the coming weeks at the Merchandise Mart and the Wrigley Building in Chicago's Loop, officials announced.
The goal is to vaccinate workers as they arrive for their shifts or head home, Pritzker said.
The pace of Chicago's reopening — tentatively set for July 4 — will be determined by how many people get vaccinated in the coming weeks, Lightfoot said. The rest of the state remains on track to reopen June 11, according to Pritzker, and Lightfoot said she was hopeful the city could meet that goal.
Vaccines will allow the city to put "the pandemic in the rearview mirror," Lightfoot said.
Because the state is seeing demand for the vaccine drop, state and federal officials are shifting efforts from mass vaccination sites like the one at the United Center, which is scheduled to close to walk-in appointments on Tuesday.
"We are focused on taking vaccine to people instead of people needing to come and meet the vaccine," said Dr. Ngozi Ezike, the director of the Illinois Department of Public Health.
State health officials will provide the staff and supplies for all office buildings and community organizations interested in hosting vaccination clinics. More information is available online.
Contact Heather Cherone: @HeatherCherone | (773) 569-1863 | [email protected]
---