The Logan Square Farmers Market, one of Chicago's only weekly, nearly year-long farmers markets, opened on Sunday – just in time to provide some extra help to the farmers, restaurateurs and other food producers selling their goods in the city's Northwest Side neighborhood.
Every Sunday, from May 9 to Oct. 31, the farmers market takes place east of Logan Square Park, on Logan Boulevard between Milwaukee Avenue and Whipple Street. About 55 vendors from across Illinois, Indiana, Wisconsin and Michigan participate each week.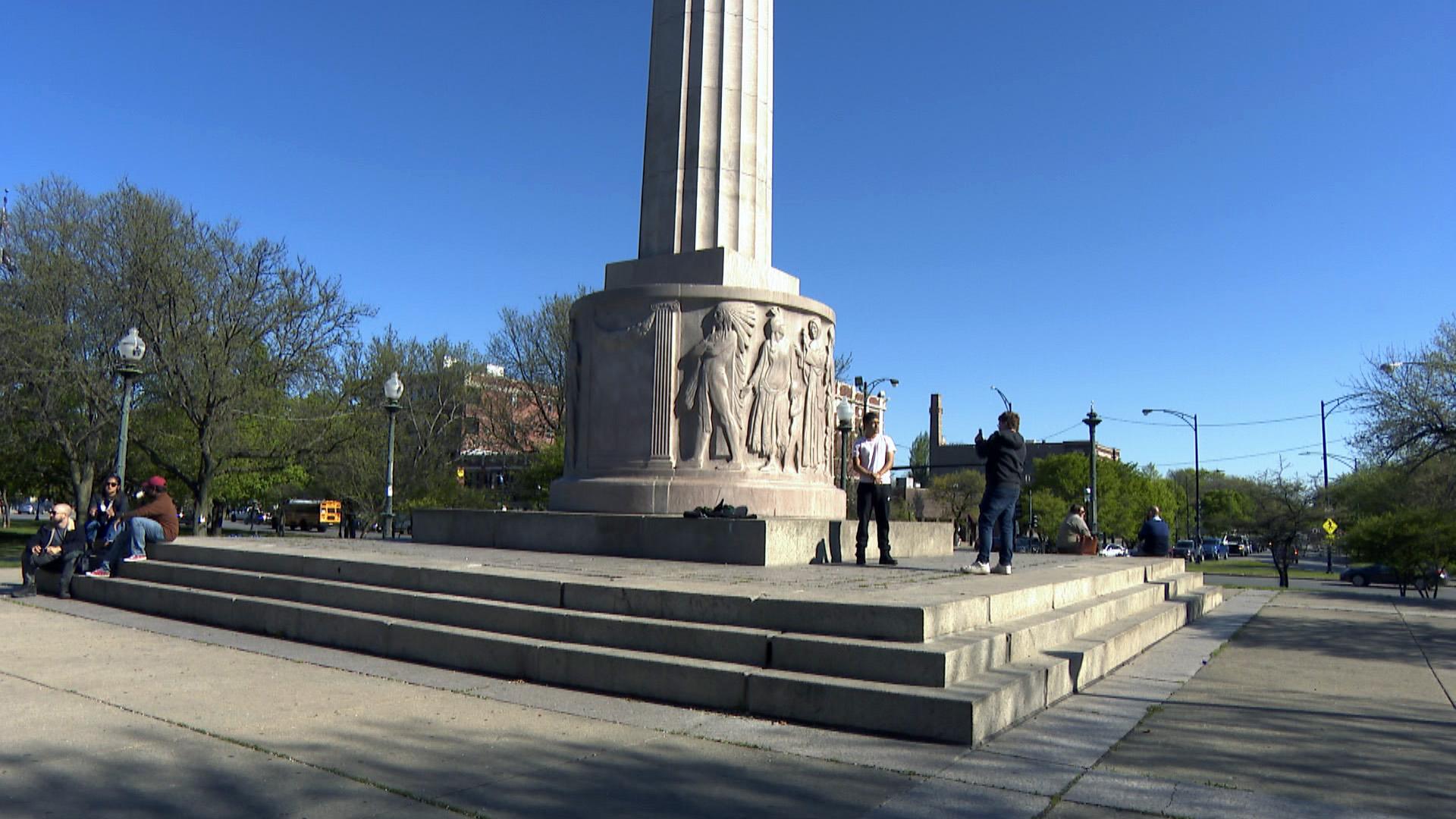 Visitors to Logan Square Park congregate near the Illinois Centennial Monument on April 30, 2021. The Logan Square Farmers Market has taken place adjacent to this park from May to October every year since 2005. (WTTW News)
Chicago started the farmers market in 2005 and two years later, the Logan Square Chamber of Commerce took the reins as the lead organizer. While the market takes place outdoors druing the spring, summer and fall, the farmers market chooses a new indoor venue every year to sell food from November through March.
Nilda Esparza, executive director of the Logan Square Chamber of Commerce, said it was a priority to maintain the farmers market through last year's COVID-19 shutdown, even if it meant starting later than usual in June 2020.
Last year's winter space for the farmers market was the event space Rockwell on the River in neighboring Avondale.
"It was very important for us to keep it going through the winter, so finding an indoor space was imperative," Esparza said. "We did not want our vendors to have to wait and miss out on other Sundays, so that was the biggest challenge: trying to accommodate vendors and keep things moving."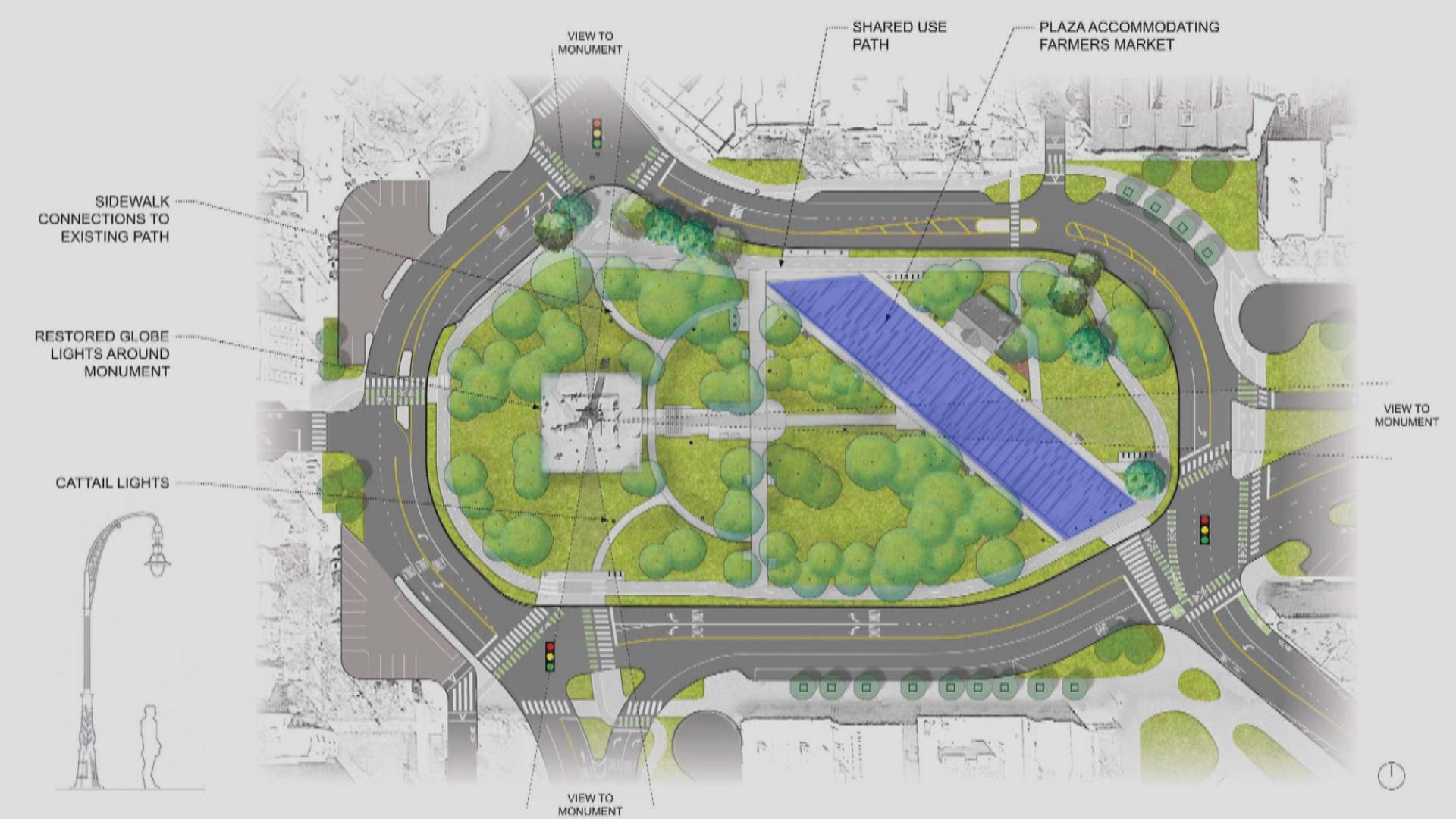 A rendering shows the planned redesign of the Logan Square traffic circle. The highlighted pedestrian plaza, currently Kedzie Avenue, is where organizers expect the farmers market to take place starting in 2023. (Courtesy Chicago Department of Transportation)
The outdoor location of the market will change in the next few years – a dramatic redesign of the Logan Square traffic circle expected to start this year and finish in 2023 will turn a stretch of Kedzie Avenue running adjacent to the traffic circle into a pedestrian plaza and permanent home for the Logan Square Farmers Market.
"Aesthetically wise, that whole circle there is going to get a whole new look," Esparza said. "It's just a nice implementation to have a new home where we will have storage space to store our items every week and definitely be able to accommodate more vendors on a weekly basis."
One of the vendors this year is Bungalow by Middle Brow – a Logan Square brewpub specializing in beer and pizza that's ramped up its bread and pastry-baking operations during the pandemic.
Restaurant owner Pete Ternes said the Logan Square Farmers Market allows his business to expand its customer base.
Pete Ternes, owner of the brewpub Bungalow by Middle Brow, takes a pizza out of the Logan Square restaurant's oven on April 30, 2021. Bungalow by Middle Brow is one of several vendors participating in this year's Logan Square Farmers Market. (WTTW News)
"Someone from Rogers Park comes down and grabs a loaf of our bread at the Logan Square Farmers Market then suddenly they want to come to our restaurant, hopefully, and try our pizza and get another loaf while they're at it," Ternes said. "And then we've hopefully created a new, regular customer. These markets are critical. Logan Square Farmers Market in particular – it's a terrific market that really draws from the whole city."
Follow Evan Garcia on Twitter: @EvanRGarcia
---