The Civilian Office of Police Accountability this week released body camera footage showing the fatal shooting of Anthony Alvarez by Chicago police Officer Evan Solano on March 31 in the Portage Park neighborhood.
The video appears to show Alvarez holding a gun as he runs from Solano, who orders Alvarez to drop the gun before shooting him in the back.
The aftermath has left his family and many in the community once again questioning police use of force tactics when chasing a suspect on foot – and many others standing firm in support of police.
Retired Cicero police sergeant and president of the Puerto Rican Police Association, Waldemar Cruz, says among Latinos, he hears messages of support for the police as well as the voices of those pushing for reform.
"We do understand that there's officers that shouldn't be carrying a badge and that's something we have to correct," said Cruz.
But he says putting the focus on reform takes the focus off of crime and gangs, which he believes are at the root of the problem.
"We have to find ways of making it better for our community by giving our youth and people in our community alternatives than us being involved in their lives on a daily basis. That can lead to incidents like we've just seen."
COPA has not yet released details on why police were pursuing Alvarez, which Cruz says makes it impossible for him to pass judgment on the shooting at this time.
"This is the difficult part when we kind of quarterback a situation that an officer was involved with that leads to a fatality or just an injury to someone in the public. So because COPA has not come out with its complete finding, it is difficult and the information that we have gotten, it might not be in full detail."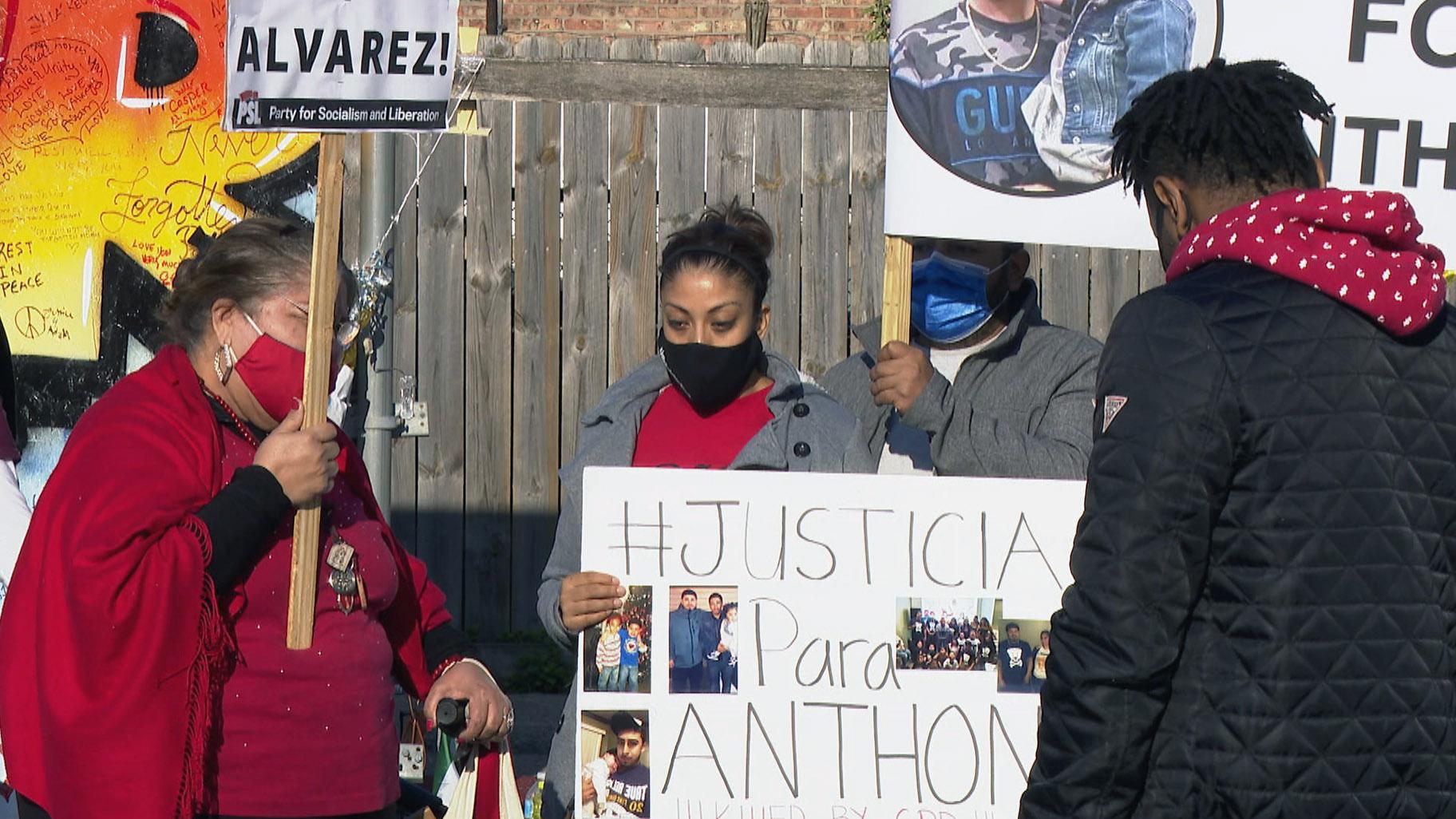 Community leaders and family members of victims killed by police and gun violence gather April 29, 2021. (WTTW News)
Jessica Estrada, a coordinator for Communities United Survivors Alliance for Healing and Justice, says there might be a generational divide in how policing is viewed among the Latinx community, but ultimately, alternatives to policing are what the people she works with are seeking.
"Some of our community members feel re-traumatized and hurt [by the shooting] and some of our Latinx community members see policing very different, like our first generation Latinx community members, but … police officers shouldn't be allowed to shoot first and ask questions later."
Jacob Daneman, communications director for the independent political organization United Northwest Side, says he is unconvinced that additional information on the Alvarez shooting would justify the shooting.
"He's shot in the back; he's asked to comply, and he's not given a moment to comply … and you saw that with Adam Toledo shooting as well. These people are given a chance to comply, and they're summarily executed on the spot."
Daneman points out that the Northwest Side is home to many police officers, which may alienate them from other communities they then are charged with policing.
"It's kind of like a little enclave, which is another problem that I think is pervasive around the city of Chicago, as you have these places like Beverly and Jefferson Park that are … police neighborhoods, and then those people go out and they police other neighborhoods, they don't really have a connection to those communities."
Looking forward, Estrada says after years of feeling unheard by the police and city administration, community members should be given the reins in deciding what safety means for them.
"I truly believe that people with lived experience need to be in the forefront on making decisions that impact their community in their city … Communities United is one of the organizations in a coalition enforcing for Chicago police consent decree. And we have been pushing for CPD foot pursuit policies since the consent decree was negotiated in 2018 and we have been ignored. So we need to listen to the voices of people with lived experience and see them as experts."
---