Police reform activists say yesterday's guilty verdict in the trial of former Minneapolis police officer Derek Chauvin was a moment of relief and catharsis, almost a year after the killing of George Floyd.
But many say it's just the tip of the iceberg for police accountability.
"I was happy. It finally happened, but there's so much more that has to be done," said Eric Wilkins, an organizer with Communities United, which was involved in establishing the federal consent decree overseeing the Chicago Police Department. "I think it could be the pilot for us. That it's OK to break the code of silence, the blue code and how to break the code in Chicago."
In Chicago, some are calling for new limits to the police department's foot pursuit policy after an officer shot and killed 13-year-old Adam Toledo last month. And a coalition of groups are pushing an ordinance that would establish broad civilian oversight of CPD.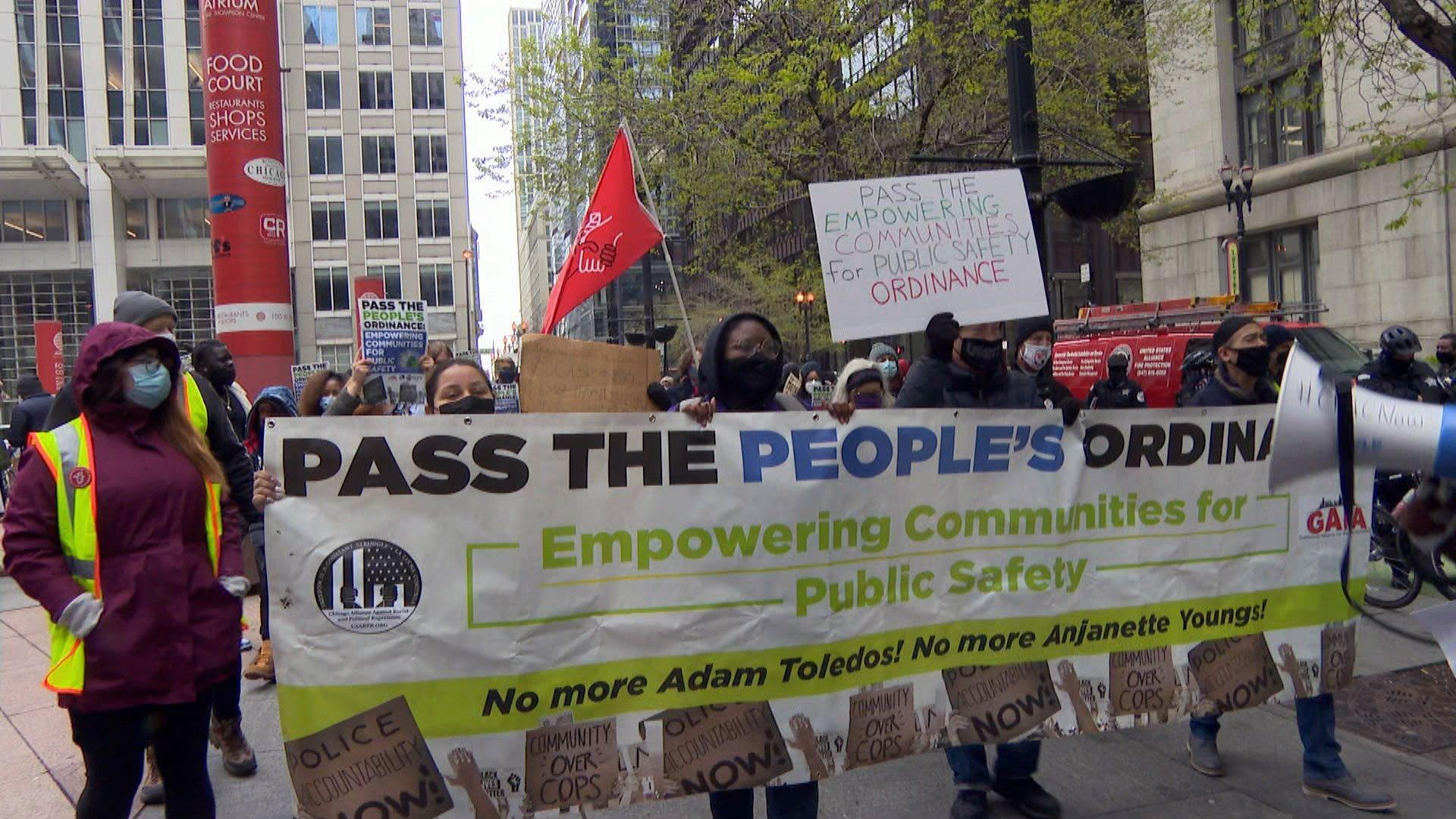 Supporters of the Empowering Communities for Public Safety plan call for more police accountability during a rally April 21, 2021. (WTTW News)
One plan, known as Empowering Communities for Public Safety, would "give communities in Chicago a say in who controls our police accountability system," said Jazmine Salas, co-chair of the Chicago Alliance Against Racial and Political Repression, which is backing the proposal. Several Chicago aldermen have pledged their support.
"Currently all of the key positions like the COPA administrator as well as the superintendent of police are appointed by the mayor, and we feel like people in the community should have a decisive voice over who is leading this system, as well as over police policy," Salas said.
Mayor Lori Lightfoot has promised to back her own oversight plan but has yet to introduce any proposals to City Council.
For activist Arewa Karen Winters, yesterday's verdict in the Chauvin trial was an example of justice prevailing.
"So often, we have very similar circumstances but not the same outcomes, and so it was a victory for the people," she said.
Winters is with the group Justice for Families and also co-chairs a community working group assembled last summer to examine CPD's use of force policies.
Last fall, CPD accepted only five recommendations out of more than 150 recommended by the group, prompting some members to call the process a "sham."
Winters says the group is still meeting and is hoping the next topic it takes up will be CPD's foot pursuit policy.
Mayor Lightfoot has called for development of new policies surrounding when and how an officer can chase someone in the wake of the police shooting of Adam Toledo March 29.
But Winters says the conversation has been happening for years, and that if changes had been enacted sooner, it could have saved Toledo's life.
"Maybe had that conversation started in 2017 when we strongly suggested that they have a foot pursuit policy in place, maybe we could have avoided Adam Toledo's [killing]…but it did not happen," she said.
---