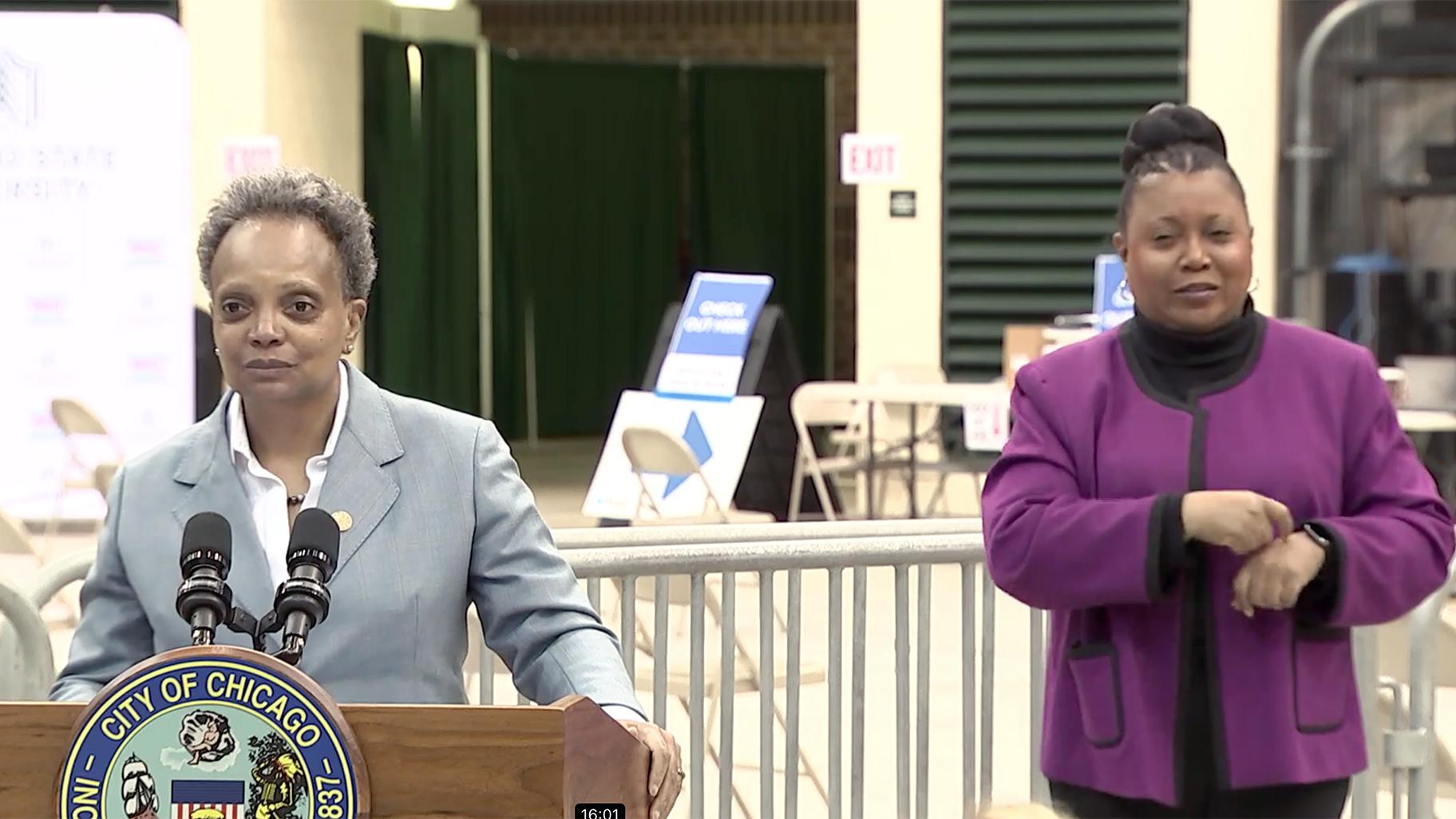 Mayor Lori Lightfoot addresses the news media at the Chicago State University mass vaccination site on Tuesday, April 20, 2021. (WTTW News via Chicago Mayor's Office)
Black South Side residents should get vaccinated as quickly as possible, Mayor Lori Lightfoot said Tuesday, warning that they are more likely to get sick and die after contracting COVID-19 during the current increase in cases.
After touring the city's mass vaccination site at Chicago State University, Lightfoot said a surge in the number of COVID-19 cases is hitting Black Chicagoans who live on the South Side hardest.
"We need to send out the alarm to everyone that make sure that Black South Siders understand: You must get the vaccine. It is safe," Lightfoot said.
Hospitalizations among Black Chicagoans are also rising "and deaths are increasing in Black Chicago from COVID-19," Lightfoot said.
While the city's test positivity rate dropped to 5.5% on Tuesday, 7.9% of all COVID-19 tests taken by Black Chicagoans are positive, Lightfoot said.
There is now an average of 657 confirmed cases of COVID-19 per day in Chicago, based on a seven-day rolling average. That's down 6% in a week, according to city data.
That represents real, if tentative, progress during the past three or four days in stopping the latest surge of COVID-19 in Chicago, said Dr. Allison Arwady, the commissioner of the Chicago Department of Public Health.
"Things are looking up a little bit," Arwady said during an online question-and-answer session.
Five people, on average, die every day in Chicago after being diagnosed with COVID-19, according to city data.
At the same time that Black Chicagoans are seeing an increase in COVID-19 infections, they are less likely than their white or Latino counterparts to have gotten their first vaccine shot, according to city data.
Through April 6, the most recent data available from the Chicago Department of Public Health, 16.4% of all Chicagoans who have gotten at least one dose of the COVID-19 vaccine are Black. By comparison, 49.3% of those who have gotten at least one dose of the vaccine are White and 23.1% are Latino.
The city's population is approximately one-third white, one-third Black and one-third Latino, according to census figures. 
Overall, 50% of all Chicagoans have gotten at least one dose of the COVID-19 vaccine, city officials announced Monday, the first day that all Chicagoans over the age of 16 became eligible for the vaccine regardless employment or health condition.
"We can all turn these numbers around: the cases, the deaths, the hospitalizations," Lightfoot said. "But we can only turn them around if Black South Siders get the vaccine. We must do this before it's too late."
South Side residents can make an appointment to get the vaccine at Chicago State University by going to zocdoc.com/vaccine or by calling 312-746-4835.
Contact Heather Cherone: @HeatherCherone | (773) 569-1863 | [email protected]
---