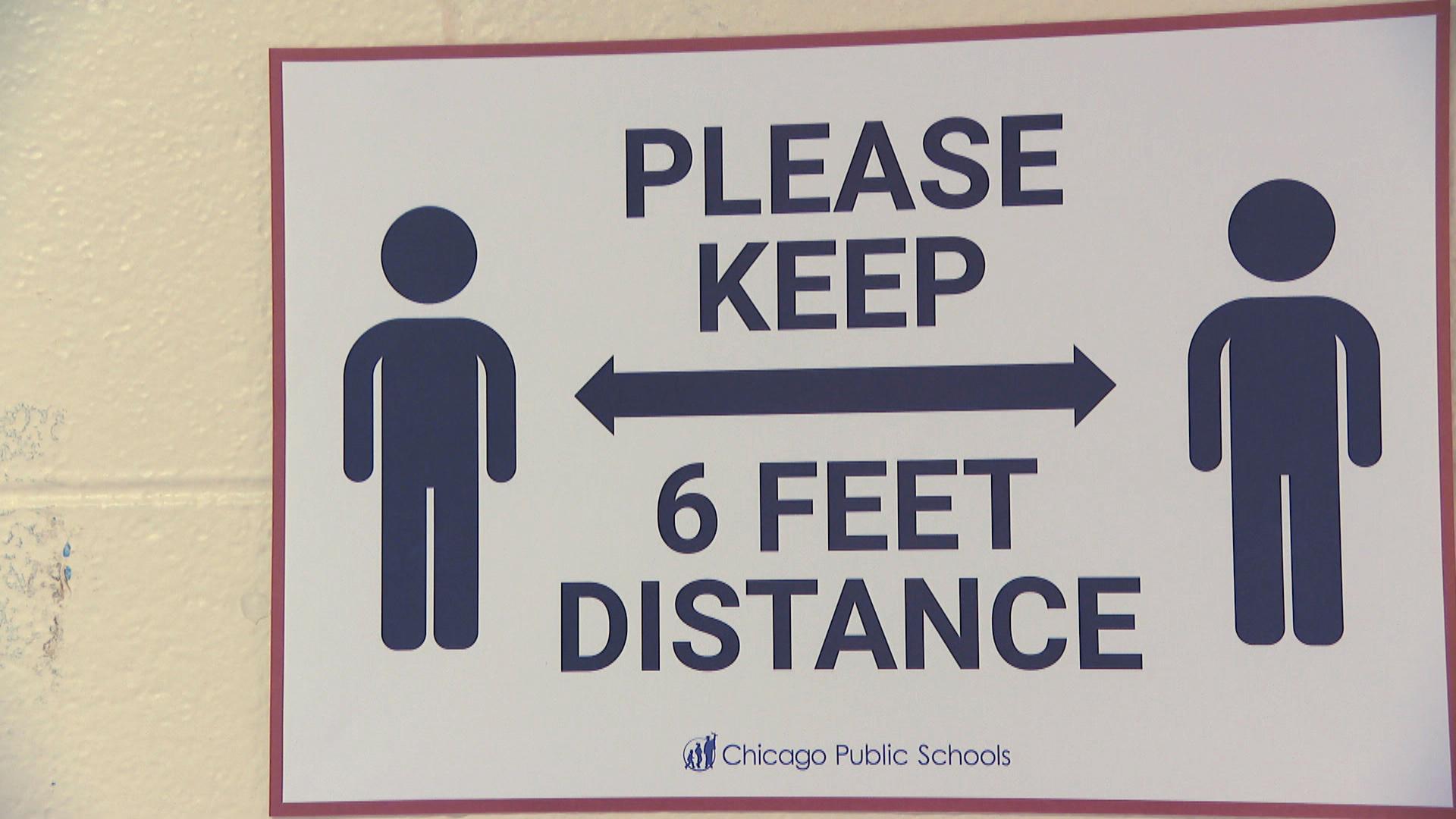 A sign promoting social distancing is shown inside a Chicago Public Schools building. (WTTW News)
UPDATE: The Chicago Teachers Union voted in favor of a reopening deal Thursday night, with 83% of the union's House of Delegates recommending the deal to union members. The deal still needs to be approved by the union's teachers and staff.
---
Chicago Public Schools high school students will return to the classroom on Monday if teachers agree to the framework announced Thursday by the district and the Chicago Teachers Union.
The CTU tweeted that the union's 500-plus member House of Delegates is holding a special meeting at 4:30 p.m. Thursday to review the framework and decide whether to send the deal to the rank-and-file for a vote. 
"It is a critical milestone for our families and it's a tremendous step forward for the academic and social-emotional well-being of our students," Mayor Lori Lightfoot and CPS CEO Janice Jackson said in a joint statement.
On Wednesday, high school teachers began teaching remotely, or hosting "teach-outs"—teaching remotely from outside their respective school buildings, instead of their classrooms—since the two sides hadn't yet reached a deal.
Teachers were due back in their classrooms Monday in advance of students' scheduled return on April 19. CPS says 84% of the teachers expected to report to their classrooms did so on Monday. The return next week will mark the first time some students have been in their high school buildings in more than a year.
Just over 35% of high schoolers had elected to return to in-person learning, as of the school board's last meeting at the end of March. Among the union's concerns were those related to remote learning, schedules for high school students, building capacity and access to vaccines for students and their families. 
"We need a safe return to high school, this begins with fair and equitable access to vaccination," Anna Acosta, a teacher a Kelly College Prep High School in Brighton Park said during a Thursday morning CTU news conference. "Indiana is vaccinating 16 year olds, the State of Illinois is vaxxing 16 year olds, Cook County is vaxxing 16 year olds. We need the city of Chicago to do the same."
Follow Brandis Friedman on Twitter @BrandisFriedman
---