As students wrap up their spring semesters, colleges and universities have started announcing plans for the fall. Some schools are requiring students to be vaccinated against the coronavirus; others plan to hold the majority of classes on campus but will not require vaccinations. 
Despite increased vaccination eligibility, the number of COVID-19 cases has been rising in recent weeks, including at the  University of Chicago, which is grappling with a COVID-19 outbreak at its Hyde Park campus.
Representatives from Northwestern University, Northeastern Illinois University and the University of Illinois at Urbana-Champaign said they plan to bring the majority of their students back to campus in the fall but currently have no plans to require vaccinations.
However, UIUC and Northwestern are considering their options. 
"We're still studying the issue and looking at the possibilities. I know leadership at the system level is having a conversation with the governor's office and the Illinois Department of Public Health about what might be practical and feasible, so the jury is still out," said Robert J. Jones, chancellor of the University of Illinois at Urbana-Champaign. "There may be some value in vaccine requirements, but there also may be some down sides."
UIUC hopes most of its students will be able to get vaccinated before the semester ends. 
Most Northwestern students are already on campus, taking online, hybrid and in-person classes, said Luke Figora, vice president of operations at Northwestern University. He said this fall should be reminiscent of a typical fall quarter. 
"We're planning for the fall quarter to be very similar to how fall quarters would be in normal times," Figora said. "There will still be some precautions in place, vaccines are a really important piece of that." 
Northwestern's plan assumes most students will have gotten vaccinated by the fall, he said.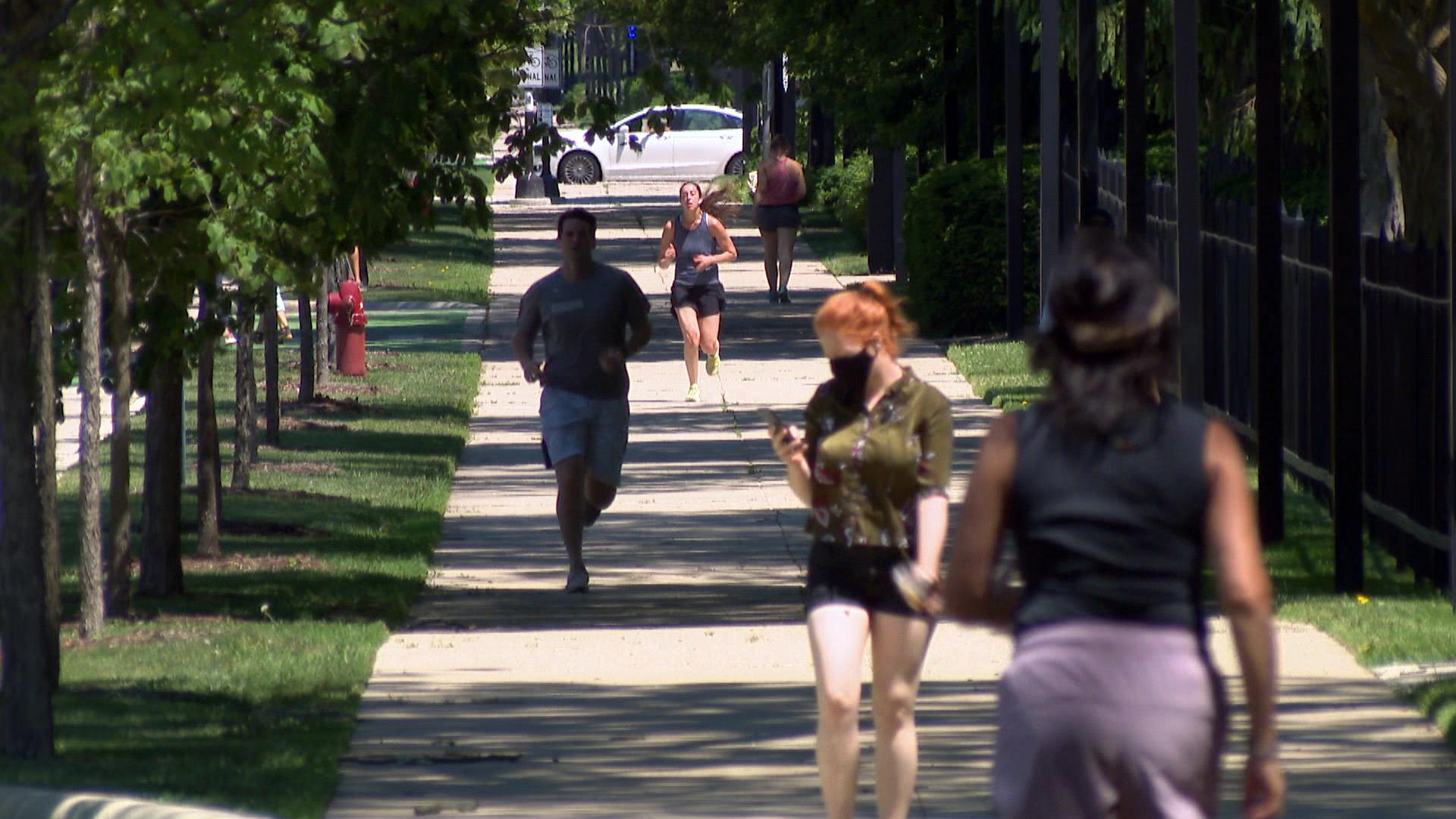 Students on the campus of Northwestern University. (WTTW News)
"We haven't made any decisions on requiring it yet," Figora said. "That vaccination status is really going to be important for having more in-person activities once we get back here in the fall."
Northeastern hopes to hold 70% of its classes in person in the fall. Currently, 90% of courses are online, said Francisco Gaytán, associate provost for student success and retention at Northeastern Illinois University. 
"We're feeling pretty hopeful about the direction that the vaccinations are headed," Gaytán said. "We're in the process of setting up systems in the classrooms. We're still working out some of the details regarding ventilation, spacing and things like that."
UIUC currently has about 25,000 to 30,000 students on or around campus, Jones said. The university hopes to get at least 85% of students back on campus in the fall. 
"Our desire for the fall is to get as many students back on campus as state guidelines will allow," Jones said. "We are planning for 85% plus, with 85% kind of being the floor, but our goal is to have as many students back in face-to-face instruction."
Courses with more than 200 students will likely include a remote-only option. 
As for graduation, each university is taking a different approach to commencement ceremonies. NEIU's commencement will be virtual again this year. UIUC will have a "stage-crossing graduation" in which students can sign up for a 15-minute window to have their name announced as they walk across a stage, get their diploma and take a picture, Jones said. Northwestern, which won't have its commencement ceremonies until June, plans to have in-person ceremonies for individual schools.
"They'll vary in size, obviously, assuming that the state has moved on either in the bridge phase or phase five of reopening," Figora said. "But our graduates are in the middle of June, so we get a little bit of time to get there, but we are hoping to have an in-person event to allow our students to celebrate and bring some of their family in."
---