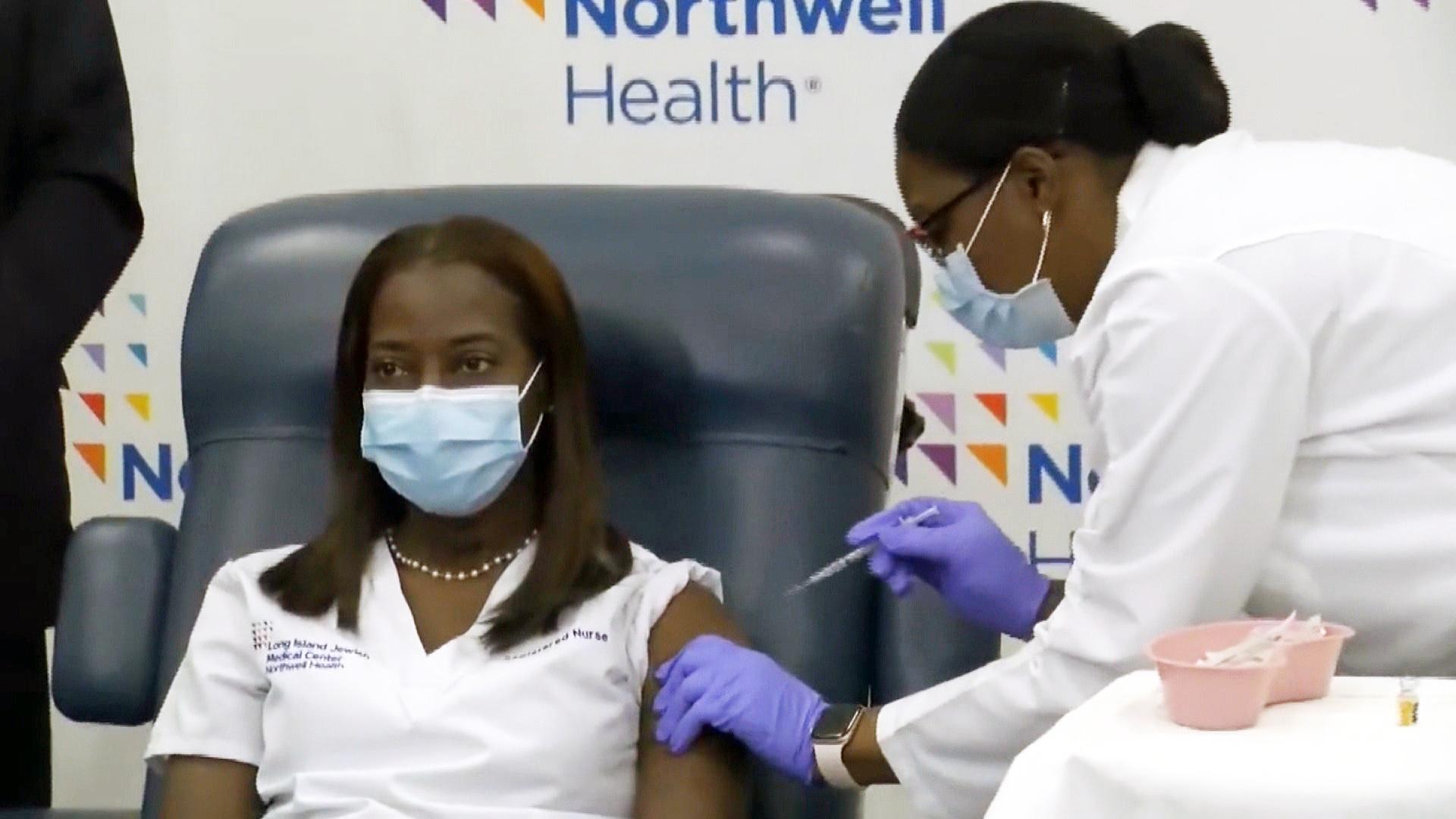 (WTTW News)
The coronavirus pandemic has exposed systemic racism and disparities faced by Black and Latino communities in Chicago, which were among those hardest hit by the pandemic.
Prior to the pandemic, those issues weren't widely known, according to Dr. Candice Robinson, medical director at the Chicago Department of Public Health.
"I think COVID shined a light on them in a way many haven't seen before," she said Thursday during a panel discussion hosted by the UChicago Urban Network. While the rollout of COVID-19 vaccines means there's a light at the end of the tunnel, Robinsons says there's "a lot of work to do after this (pandemic) to address all the things that led to where we are today."
But there have been issues with the vaccine rollout.
Initially, white and Asian Chicagoans represented 67% of those vaccinated, outpacing Black and Latino residents who are significantly more likely to contract the virus and die from it. As part of the city's efforts to address that disparity, it launched the Protect Chicago Plus program to target vaccine distribution in the 15 communities most impacted by the pandemic through partnerships with community organizations.
Given the limited supply of vaccine, it needs to be distributed equitably, said Brenda Battle, UChicago Medicine's chief diversity, equity and inclusion officer and vice president of the Urban Health Initiative.
"We're not talking about equal distribution. Equal distribution has to do with people's resources and availability to get vaccinated," Battle said. If vaccines were distributed equally, those with more resources would get vaccinated, "leaving out the rest of the population."
"Equity is important to ensure that everybody has the fair and most optimal ability to get vaccinated based upon what their needs are," she said. "Otherwise, folks who have mass resources, which we see now, go into vulnerable neighborhoods to get appointments because they can get to those neighborhoods, where many vulnerable populations can't get to other neighborhoods … and aren't always welcome (there)."
One of the goals of Protect Chicago Plus is to get shots into the arms of community members, not outsiders, according to Robinson. To do that, officials are working with community-based organizations to invite residents to vaccination events and are checking to make sure applicants do indeed live in the community, Robinson said.
Outsiders snapping up appointments at the United Center ahead of its launch also led to residency restrictions to ensure Chicago residents most in need get the shot.  
Dr. Arshiya Baig, an internist and associate professor of medicine at UChicago, said officials are learning from their mistakes. At a clinic she works with in Little Village, staff members began verifying addresses for COVID-19 vaccine appointments after people from outside the neighborhood signed up for doses.
"It's been a year of change. We're learning a lot," Baig said. "As we see inequities, we're trying to address them from (Illinois Department of Public Health) and (Chicago Department of Public Health) guidance. I think things are improving."
While hesitancy may have been an issue when the vaccines were first approved, accessibility is now the bigger issues, according to Baig.
A recent Kaiser Family Foundation poll found that 71% of Latinos wanted to get vaccinated. "If more than 70% of a community wants something, I don't think (the issue is) hesitancy," Baig said. "It's access."
Barriers to vaccination could include a lack of technology, transportation or information in Spanish, according to Baig.
Pop-up events within communities have made vaccines more accessible, but one-off events aren't enough. Regularly occurring events or temporary clinics would be better because residents could go to the same place any day or weekend, according to Baig.
Working with community-based organizations, leaders and activists will help improve vaccination rates among Black and Latino communities, according to Battle.
"We've got to be close to the boots on the ground, close to the folks in the community and leverage the resources in the communities," Battle said.
And once the pandemic is in the rearview mirror, efforts must continue to address systemic racism and disparities, Robinson said.
"We can't stop after the pandemic. … We can't say job well done and a move onto the next thing and get back to a normal that doesn't address the underlying issues that led us to the COVID inequities we saw," she said.
One way to do that is to keep the conversation going, Baig said.
"The more we talk about it, the more it's at the forefront that we need to address," she said.
People should also consider unintended consequences of their actions. "When we institute policies or design an intervention, we think, 'Who is this going to help?' But we also need to think who may it actually hurt," Baig said.
Contact Kristen Thometz: @kristenthometz | (773) 509-5452 |  [email protected]
---