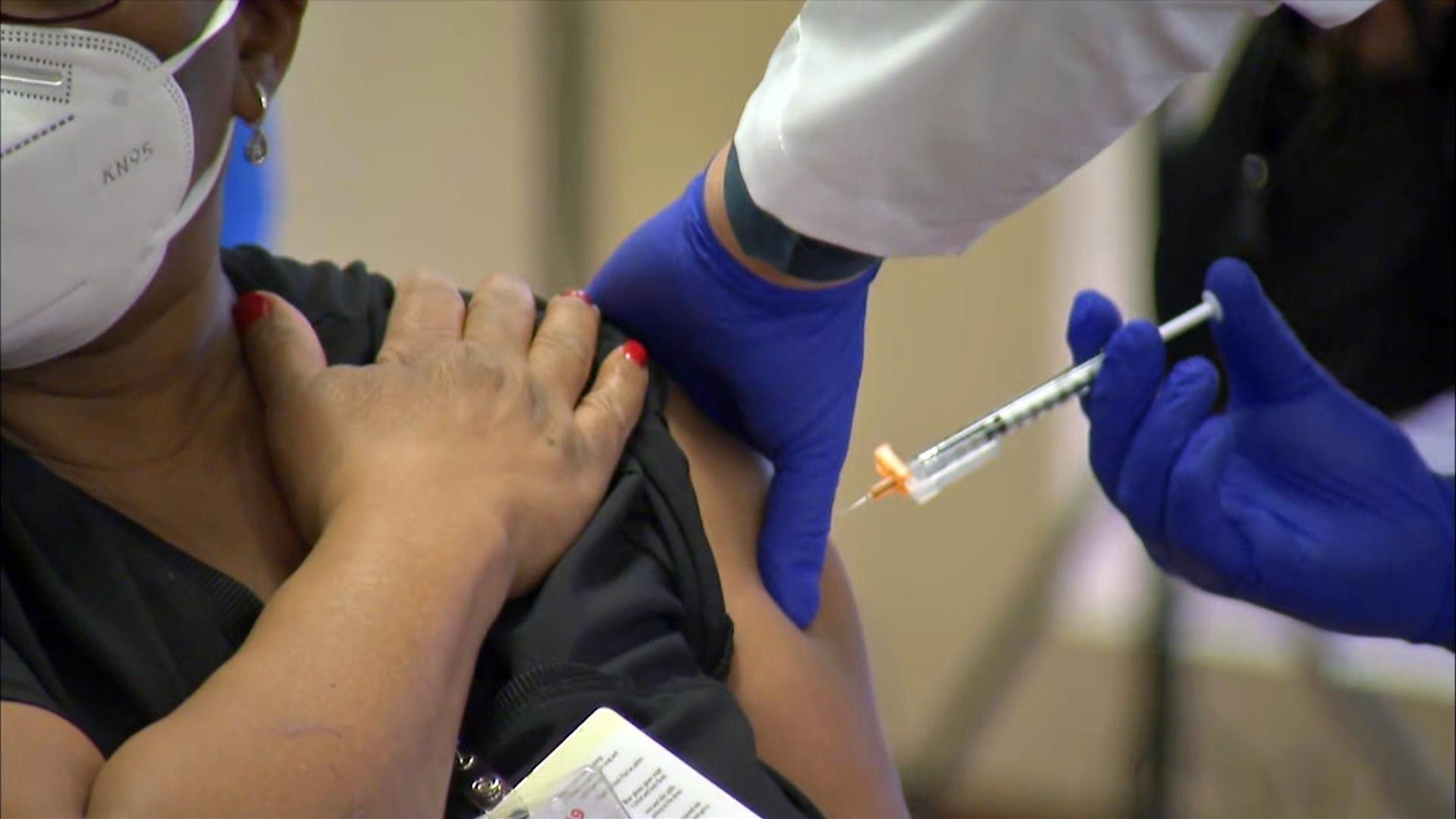 The second doses of the Pfizer vaccine in Chicago were administered at Norwegian American Hospital on Tuesday, Jan. 5, 2021. (WTTW News)
Approximately 67% of Chicagoans who have received at least the first dose of the COVID-19 vaccine are White or Asian, outpacing Black and Latino Chicagoans who are significantly more likely to contract the virus and suffer severe illness or die, according to data released Monday by the Chicago Department of Public Health.
Just 17% of Chicagoans who have gotten the first shot are Latino, while 15% of those who have gotten the coveted shot are Black, according to the city's data.
Shortly after getting her first dose of the vaccine at St. Bernard's Hospital in Englewood, Mayor Lori Lightfoot called the rate of vaccinations among Black and Latino Chicagoans "alarmingly low."
Lightfoot vowed Monday to redouble efforts to get the vaccine to those in neighborhoods hit hardest by the coronavirus pandemic by earmarking doses of the vaccine for those Black and Latino communities as the state begins the second phase of its vaccination effort.
"All of us, city government and our many important community partners, need to work every day to ensure the vaccine is getting to those who need it most, and that when its available people take it," Lightfoot said in a statement.
Lightfoot addressed Black and Latino Chicagoans directly, telling them they "need the vaccine the most, even though you are the most reluctant."
"We want to save your life," Lightfoot said.
Approximately 53% of those who have gotten the first shot are White, while 14% are Asian, according to city data.
Of the 4,555 Chicagoans who have died after testing positive for COVID-19, 38% are Black and 33% are Latino, while just 20% are White. The city's population is approximately one-third White, one-third Black and one-third Latino, according to census figures.
Lightfoot has vowed from the start of the vaccination effort in Chicago 41 days ago to ensure that Black and Latino Chicagoans are first in line to get the vaccine. However, that push has been complicated by the fact that 57% of all data sent to city health officials about Chicagoans who have been vaccinated from a state-run registry was missing race and ethnicity data, said Dr. Allison Arwady, the commissioner of the Department of Public Health.
To fill in that gap, Chicago officials worked with DePaul University to use other records to create statistical models to determine the race or ethnicity of those who have been vaccinated, Arwady said.
Citywide, approximately 1 in 25 Chicagoans have received at least one dose of the vaccine, according to data compiled by the Chicago Department of Public Health. That includes 107,871 Chicagoans who have gotten the first dose of the two-dose regimen as of Sunday. That's about 4% of the city's population, according to city data. Of those, 32,438 are fully vaccinated. 
Approximately 37% of the doses administered in Chicago went to those who work in Chicago but live outside the city, Arwady said.
"That is good progress," Arwady said.
However, that compares with the fact that only 1 in 66 residents of Englewood have gotten at least one dose of the vaccine, Arwady said. By comparison, 1 in 10 residents of downtown have gotten a shot, she added.
"We have a ways to go," Arwady said.
That disparity is due in part to the fact that only health care workers and residents of long-term care facilities were eligible for the vaccine in the first phase of the rollout under federal guidelines.
Doctors and nurses — who are disproportionately White and Asian — were more likely to sign up right away for the vaccine than hospital support workers, technicians, aides and therapists, who are disproportionately Black and Latino, Arwady said.
That hesitation is due in part to the racist treatment many Black and Latinos have suffered for decades in the United States's health care system, and the city is determined to address that head on by launching a new effort in 15 Chicago neighborhoods whose residents are most likely to get COVID-19 and get seriously ill, Arwady said.
Those neighborhoods are: West Englewood, Englewood, New City (Little Village), Gage Park, North and South Lawndale, Chicago Lawn, Roseland, Archer Heights, Washington Heights, Austin, Montclare, South Deering, Belmont Cragin and Humboldt Park, officials said.
The Protect Chicago Plus effort will focus on those neighborhoods for six to eight weeks, Arwady said. The city will partner with community organizations and churches to host by-appointment vaccination events, in addition to sending outreach workers door to door and to grocery stores and laundromat to help people schedule appointments and get information about the vaccine.
However, those efforts will be complicated by the fact that Chicago's vaccine supply remains a "significant concern," officials said. Chicago is set to get 34,000 doses of the vaccine next week, according to Arwady. The city has the capacity to administer 170,000 doses of the vaccine per week, she added.
The city's tentative vaccine distribution plan estimates that there will not be enough COVID-19 vaccine available for all Chicagoans ages 16 and older until May 31.
Lightfoot, who again said the vaccine is safe and effective, asked all Chicagoans to be patient while waiting for their turn to be vaccinated.
Contact Heather Cherone: @HeatherCherone | (773) 569-1863 | [email protected]
---