Plans for a 50-unit affordable housing development are underway in Albany Park, a diverse community on Chicago's Northwest Side that is not alone in facing gentrification.
The developer Celadon Holdings received support for the project from Chicago's planning and development committee earlier this month, Block Club Chicago reported. 
The project will head to the full City Council for approval in April. The development, which would be located on the corner of Lawrence and Central Park avenues, will use $2.5 million in TIF funds. 
READ: 'Chicago Tonight' in Your Neighborhood: Albany Park
Renters Organizing Ourselves to Stay, or ROOTS, an initiative under Communities United, is working with Celadon on the project.  
"The purpose of ROOTS … it works to prevent displacement of low-income families through developing a model to preserve affordable housing, especially with our two- to four-flat buildings in neighborhoods across Chicago and neighborhoods that are gentrifying," said Diane Limas, vice president of Communities United's board. 
The developer is also in the process of acquiring and renovating over 200 other units in Albany Park, which it will then keep affordable, Limas said. 
"Not only are we creating and bringing brand new units through the ROOTS initiative into Albany Park, but we are also preserving existing buildings by rehabbing these apartments and keeping them affordable as well," Limas said.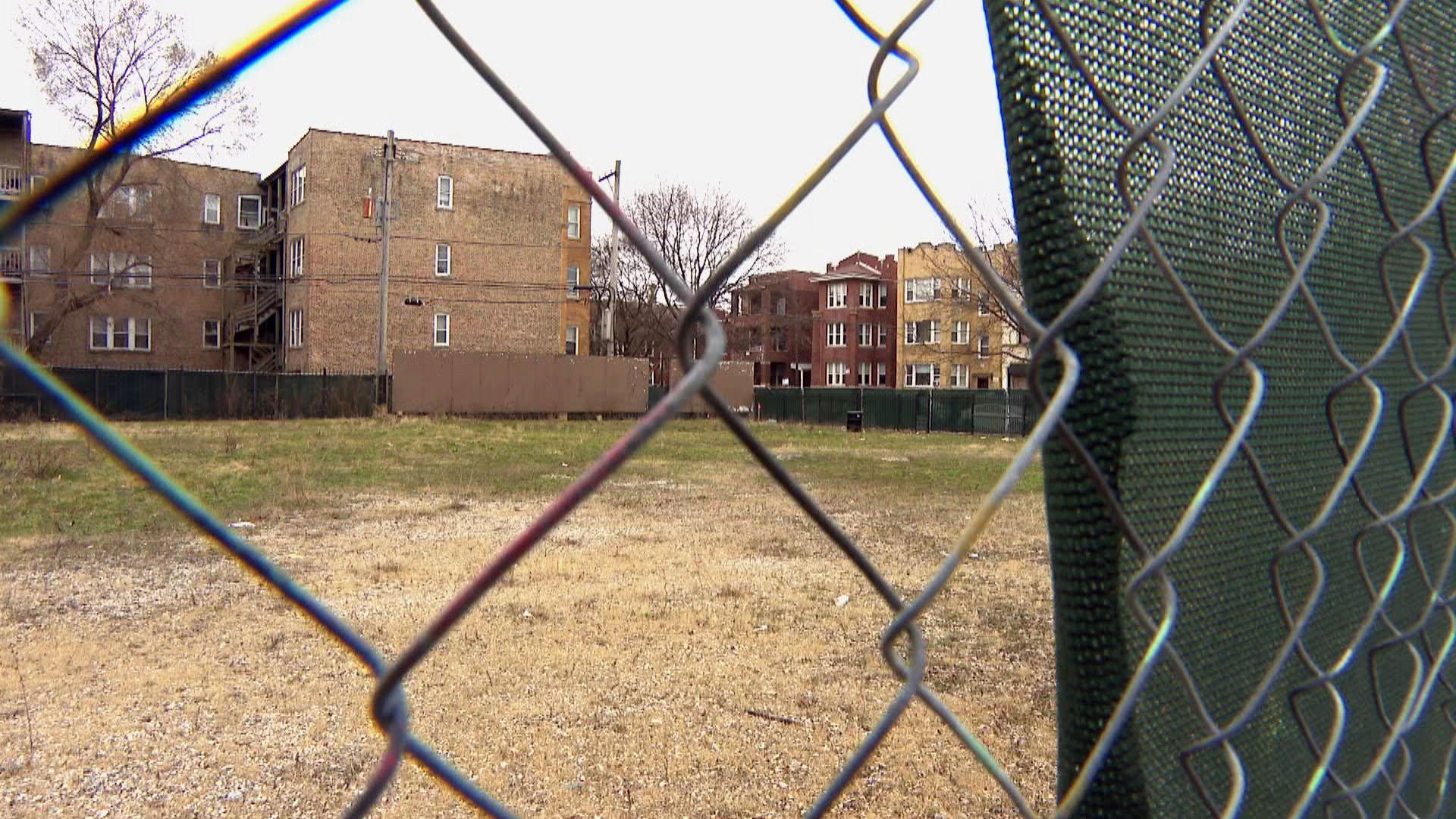 The site of a 50-unit affordable housing development in Albany Park. (WTTW News)
Many units are occupied by two or three families in order to afford rent in the area, said Scott Henry, principal at Celadon.
"We're hoping that we can put a dent in that situation where there are families that are doubling, tripling up," Henry said. "That they'll actually be able to afford their own unit and not have to double up."
Celadon plans to close on the property in May, begin construction in June and finish next summer. The six-story development will have five three-bedroom units, a rarity in the community, Henry said. 
The building will also have a low-cost childcare center for residents and community members. Henry hopes this will make a significant impact on residents, enabling them to allocate money typically used for day care to other projects, like fixing a car so they can travel to a job that may be further away. 
Celadon hopes to work with smaller subcontractors that aren't often a part of developments like this, Henry said. 
"It's always Celadon's feeling that the community-level subcontractors have to benefit from it to the extent possible," Henry said. "A lot of those smaller trades don't often get a fair shake, especially on the North Side … Everybody that's interested in working on this project, there are jobs available and we'd love to work with them."
Plans for the development come as Gov. J.B. Pritzker has extended the eviction moratorium several times amid the coronavirus pandemic. Limas is concerned about how many families may be displaced because of the pandemic — and its economic impact. 
Limas gave the example of one of the leaders at Communities United who has fallen behind on rent. The owner of the building is now having a difficult time making these mortgage payments and has put the property up for sale. Once it is foreclosed or sold, that will mean the leader's family will be displaced. 
"I'm sure that's going to be happening not only in Albany Park, but all across the city," Limas said. 
Ald. Rossana Rodriguez Sanchez, whose 33rd Ward includes parts of Albany Park, is also concerned about residents losing their homes from the economic impact of the pandemic.
"We are pleased to see that there is movement at the state level to make sure that there is rent relief that is coming and for small landlords," Rodriguez Sanchez said.
She said constituents have been calling her office about rent concerns, particularly among undocumented residents who don't have as much access to resources.
Video: Watch our full interview with Ald. Rossana Rodriguez Sanchez.
---
Community Reporting Series
"Chicago Tonight" is expanding its community reporting. We're hitting the streets to speak with your neighbors, local businesses, agencies and leaders about COVID-19, the economy, racial justice, education and more. See where we've been and what we've learned by using the map below. Or select a community using the drop-down menu. Points in red represent our series COVID-19 Across Chicago; blue marks our series "Chicago Tonight" in Your Neighborhood.