The South Side Irish Parade Committee is hosting a house-decorating contest called Shamrock Our Blocks in place of its annual parade — one of several St. Patrick's Day parades canceled for the second year because of the coronavirus pandemic. 
The parade, which would have happened this weekend, takes place on Western Avenue in Chicago's Beverly community on Chicago's Far Southwest Side. 
"The parade is one day, but around here the parade is a season. It lasts for weeks. People get excited. The parade is like Christmas morning and your birthday all on the same day," said Tim McSweeney, co-chair of the South Side Irish Parade committee.
The parade is a celebratory day, and it marks the beginning of spring, said Ald. Matt O'Shea, whose 19th Ward includes Beverly. 
"We see our neighbors for the first time," O'Shea said. "After this horrible year we've all been through, we were hoping that we would have been far enough in turning the corner to be able to celebrate, but unfortunately because it's such a big event, a hundred thousand people out shoulder to shoulder in the street, it was the right decision." 
Video: Watch our full interview with Ald. Matt O'Shea: 
While residents are disappointed about the second cancelation of the beloved parade, they have shown enthusiasm for the Shamrock Our Blocks competition, organizers say. 
"We've had submissions come in for the contest, and then they've sent in another one because they've added on to it, and they've added more decorations, and they get some ideas driving around the neighborhood," said Don Larisey, co-chair of the South Side Irish Parade committee. "So it's really starting to grow as we ramp up toward what would be called parade day."
Five winners of the competition, to be announced Saturday, will receive gift cards to local businesses. 
The parade's cancellation comes as small businesses are facing the economic impact of the pandemic, said Caroline Connors, executive director of the Morgan Park Beverly Hills Business Association. However, no businesses have closed because of the pandemic, she said. 
"When I say we are fortunate that we haven't had closures, that's not to say it hasn't been a real struggle and challenge for many businesses, a lot of them are hanging on by a thread," Connors said.
Parade day is typically one of the highest revenue-producing days for local businesses, Connors said. In addition to the restaurants and bars along Western Avenue benefiting from the parade, the neighborhood at large celebrates the whole weekend. This means other local businesses, like stores and floral shops, also typically see a boost in sales around St. Patrick's Day, she said. 
"The parade drives a lot of money for this area. It really is the economic engine for weeks, the grocery stores, the pubs," McSweeney said.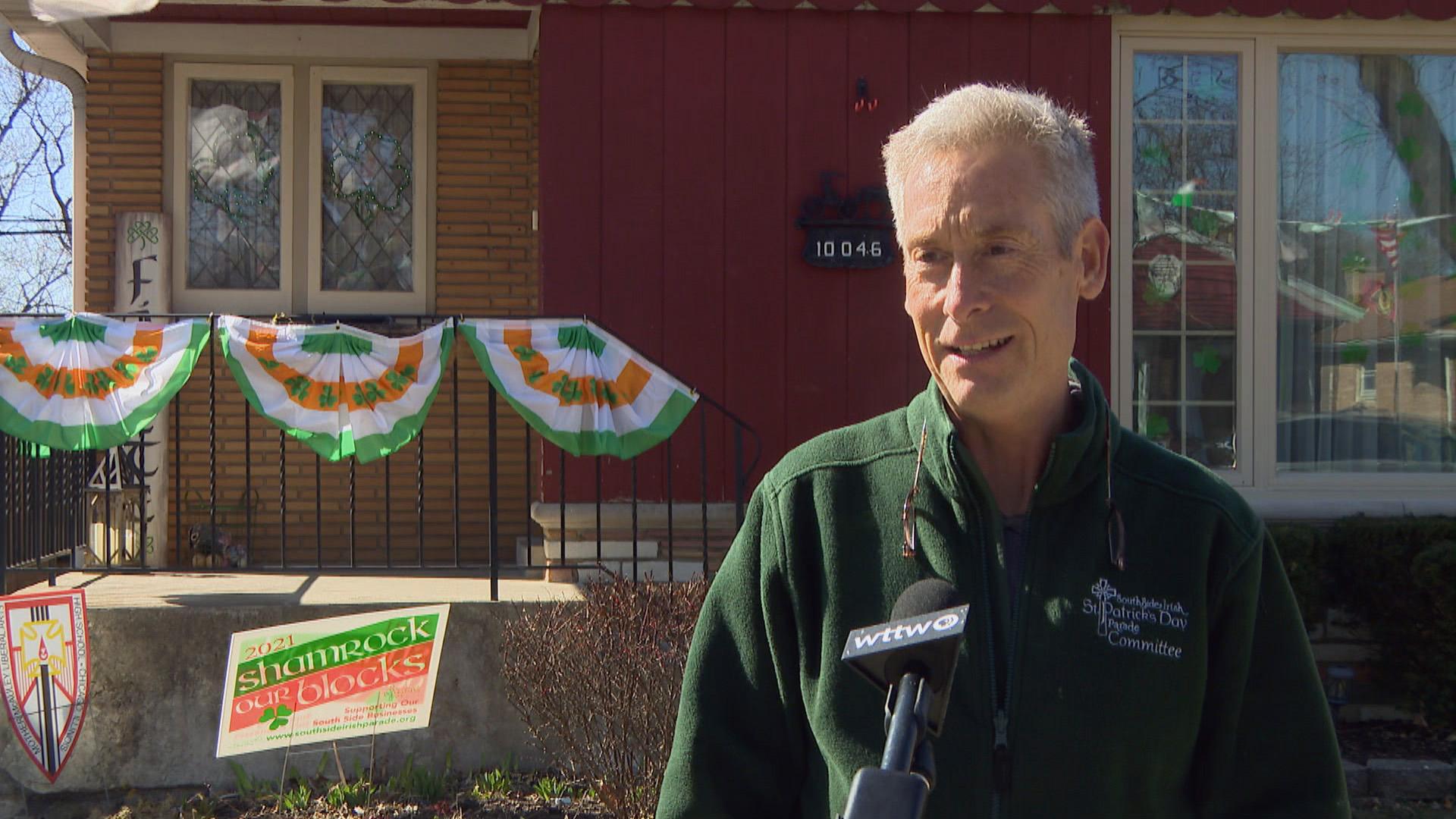 Tim McSweeney, co-chair of the South Side Irish Parade committee. (WTTW News)
The pandemic has been devastating for businesses in the area, including Barney Callaghan's, a tavern on Western Avenue. 
"It's been confusing, it's taught us a lot. We've all been trying to … reinvent ourselves many times over because the rules kept changing so rapidly," said Mary Callaghan.
On a typical St. Patrick's Day, the bar is packed, Callaghan said. This year they'll only be able to host 50 people inside and 50 people outside. The tavern's full capacity is 249. 
Optimism about the future
Beverly is a residential community, home to many city workers including firefighters, police officers and other first responders. The 60643 zip code, which includes parts of Beverly, Washington Heights, Morgan Park and West Pullman, has a 1.5% positivity rate. 
Dr. Tony Hampton at Advocate Health Care's Beverly center said he is feeling optimistic about the future because of the vaccine, COVID-19 education efforts and the focus and attention on the virus right now.  
"I do feel positive," Hampton said. "I feel it in my patients. I personally feel safer. I'm looking forward to getting back to the Irish parade, the South Side Irish Parade. I think we'll be doing more things. We just have to be smart about how we do it."
"I have tons of cops, nurses, firefighters, etc. It's really nice to have that type of population because although we have a lot of seniors, we also have a lot of first responders whose obviously doing similar work to take care of the community," Hampton said. 
The Beverly Arts Center is a well-known institution in the community. Over the past year, the center has seen an 80% drop in capacity, said Andrew Lindstad. This is largely because mitigation measures by the city and state have reduced the organization's capacity. 
While the center has several classrooms, it only hosts one class at a time to accommodate safety measures, and to ensure proper cleaning and disinfecting between classes, Lindstad said. 
This summer, the center's professional theater performances will be outside, along with other events and programming.
"We're really trying to shift as much programming as we can outside, just to be safe with the pandemic," Lindstad said. 
---
Community Reporting Series
"Chicago Tonight" is expanding its community reporting. We're hitting the streets to speak with your neighbors, local businesses, agencies and leaders about COVID-19, the economy, racial justice, education and more. See where we've been and what we've learned by using the map below. Or select a community using the drop-down menu. Points in red represent our series COVID-19 Across Chicago; blue marks our series "Chicago Tonight" in Your Neighborhood.