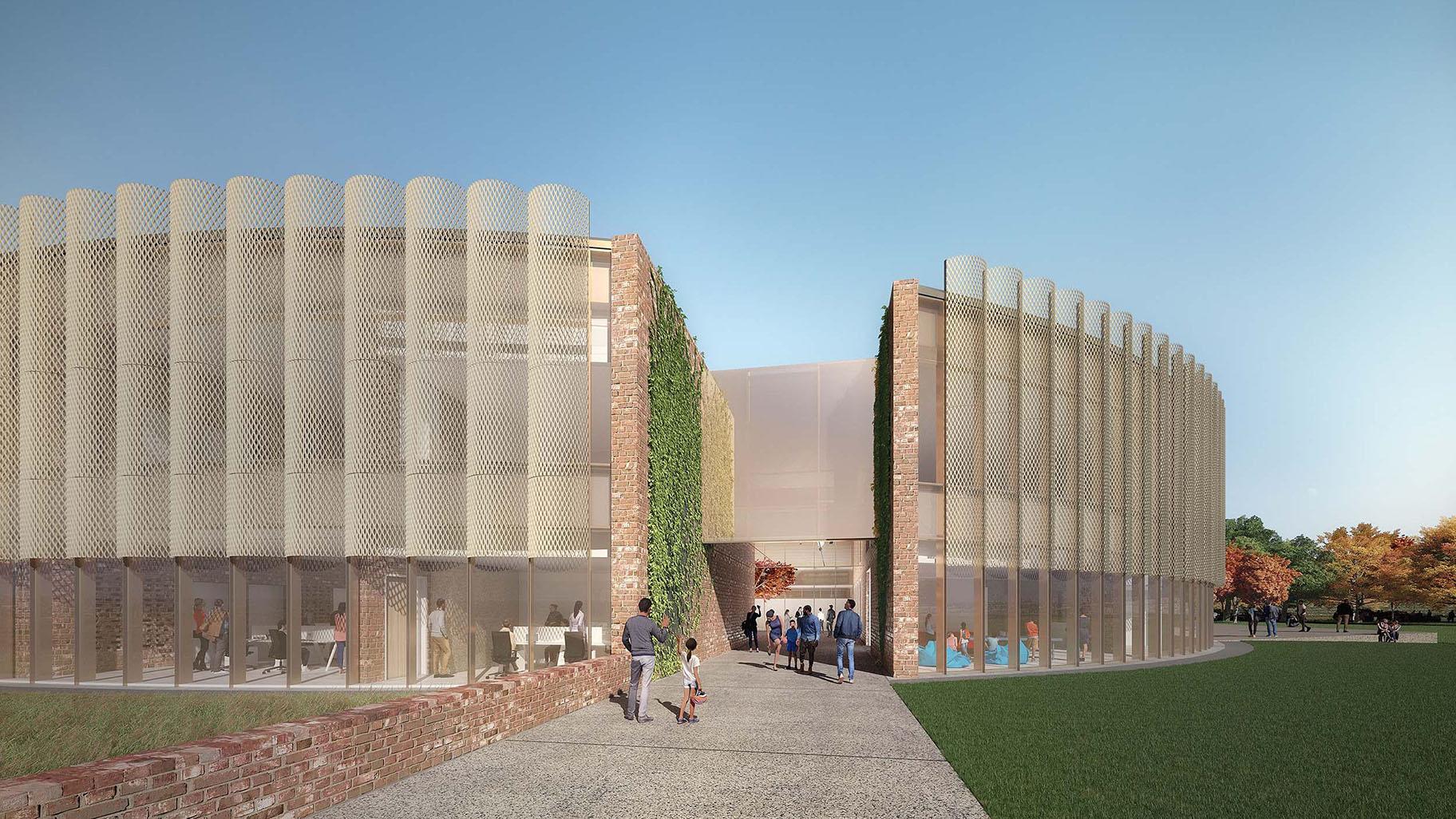 A rendering of John Ronan Architects' plan for the Park District's new headquarters. (Courtesy of Chicago Park District)
A massive new campus for the Chicago Park District, which has the added intention of creating a new neighborhood park, is one step closer to reality.
The Chicago Park District Board of Commissioners on Wednesday approved a $64.5 million construction contract for the agency's new headquarters, a 17-acre campus that will double as much needed green space in the Brighton Park community.
The formerly vacant industrial property at 4830 S. Western Ave., acquired by the city in 2018 for $8 million, will eventually encompass a 58,000-square-foot administrative building, a 20,000-square-foot field house, two turf fields, a grand lawn, water features and a nature play space, among other amenities.
Groundbreaking could take place later this spring, with occupancy expected by early 2023, officials said.
"This has been a long process … that was very deliberate," said Board President Avis LaVelle. "It's going to be transformative for this community. It is a big project, it's major construction in an area that we envision will be totally lifted by having a project of this magnitude locate there."
Brighton Park, on the Southwest Side, is one of the community areas in Chicago most starved for green space, with most of the land either already developed for industrial use or housing, and little else, said Heather Gleason, the Park District's director of planning and development.
Suitable parkland was hard to come by, but the agency was committed to investing in an underserved area. In reclaiming an industrial property, the city has already undertaken environmental cleanup of hot spots and the land will be capped with a layer of clean soil as part of the construction process, Gleason said.
"It's not easy to go to 49th and Western and get $60 million," said Mike Kelly, the Park District's general superintendent and CEO. "Government needs to invest sometimes when we can't get the private sector to go there."
The need for a new HQ was precipitated by the 2014 sale of the Park District's current home at 541 N. Fairbanks Ct. The agency has been leasing space in the building ever since, an agreement that's set to expire in 2022. 
In 2019, the firm John Ronan Architects was chosen to design the district's headquarters and came up with a two-story circular building that will house not only the agency's administrative offices but also the as-yet-unnamed park's field house (it's known, for the moment, as Park No. 596). Ronan's unique solution to separating the building's divergent uses was to extend a park pathway through the building, delineating its two halves. 
The plan for the combined headquarters-park campus was presented to community organizations and residents on multiple occasions in 2020, including in-person meetings before the coronavirus pandemic struck and via virtual sessions later in the year. Another meeting will be scheduled in 2021.  
The construction contract was awarded to a joint venture between F.H. Paschen and All Construction, which includes minority- and women-owned business enterprise participation.
Contact Patty Wetli: @pattywetli | (773) 509-5623 |  [email protected]
---