The work of beloved children's author Dr. Seuss is at the center of a so-called cancel culture controversy over racist and stereotypical depictions in many of his early books and cartoons.
Dr. Seuss Enterprises, which manages the author's legacy, announced last week that six books would no longer be published because they "portray people in ways that are hurtful and wrong." They say the decision was made in consultation with educators and after reviewing the author's works.
The decision was welcomed by many, but it didn't sit well with everyone.
"Obviously they have the legal right to make that choice," said Samuel Karnick, a senior fellow and director for publications at the Heartland Institute. But "there's an interesting question as to the moral and ethical implications of it," he said.
While Karnick conceded that "the depictions that are in question here, they certainly are silly and terribly unflattering," he said that such depictions were not limited to certain groups of people.
"The problem is that everybody in Dr. Seuss illustrations looks ridiculous," Karnick said. "Everyone looks grotesque. It's not just an individual, or particular ethnic group … And so, it seems to me, there is nothing fundamentally wrong with what Dr. Seuss did there."
Karnick says he believes the decision by Dr. Seuss Enterprises to pull the six books was primarily a financial one.
"This is actually a decision by a private organization that has come to the conclusion, that given the controversy over the author's other works that he did leading up to and during World War II, that a target was going to be on their backs. And they made a financial decision here to throw six of the books out in hopes that the entire canon wouldn't be ultimately canceled. That's what happened here."
But Deborah Caldwell-Stone, director of the American Library Association's Office for Intellectual Freedom, says it's not unusual for authors or publishers to reconsider the availability of certain books. She notes the example of Stephen King deciding to withdraw his book "Rage" — written under a pen name — after a wave of school shootings.
"What's important here is that they aren't asking anyone to stop reading them, taking them out of their personal collections, or library collections or schools," said Caldwell-Stone. "They just made a decision that they wanted to be more responsible to the communities they serve … There is such a wealth of children's literature today that celebrates the diverse experiences of children and their families and that don't confront children with racist images that could be hurtful or traumatizing for them."
She says any author or any entity responsible for an author's work has the right to reevaluate the work in light of contemporary social standards and conditions.
"I don't think you can call that 'cancel culture' — I believe what we are looking at is critically thinking about content. It's availability to young people. And making supportive decisions that there are other works that better represent Dr. Seuss's genius and legacy," said Caldwell-Stone. "The estate has made the evaluation that some of the work that he wrote in the '40s and '50s reflect outdated cultural attitudes and outright racist ideas that they'd rather not have out there anymore."
She also noted that libraries and publishers are grappling with the issue of how to diversify the content they make available.
"We should recognize that particularly children's materials may not always reflect the lives and experiences of persons of color (and) indigenous persons," said Caldwell-Stone. "There needs to be a change, and libraries are very aware of the need to add diverse books to their collections. That doesn't necessarily mean removing books that are outdated, but you might do different things with them. Some might move them to an archive, or to an adult collection meant for research."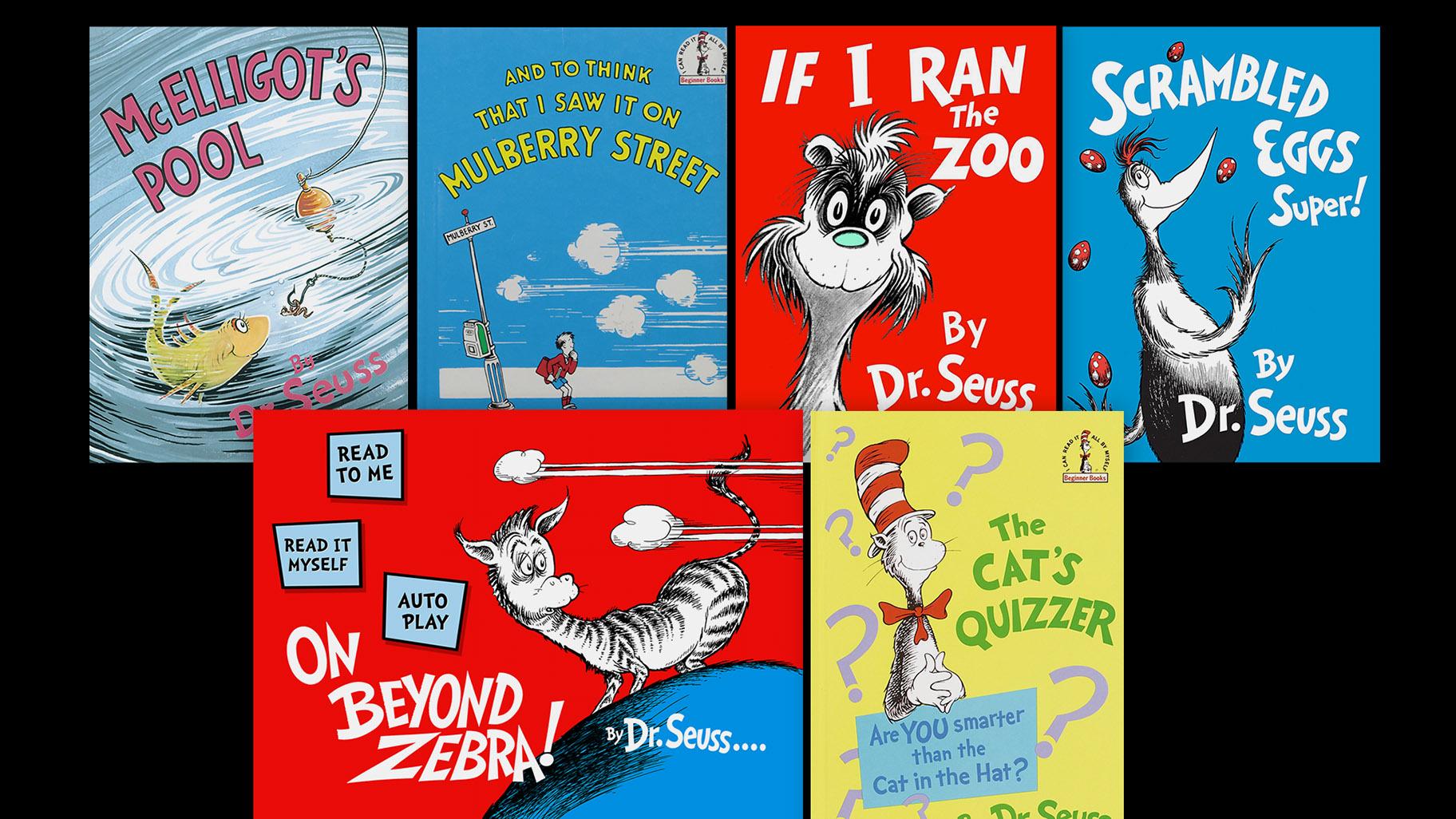 Six Dr. Seuss books will no longer be published. (WTTW News collage)
On Saturday, the Chicago Public Library announced it would temporarily remove the Dr. Seuss books in question while it decided on a long-term plan on what to do with its collection. The New York City Public library said it would keep the controversial books in circulation.
But according to Karnick, the "exaggerations" in Dr. Seuss's book should not lead result in a ban.
"In a mature and decent society, it wouldn't be a problem," said Karnick. "People could look at them and say, 'Oh, that's terrible,' or 'That's what happens when you are exaggerating everything.' You'll find that some people are very sensitive to exaggerations that hit home to them … Obviously, you shouldn't hurt people's feelings. That said, you shouldn't aggrandize their feelings either. Make their feelings somehow dispositive for everything that happens in the world. Sometimes it's good to let some things roll off your back."
Karnick says the fight over Dr. Seuss's work is "what happens when you have a society that is looking for things to be divided about."
Caldwell-Stone said the decision to stop publishing the six books should not mean that all libraries pull them from their collections, but it should prompt them "to think critically about the books" and how and to whom they are made available.
"Ultimately it is a matter of personal choice," said Caldwell-Stone. "The core values of librarianship include both intellectual freedom and social justice. There are many paths to achieving both those core values. You can leave the books on the shelf and make it a matter of personal choice, but make sure that there's information about the books available to parents and families."
She notes that people of color are still massively underrepresented in books for children.
"There's a real disparity in the ability of Black authors and Black artists to reach an audience through publishers. And that affects the ability of libraries to provide those books," said Caldwell-Stone. "We've got to reflect the diversity of the communities we are serving."
However, she expects libraries and publishers to get criticism whatever they choose.
"I suspect they will get criticism, probably along partisan lines, on the grounds of cancel culture. I do believe there will be pushback because that's the nature of our discourse these days," she said.
---