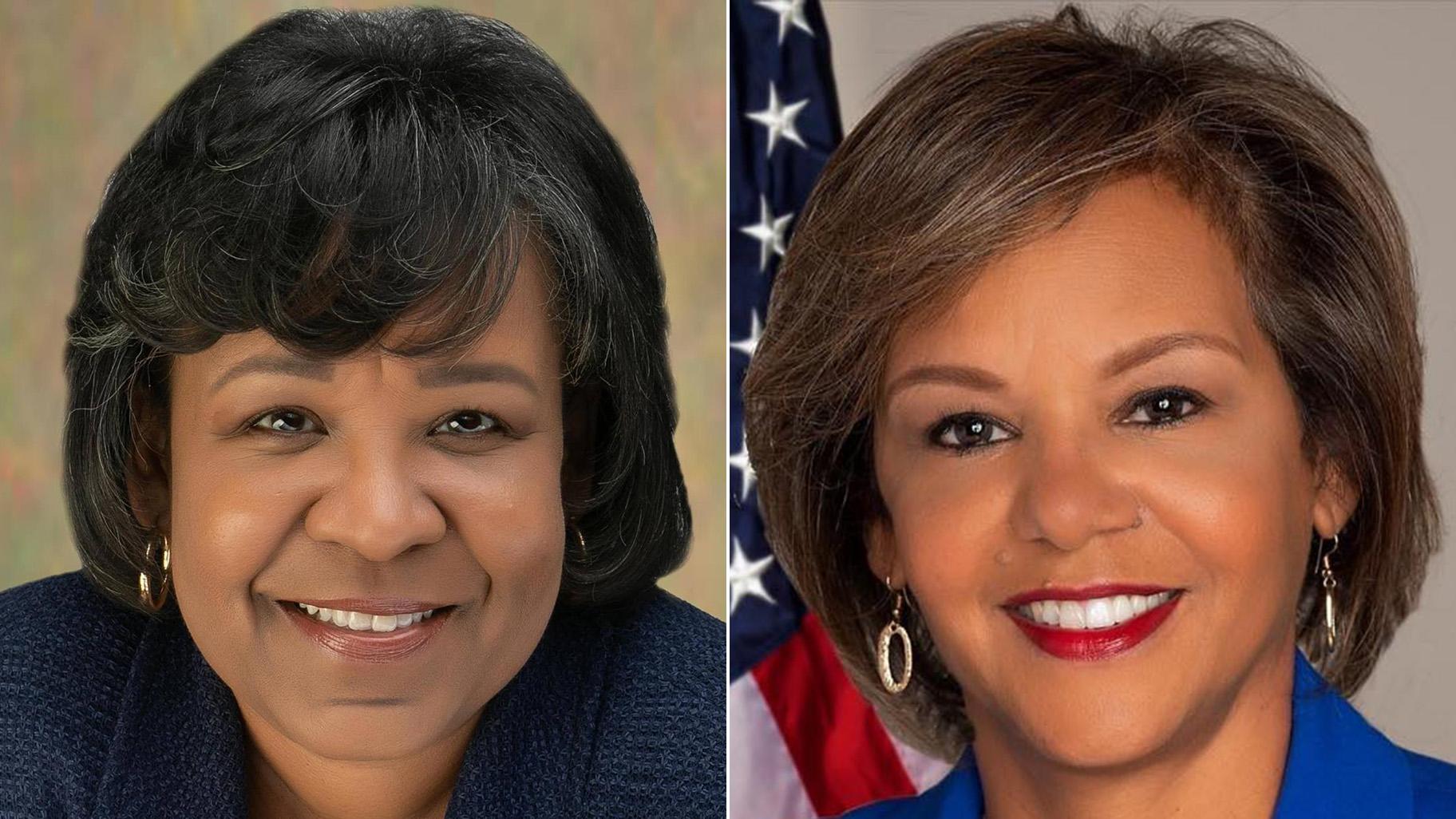 Ald. Michelle Harris (8th Ward), left, and U.S. Rep. Robin Kelly (D-Chicago). (Courtesy of Harris and Kelly)
The next chair of the Illinois Democratic Party — the first in nearly a quarter century — will be either Ald. Michelle Harris (8th Ward) or U.S. Rep. Robin Kelly (D-Chicago).
Whichever candidate emerges victorious after the fierce battle touched off by the resignation of Michael Madigan, who controlled Illinois politics with an iron fist for decades, will be charged with leading the Illinois Democratic Party into a new era as the party's first Black and first female chair.
Who will pick the next chair?
Harris and Kelly have been working to line up commitments from members of the Democratic State Central Committee, which has one man and one woman from Illinois' 18 congressional districts. Each member has a share of the vote based on how many Democratic ballots were cast in their districts during the March 2020 primary election. The winner needs a simple majority of that weighted vote at a virtual meeting set for 6 p.m. Wednesday.
Why did Madigan resign?
During his tenure, Madigan helped turn Illinois from a swing state to one where all of the statewide offices were controlled by Democrats plus supermajorities in the Illinois House and Senate. But Madigan's power began to flicker when Commonwealth Edison officials admitted to arranging jobs, contracts and payoffs to Madigan loyalists as part of a deferred prosecution agreement that resulted from a sprawling federal investigation.
Some of those employees did little or no work for the company from 2011 to 2019 but were added to the firm's payroll as part of a scheme to win influence and curry favor with Madigan, given the powerful legislator's ability to help ComEd advance laws that benefited the company by paving the way for higher electric rates, according to the deferred prosecution agreement.
Madigan, who has not been charged with wrongdoing and maintained he did nothing wrong, might still be in power — but he was blamed for the downfall of Pritzker's graduated income tax proposal as well as the defeat of Illinois Supreme Court Justice Thomas Kilbride during the November election. 
Those defeats prompted Pritzker to call for Madigan to step down.
Who is the governor backing?
Gov. J.B. Pritzker is backing Harris, giving her a big boost. Pritzker — whose fortune has become the largest source of funds for the Illinois Democratic Party — said Harris was "a listener and a leader" and had a proven track record in turning out Democratic votes in her South Side ward. Harris learned how to make the political sausage as a protégé of former Cook County Board President John Stroger, a legendary ward boss.
But the governor is not a member of the committee — nor is Mayor Lori Lightfoot, who tapped Harris last month to serve as her floor leader on the City Council after her agenda ground to a halt. Lightfoot is neutral in the race, refusing to pick between Harris and Kelly, who was one of very few elected officials to endorse Lightfoot in the first round of the 2019 mayoral election.
Two people who are members of the committee? Harris and Kelly — who will have the chance to vote for themselves.
Madigan will also get a say in the battle to replace him — as the 3rd Congressional District representative, he is backing Harris. 
But the other 3rd Congressional District representative, Ald. Silvana Tabares (23rd Ward), is backing Kelly — along with other Latino elected officials.
What about Durbin and Duckworth?
Illinois' two Democratic senators are split, with Sen. Dick Durbin backing Kelly and Sen. Tammy Duckworth backing Harris. Durbin on Friday downplayed the fissure, saying both Harris and Kelly would be excellent leaders.
A five-term member of the U.S. House of Representatives, Kelly also has the backing of U.S. Rep. Jesus "Chuy" Garcia (D-Chicago) who endorsed her after his first pick for the job — state Sen. Cristina Castro — dropped out of the contest for party chair. Kelly would ensure that the Illinois Democratic Party would lock down the state's growing Latino population – especially in the politically shifting Chicago suburbs, Castro, Garcia and Tabares said in a joint statement.
Who is the front-runner?
Buoyed by the governor's support, Harris is leading Kelly among those members of the committee who have announced their pick. But she has not yet nailed down a majority of votes, prompting the intense politicking.
How would Harris or Kelly differ from Madigan as chair?
As chair of the Illinois Democratic Party, Madigan faced criticism that he operated it with one goal in mind — to use its resources to expand his power. Famously adverse to cellphones, email and social media, Madigan's detractors said he had allowed the organization to become mired in a bygone era, threatening leaders' ability to get Democratic voters to the polls and their hold on power.
As the face of the Democratic Party, both Harris and Kelly could appeal to younger Democrats as well as Black voters, as Madigan's retirement signals the end of Irish control of the Illinois political machine.
In addition, both Harris and Kelly have a track record of raising prodigious amounts of cash — another key task of the party chair.
Both have vowed to redouble efforts to raise money for the party and beat back any hope of the Illinois Republican Party, which has its own new chair — Don Tracy, a Springfield attorney and businessman who once led the Illinois Gaming Board.
Would Kelly or Harris have to quit their day jobs?
No, although a legal opinion released Monday by Harris' supporters contended that Kelly would be "ineligible" to serve as party chair because as a federal elected official, she would be prohibited by federal election laws from raising or spending money for state or local races.
Kelly's operation fired back with its own legal opinion calling that conclusion false, but acknowledging that her fundraising efforts would be curtailed by federal law. However, Kelly said she always planned to overhaul "the autocratic model" imposed by Madigan on the state party. Instead, Kelly promised to create a "more inclusive decision making model" that would ensure she complied with federal law.
Contact Heather Cherone: @HeatherCherone | (773) 569-1863 | [email protected]
---