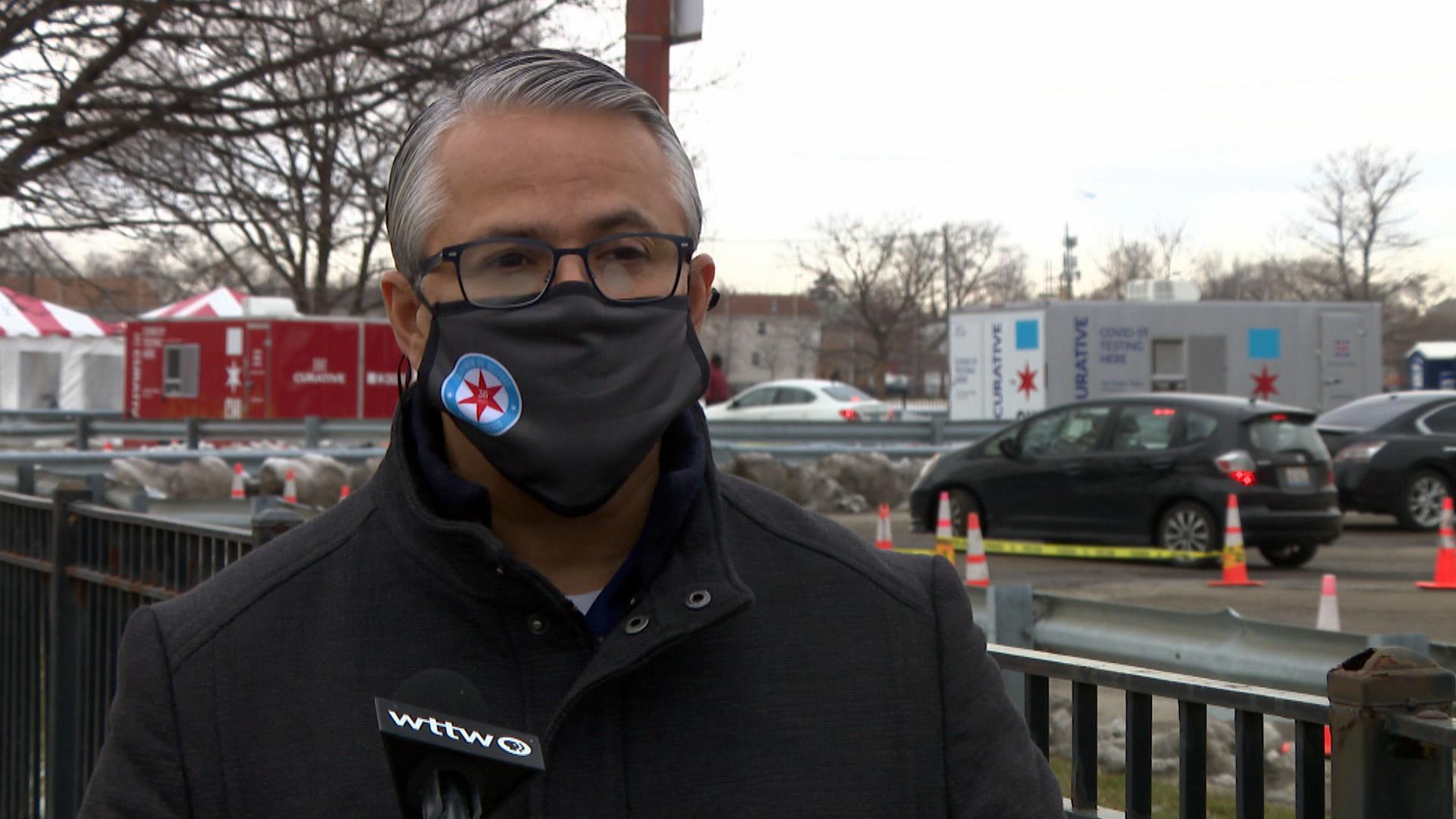 Ald. Gilbert Villegas, 36th Ward, speaks with "Chicago Tonight" in Belmont Cragin as part of our In Your Neighborhood series on Jan. 7, 2021. (WTTW News)
Ald. Gilbert Villegas (36th Ward) announced Tuesday he will no longer serve as Mayor Lori Lightfoot's City Council floor leader, an indication that tensions between the mayor and a majority of the City Council remain high.
Hours after Villegas' announcement, the mayor's office announced Ald. Michelle Harris (8th Ward) would replace him as floor leader, and be responsible for shepherding the mayor's policies and initiatives through the City Council. Ald. George Cardenas (12th Ward) will serve in the newly created role as deputy floor leader, Lightfoot announced.
Lightfoot said she was saddened by Villegas' resignation.
"Michelle and George are smart, experienced, and respected by their colleagues," Lightfoot said in a statement. "They will be a very dynamic team and will be great assets to help us do the people's work." 
Harris is the chair of the City Council's Rules Committee, and Cardenas chairs the Environmental Protection and Energy Committee. Both were close allies of former Mayor Rahm Emanuel.
"Alderman Harris brings years of experience in the City Council, including a long history of working within the Council to bridge divides and craft resident-focused legislation," Lightfoot said.
Harris said she was honored to be chosen to serve as floor leader for Lightfoot, calling her a "bold and inspiring leader for Chicago, fighting hard every day to expand jobs and hope across our neighborhoods."
Villegas, reelected to a second four-year term in 2019 without opposition, told residents of his ward in an email he planned to spend more time serving as chair of the City Council's Committee on Economic, Capital and Technology Development.
While serving as the mayor's floor leader has been "an honor," Villegas said he believed "his time is much more valuable for the city" concentrating on his committee, which met 16 times in 2020, according to records kept by the City Clerk.
Villegas' committee is charged with considering requests for commercial and industrial tax breaks for businesses as well as members of boards for Special Service Areas throughout the city, which collect additional taxes to boost shopping districts.
A former Marine, Villegas has also championed efforts to expand the city's hiring of firms owned by Black and Latino people, women and veterans. Villegas has also pushed city officials to use technology more effectively and has pushed the city to upgrade its capabilities.
Those efforts are designed to "make a real money-saving and life-improving difference," Villegas wrote.
Villegas said he resigned in "late December" because he "wanted to do what I could to ease the transition with a month's notice."
"Now, I am refocused and re-energized to advance our city and our ward," Villegas wrote.
Villegas did not respond to a request for comment from WTTW News about his departure.
It is unusual for floor leaders to resign. Former Ald. Patrick O'Connor (40th Ward) served as Emanuel's floor leader for all eight years of his tenure after serving in the same role for former Mayor Richard M. Daley.
Since taking office, Lightfoot has worked to restrict aldermen's power as part of her anti-corruption efforts, and the mayor has not shied away from publicly blasting those who she considers roadblocks to her agenda in the most personal and direct terms, complicating Villegas' job.
During the pandemic and bouts of civil unrest in the city, Lightfoot faced frequent criticism that she has not been collaborative enough with aldermen, including from Villegas.
Although the mayor has acknowledged the disapproval of aldermen, and vowed at times to recalibrate her approach, it did not significantly change. 
Even Villegas was subject to Lightfoot's public approbation. The two clashed over Lightfoot's plan to slowly replace the lead service lines responsible for contaminating the tap water in thousands of Chicago homes.
When Villegas tweeted that her plan — which acknowledges it will take decades — would take too long, Lightfoot hit back during a news conference.
"There are always going to be critics," Lightfoot said. "It is not an easy fix. It is not something, that even if we had all the resources, you could flick a light switch and get done. I would hope that people would be understanding of that, and really educate themselves, particularly before they take to a medium like Twitter."
Lightfoot's $12.8 billion spending plan for 2020 was approved with just two votes to spare, an unprecedented show of defiance from aldermen who rejected the mayor's plan to close a $1.2 billion deficit caused in part by the coronavirus pandemic with a property tax hike and $1.7 billion in borrowing.
Contact Heather Cherone: @HeatherCherone | (773) 569-1863 | [email protected]
---