When it comes to overhauling Illinois' tax structure, Illinois House Speaker Emanuel "Chris" Welch is hinting the state should adopt the old adage: If at first you don't succeed, try, try, again.
More than $100 million was spent, by supporters and opponents, to influence voters on whether Illinois should remove its constitutional requirement that income be taxed at a single, flat rate (currently the state taxes 4.95% on all personal income), making way for a graduated (or progressive) tax system that would allow Illinois to charge wealthier households at a higher tax rate, and lower-income individuals at a lower rate.
Voters in November rejected the change.
Welch, during an online forum Wednesday hosted by the Economic Club of Chicago, said that then, as now, he believes the graduated tax method is key to solving Illinois' long-term budget issues.
"We're one of seven states that tax folks on a flat rate, and so it doesn't take a rocket scientist to figure out that that's a structural change that we need. And sometimes you fail the first time out, you get back up and try and try again. That's how I've always done things, and so I do think that we should probably revisit that at some point, because that's an important structural change that we need. I'm also a firm believer that the rich should pay their far share again," he said.
But when and if backers of the movement try again, he suggests it's done with a twist.
"If we were to take another shot at the progressive tax, I do think that we should tie it to something, as opposed to just asking the voters to allow us to go to the progressive tax, we should say, 'Allow us to do this and the dollars that we generate from it will help us pay off our pension obligations.' I think that's something that we probably should really consider doing, because that's a proven model that works," he said. "We have to tell the voters what we're going to do with that money. I certainly think tying that new revenue to pensions would be a winner. People want to know what you're going to do with the money."
Welch said states like Arizona have had success tying revenue to a specific need or cause, and that Illinois could have success if it did the same.
Illinois' unfunded pension liability stands at nearly $140 billion.
Welch said Gov. J.B. Pritzker's budget proposal for the next fiscal year is a good start, and signaled that he backs the governor's plan to close what both Democrats describe as corporate tax breaks (but which the business community says are tax incentives meant to keep and create jobs).
But Welch said he believes more money should be sent to Illinois' schools, as called for by a 2017 law intended to prop up the state's poorest districts; Pritzker's plan relies on more federal dollars but would keep state education funding level.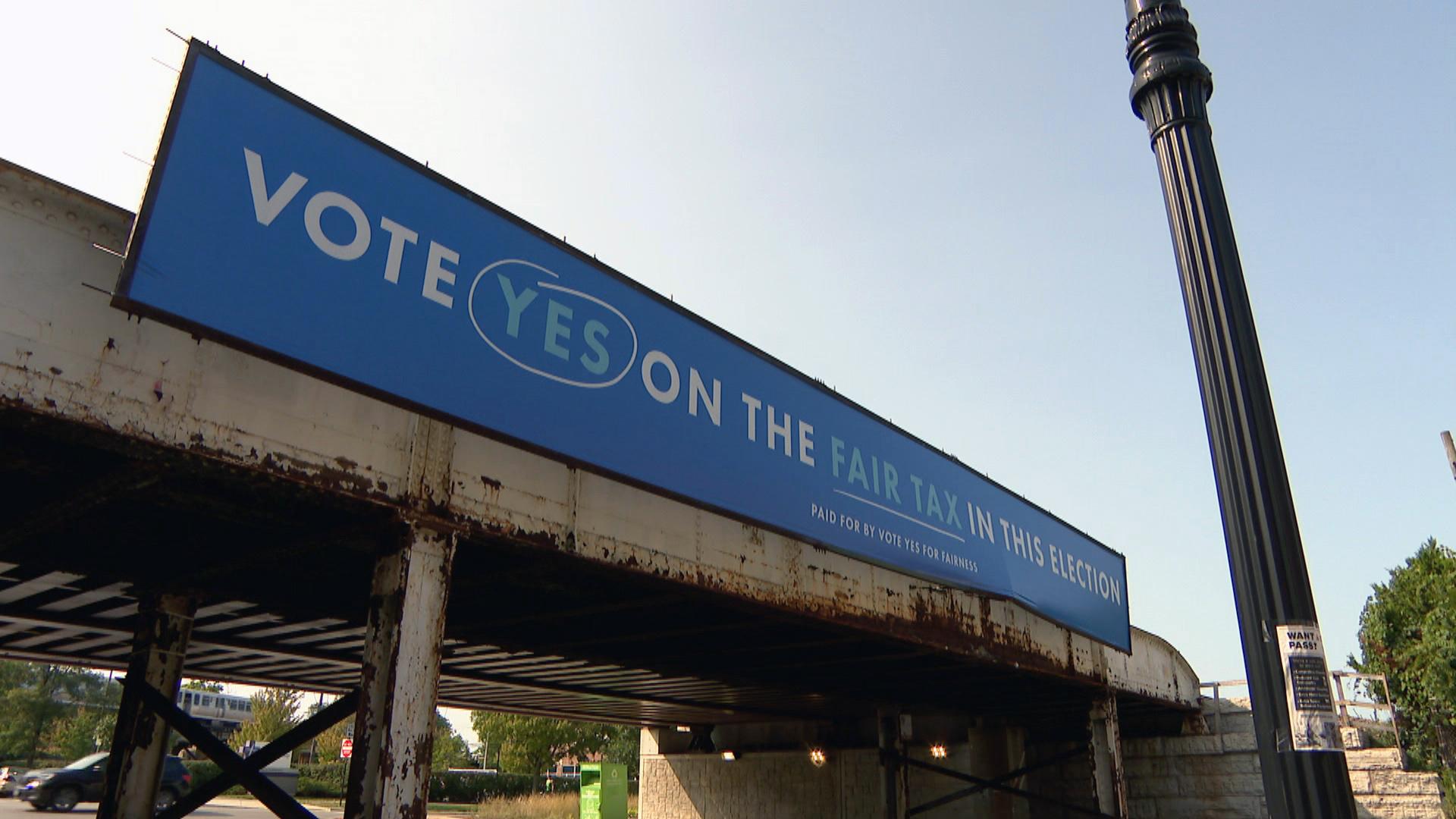 A billboard in Chicago promotes voting in favor of the so-called fair tax in the November 2020 election. (WTTW News)
Welch likewise signaled that he wants to keep the power of drawing legislative districts in the hands of the General Assembly, rather than handing it off to an independent commission, which some advocates say would help to de-politicize the process.
Federal delays in sending census data to states means Illinois is in a difficult position, given that population data used to draw districts will likely not give lawmakers time to make their configurations while meeting an end-of-June state constitutional deadline.
Welch said he's studying the process and possibilities and leaning on lawyers to research options.
"I think that's why ahead of the process, we're not anywhere near that yet," he said when pressed on the prospect of an independent redistricting panel. "Right now the law allows the legislature to draw the map and so as the speaker of the House I'm getting advice and counsel from a whole lot of experts on how the legislature can do its job properly, openly, transparently and put a process in place that people will be happy with. I mean everyone's not going to be happy, but people will at least know that it was fair."
Welch said for him, a "fair" map must be one that reflects Illinois' diversity.
It was a coup for Welch to become the first person other than Michael Madigan since 1997 hold the speaker's gavel; Welch is also the first Black individual to hold the title.
But Madigan's resignation Monday as chair of the Democratic Party of Illinois leaves another opening; there appears to be a three-way race.
Welch is staying out of the contest between state Sen. Cristina Castro, Chicago Ald. Michelle Harris and U.S. Rep. Robin Kelly.
"It's a new era in Illinois politics, it's a new day and time for a new approach and I think that I'm going to back the Democrat, I'm going to support the Democrat. Whoever wins that race I think will be someone with the ability to lead our party," he said.
Follow Amanda Vinicky on Twitter: @AmandaVinicky
---