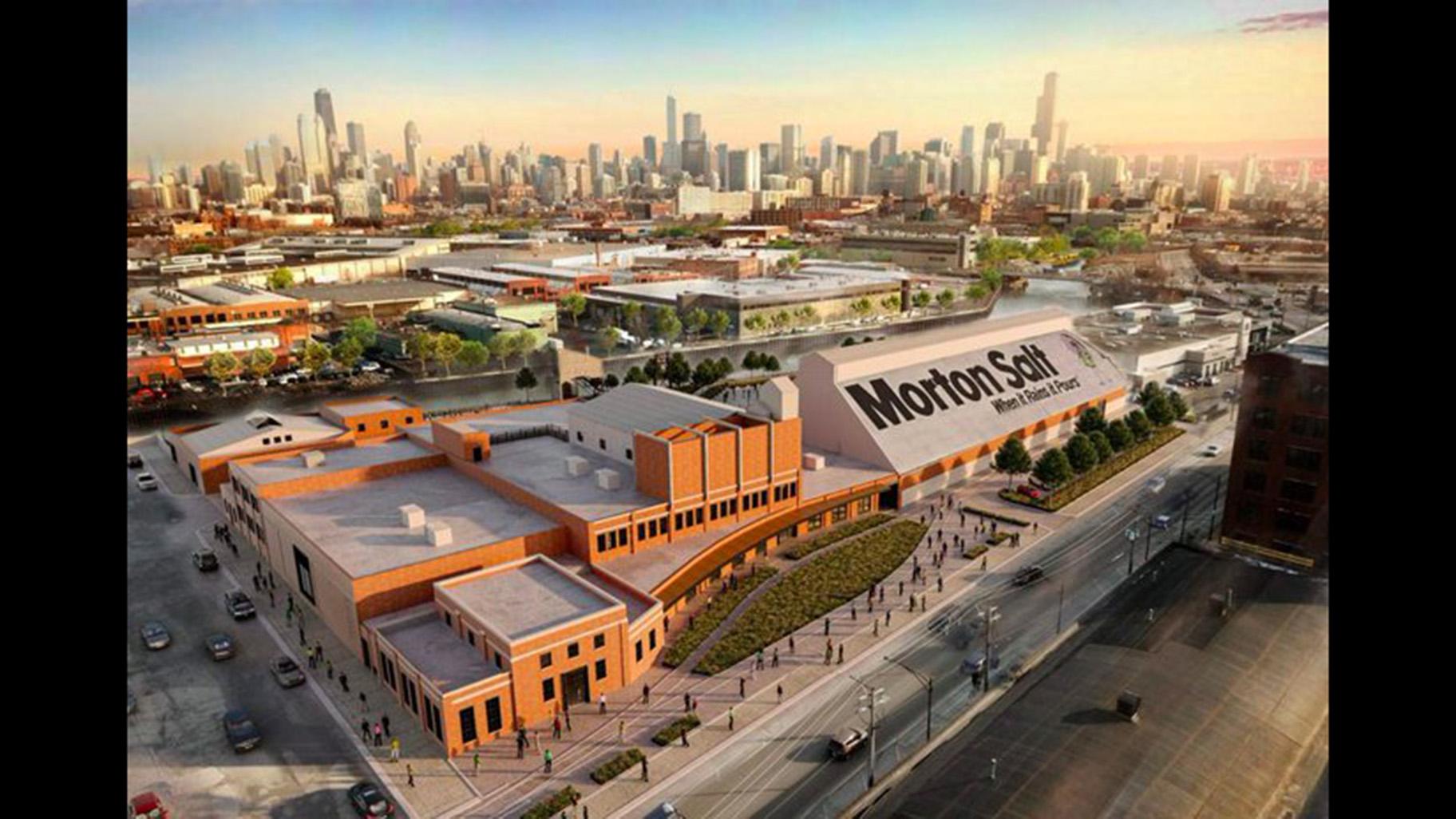 A proposed rendering of a renovated Morton Salt building. (Credit: Chicago Department of Planning and Development)
The metamorphosis of the land along the North Branch of the Chicago River from an industrial powerhouse into Chicago's newest community area is poised to take another giant step forward at Wednesday's full City Council meeting.
The City Council's Zoning Committee unanimously advanced on Tuesday plans to transform the city's set-to-be-landmarked Morton Salt building on Goose Island into a 4,000-seat performance venue and offices that will be visible from the Kennedy Expressway.
The project is backed by Ald. Walter Burnett (27th Ward), who said during the Jan. 21 Plan Commission meeting that it would "bring some culture to our city" at a time when the city's entertainment industry has been decimated by the COVID-19 pandemic.
While keeping the instantly recognizable Morton Salt sign intact, the $30 million project would create 200 construction jobs and about 50 permanent jobs and will generate $4.5 million in annual tax revenues, according to plans presented to the Plan Commission.
The Chicago Commission on Landmarks has already granted preliminary landmark protection to the sign and brick building. That decision must also be approved by the Plan Commission, Zoning Committee and City Council.
Morton Salt opened its Elston Avenue factory in 1929, and shuttered it in 2015. The property was sold in 2017.
The redevelopment required special permission from city officials because the 4.2-acre project is within 100 feet of the Chicago River.
But the project would not have been allowed under the city's rules that roped off residential and commercial development on the 760 acres between the Chicago River on the east, Kennedy Expressway on the west, Kinzie Street on the south and Wrightwood Avenue on the north.
In July 2017, the City Council changed those rules and set off what Ald. Brian Hopkins (2nd Ward) predicted would be an era of fast and furious development "on a scale rarely seen, probably since the Great Chicago Fire."
The change that laid the groundwork for the new Salt District, which will include 61,000 square feet of office space, also allowed city officials to approve the Lincoln Yards development less than a half mile to the north.
The Morton Salt building is also 1.5 miles north of plans approved by the City Council for three office buildings and a residential tower with 330 apartments to be built at 700 W. Chicago Ave., near the Tribune's printing plant on land that is now home to a vacant industrial building.
Contact Heather Cherone: @HeatherCherone | (773) 569-1863 | [email protected]
---