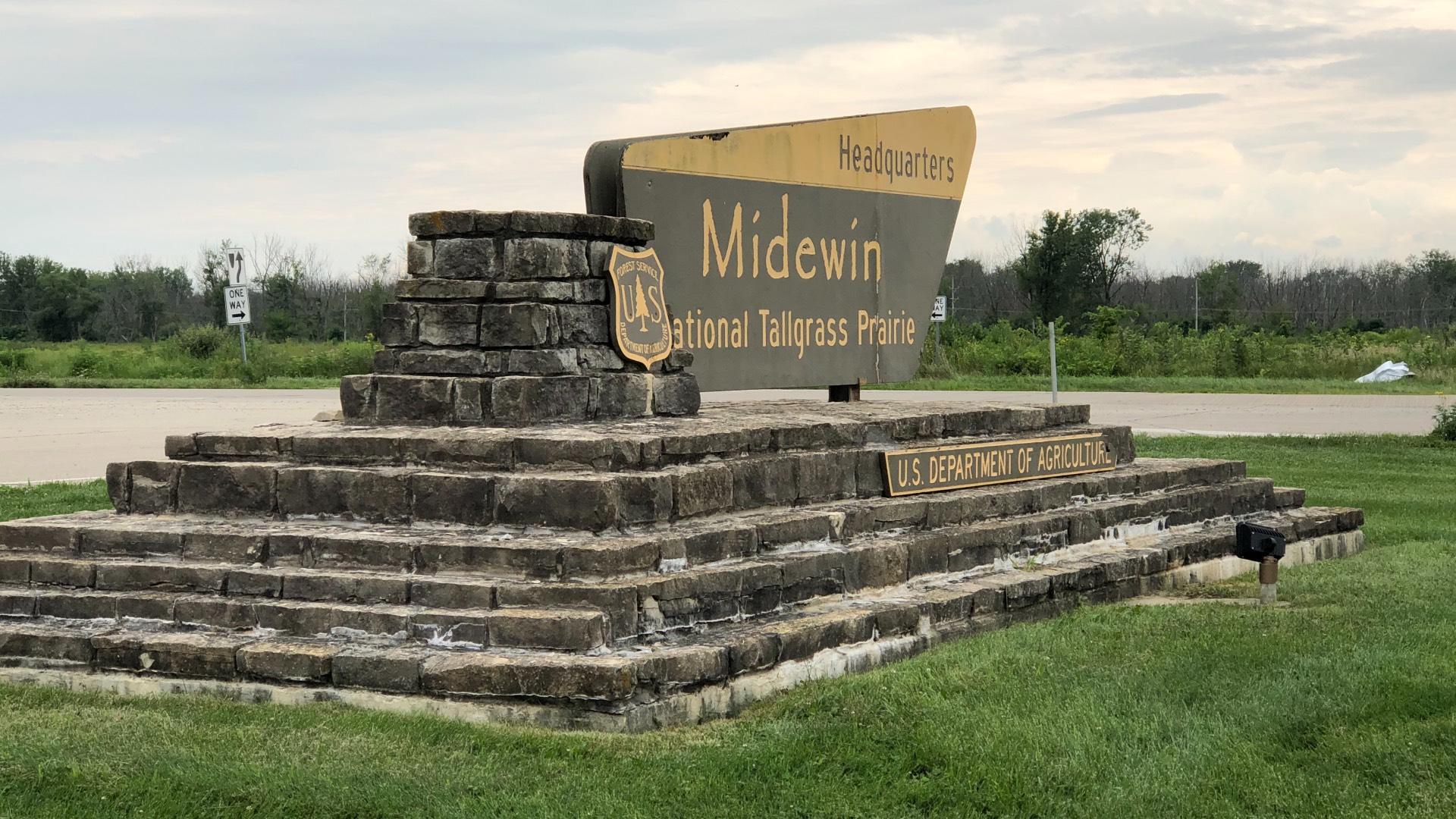 Midewin, the first national tallgrass prairie in the U.S., was established Feb. 10, 1996, celebrating its 25th anniversary. (Patty Wetli / WTTW News)
With the stroke of a pen, Midewin National Tallgrass Prairie was signed into being 25 years ago on Feb. 10 as part of the Illinois Land Conservation Act.
The site's milestone anniversary is being marked with a low-key virtual celebration — any plans for a bigger bash scrapped due to the coronavirus pandemic. But make no mistake, the creation of Midewin remains a very big deal to conservationists, historians and nature lovers.
Midewin, situated on land that was once home to the Joliet Arsenal, was the first designated national tallgrass prairie in the U.S. and remains the largest such restoration east of the Mississippi. At 18,000 acres — transferred from the U.S. Army to the USDA Forest Service — Midewin is twice the size of all other prairie remnants in Illinois combined. 
And yet it represents a tiny fraction of the 170 million acres of tallgrass prairie that once sliced through the center of North America, from Manitoba, Canada, down to the Gulf of Mexico.
Early white explorers — among them Meriwether Lewis and William Clark and Zebulon Pike — mistook this treeless sea of grass, some of it as high as 9 feet tall, for a wasteland, dubbing it the Great American Desert. In actuality, the land contained some of the nation's most fertile soil, and the prairie was eventually plowed under, drained, over-grazed and developed to near elimination. 
Though fragments of tallgrass prairie are scattered throughout the Midwest and Great Plains, scarcely any is of significant size. The Flint Hills tallgrass prairie, spanning portions of Kansas and Oklahoma, is the only intact expanse, too rocky to have ever been farmed.
Midewin's breadth presented the opportunity for large-scale habitat restoration, important for species that need wide open spaces, but it also meant the process would take time. It's slow-going work to undo the effects of decades if not centuries of agricultural and industrial use, and to re-introduce practices like prescribed burns — the use of fire to manage invasive species and promote the growth of native prairie plants, some 275 species of which are being planted at Midewin.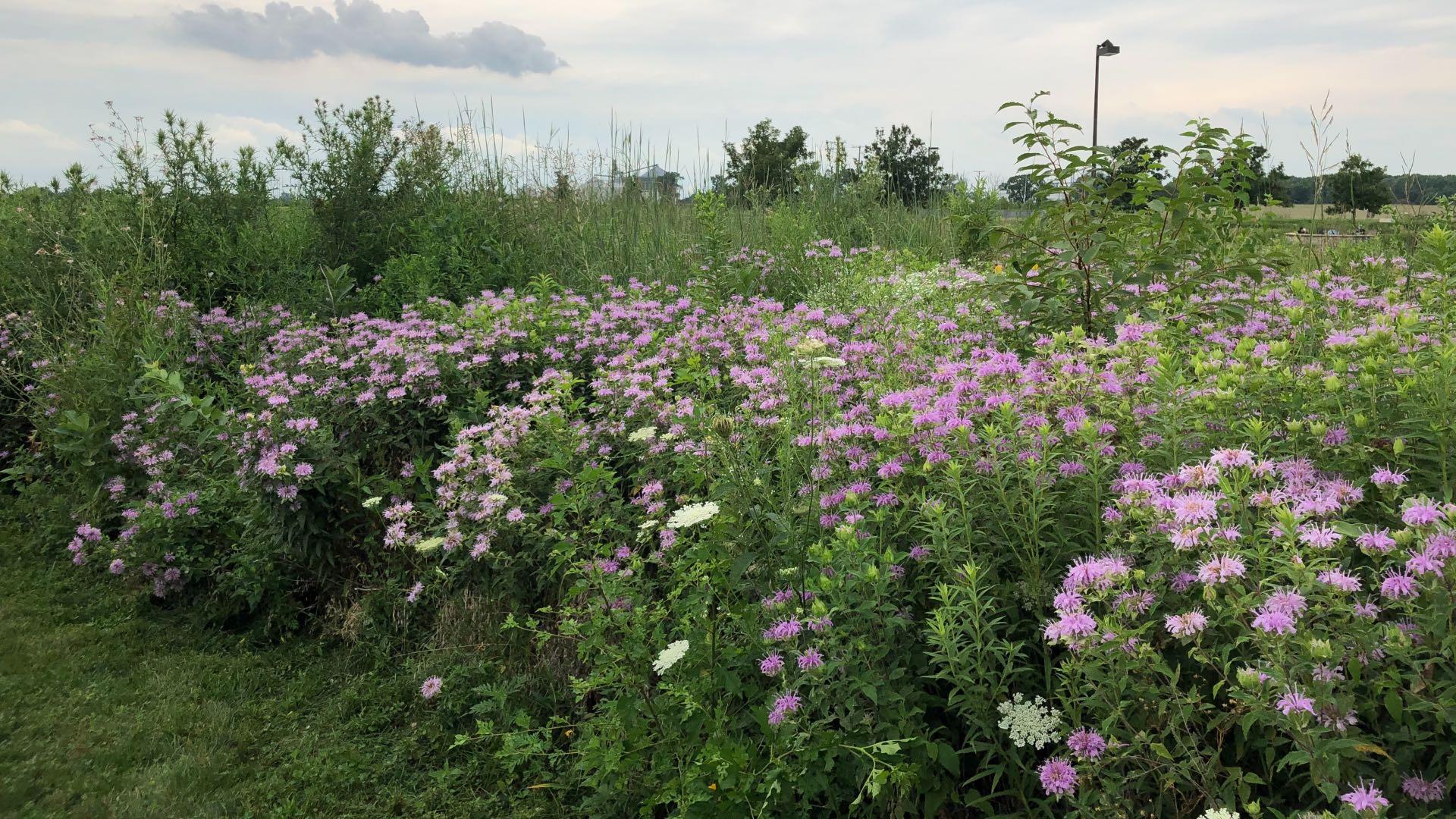 A swath of bee balm at Midewin National Tallgrass Prairie, where some 275 species of native plants are being re-introduced. (Patty Wetli / WTTW News)
After 25 years, Midewin is still very much "under construction" but there have been a number of measurable successes. The USDA Forest Service has created a digital timeline of major accomplishments, from the establishment of the first seed production gardens in 1996, to the creation of temporary trails in 2001, to the introduction of bison in 2015.  
There are signs that wildlife is beginning to recognize Midewin as habitat to call home. At least two pairs of nesting bald eagles have been spotted, as has the endangered rusty-patched bumblebee. Monarch butterflies huddle up at Midewin in the fall as they make a pit stop for food and rest on their journey south to Mexico.
More acreage is expected to be transferred to Midewin as the army completes cleanup of environmental contamination on former arsenal land. 
Journalist and prairie restoration advocate Bill Kurtis is among the featured guests that will appear during Midewin's silver anniversary celebration at 6 p.m. Wednesday. Registration is open for the free virtual event, sponsored by the National Forest Foundation. 
Contact Patty Wetli: @pattywetli | (773) 509-5623 |  [email protected]
---