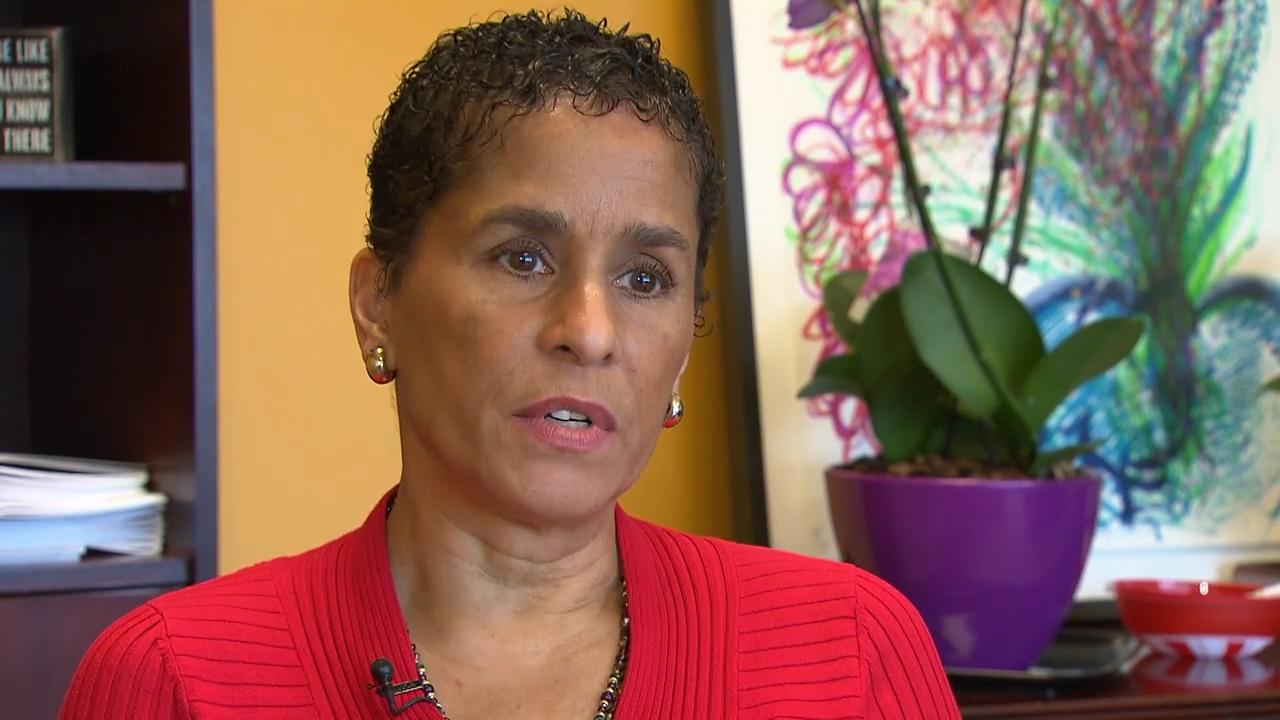 Family and Support Services Commissioner Lisa Morrison Butler appears in a "Chicago Tonight" report on March 27, 2017. (WTTW News)
Family and Support Services Commissioner Lisa Morrison Butler announced her resignation Monday after six years at the helm of the city department responsible for caring for Chicago's most vulnerable residents.
In a letter to aldermen, Morrison Butler said her last day would be Feb. 26.
"Last year I had a health scare in the months leading up to the Christmas holiday," Morrison Butler wrote. "While my prognosis is strong, that journey really made me crave just a little more professional and personal flexibility.  The role of commissioner is an incredible one, indeed, but it is virtually non-stop, 24/7 and so stepping down is the right move and this is the right time."
On an interim basis, Morrison Butler said she will be replaced by First Deputy Brandie Knazze.
Appointed by former Mayor Rahm Emanuel in 2015, Morrison Butler came to the city from City Year Chicago, which works with high school students to help them graduate.
The Department of Family and Support Services oversees the city's early learning programs as well as the city's summer jobs program and after-school programs for youth. The department also oversees programs for unhoused Chicagoans, victims of domestic violence, seniors, veterans and those returning to Chicago from jail or prison.
"Mayor Lightfoot has my deepest respect and admiration for the compassion and leadership she has shown during this incredibly difficult time in Chicago's history," Morrison Butler said. "Every day that I have served as DFSS commissioner has been a pleasure and I have been grateful to hold her trust and support. I will always be grateful to her for affording me this opportunity to serve the people of Chicago."
In addition to helping coordinate the city's response to the COVID-19 pandemic, Morrison Butler oversaw changes to the way the city funds day cares and preschools as well as the city's effort to keep teens out of jail.
Lightfoot praised Morrison Butler at an unrelated event Monday afternoon as a "phenomenal, phenomenal  commissioner" who will be missed and said her decision to resign was unrelated to the departures of other members of her cabinet and senior staff.
"Lisa's a warrior," Lightfoot said. "Her job is very difficult. It is truly 24/7."
Lightfoot said a search for a permanent replacement was already underway.
With Morrison Butler's departure, six of the city's 30 departments will not have a City Council-confirmed commissioner.
The city's Department of Animal Care and Control has been without a permanent commissioner for a year. Former Director Kelley Gandurski resigned in February 2020 to take a job with the city of Evanston and has yet to be replaced.
Aldermen on Thursday are scheduled to consider Mayor Lori Lightfoot's selection of Nancy Andrade, a former member of the city's Board of Ethics, to lead the city's Commission on Human Relations.
If confirmed as expected, Andrade will replace former Commissioner Mona Noriega, who resigned in February 2020 after nine years at the helm of the agency charged with enforcing the Chicago Human Rights Ordinance and the Chicago Fair Housing Ordinance.
In addition, the city's Department of Human Resources, which fills job openings, has been without a commissioner since July, when former Commissioner Soo Choi resigned after leading the department for nine years.
In December, Randy Conner, the commissioner of the Department of Water Management, resigned, and Lightfoot fired Corporation Counsel Mark Flessner amid a furor over the city's handling of the revelation that Chicago police officers handcuffed a naked woman during a mistaken raid in February 2019.
Contact Heather Cherone: @HeatherCherone | (773) 569-1863 | [email protected]
---