For the last few years, Luis Collazo has been handcrafting jibarito presses – wooden contraptions designed to flatten plantains for jibaritos – a Puerto Rican sandwich invented in Chicago.  
"Nobody really had something to make a jibarito sandwich, we all had to go out, or break a bunch of plates, trying to make them. Eventually my wife asked me to make her one, make something, so I came up with this concept," he said. "As family showed up, they were like, 'Hey, where did you get that?' So it took a life of its own."
Collazo's is now one of more than a dozen small businesses operating out of a new space called Mercado del Pueblo on Paseo Boricua, or Division Street, in Humboldt Park.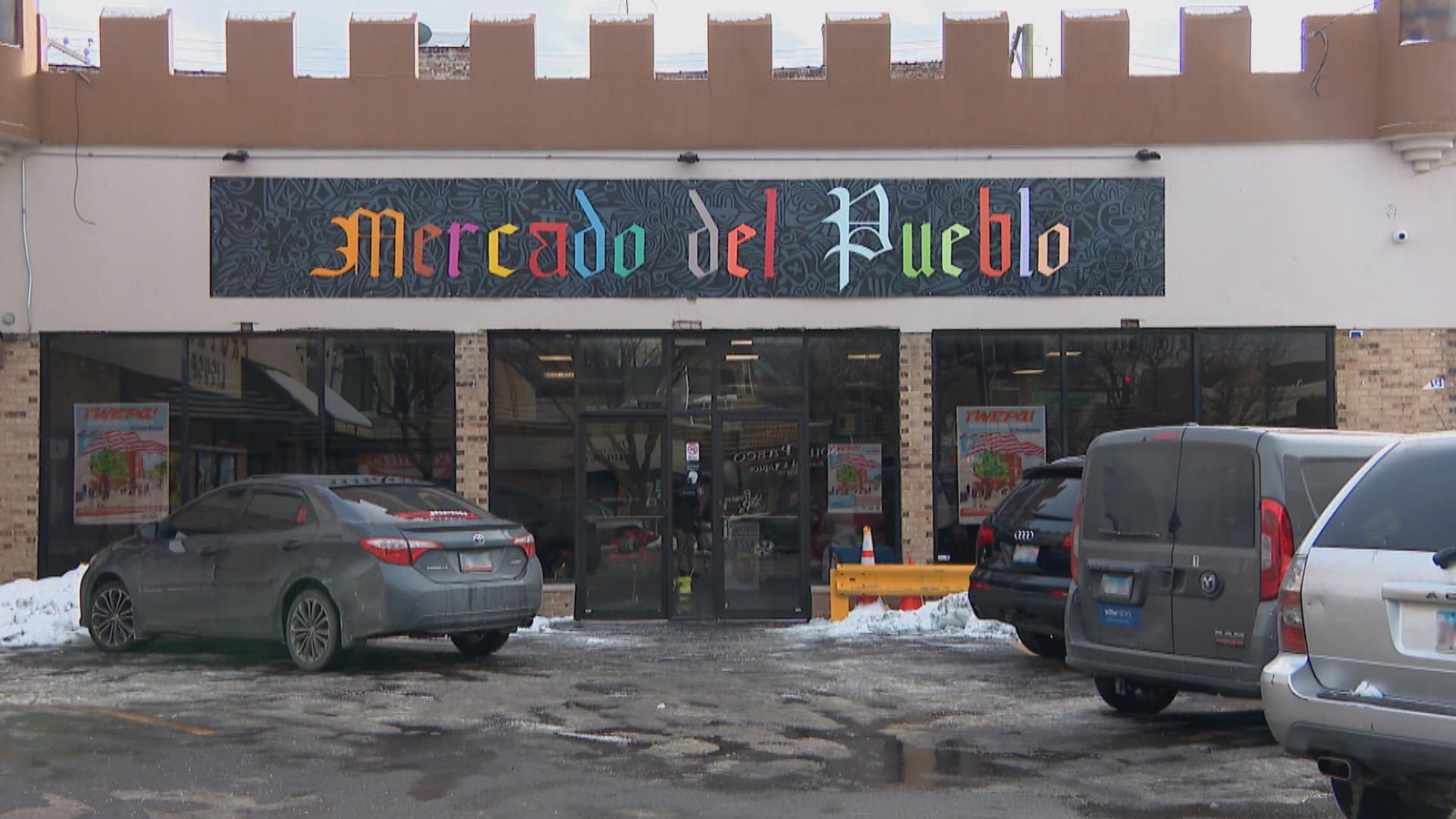 (WTTW News)
The initiative is being organized by the Puerto Rican Cultural Center, or PRCC, which is providing free rent to vendors and artists to operate and try to develop their businesses.
"It's a market, but at the same time, it's an incubator," said Carlos Bosques, director of the PRCC's small business development center. "So right now, the businesses that are part of this project have the opportunity to grow, at some point that they can open in the future a storefront. All of the businesses here are startups, or are in an embryonic stage, so are very little."
As the businesses grow, they'll also become eligible for advice and guidance from the PRCC and its partners.  
"If we feel that they are committed to formalizing their business, then we invite them to be part of the incubator, so that's when we work more one-on-one to give them advice in terms of how to develop their business, how to grow it, how to register it," said the PRCC's Nadya Henriquez. 
Collazo says he hopes to eventually have his own space in the neighborhood, to sell his jibarito makers as well as the coloring books and posters he also designs.  
"Mercado offered a unique situation to small businesses, and I thought I could leverage that and learn more as a startup – there's a lot of things that small pop-ups don't know, which I didn't, and they've given me an avenue to see other things that I was missing," he said.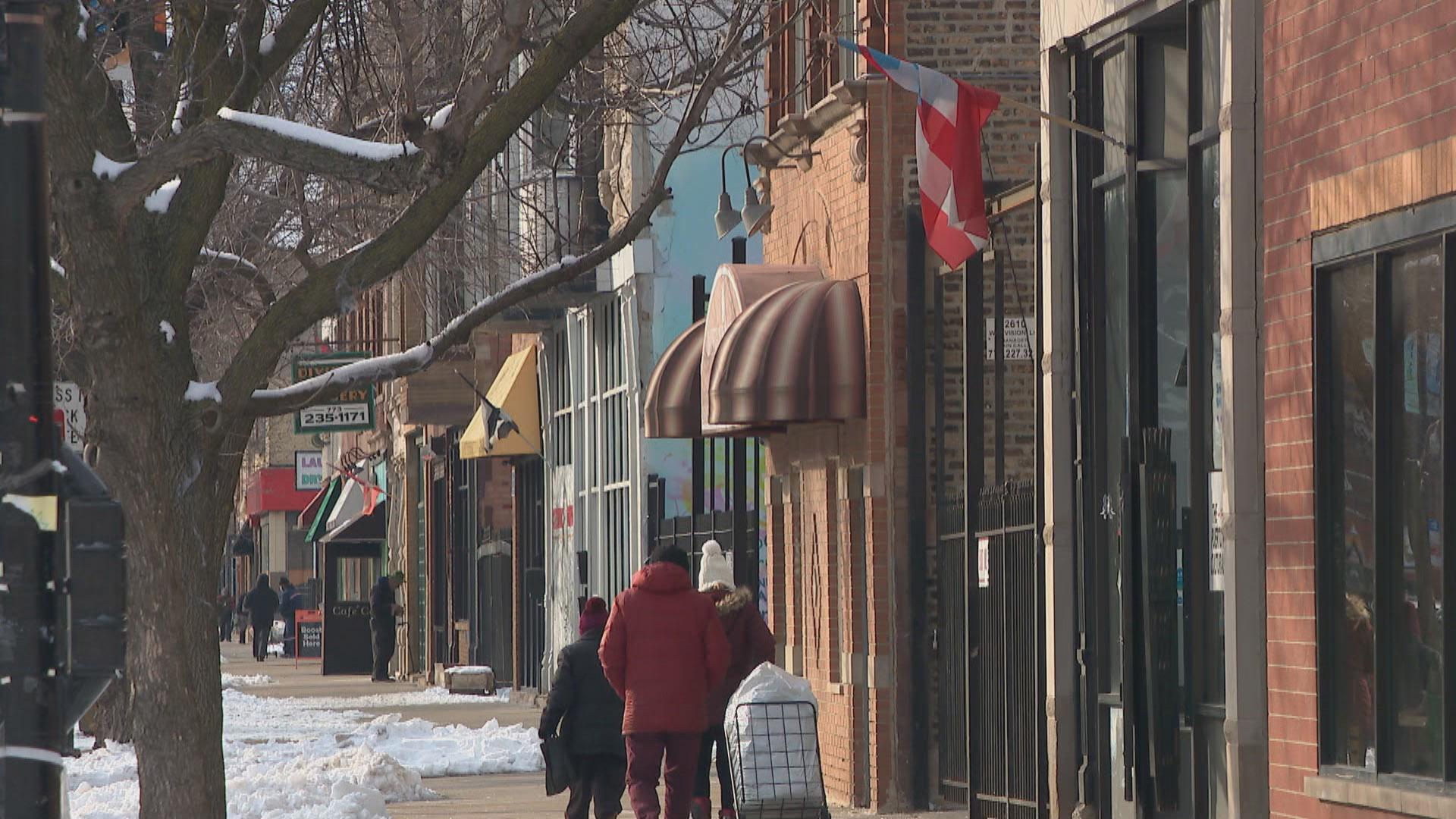 (WTTW News)
One of the Mercado's goals is to eventually help businesses move into storefronts on Division Street as a way of promoting economic development while stalling gentrification as rents continue to rise throughout the neighborhood. 
Mercado del Pueblo is the brainchild of PRCC director Jose Lopez, a longtime fixture in Humboldt Park.
"During the COVID we saw that many of our businesses, particularly the informal businesses, suffered a great deal, they were not able to get any support from the federal government, and we thought, we need to be able to take them step by step so they could become formal businesses," he said. 
The Mercado also has a special section selling Puerto Rican products that can be difficult to find in Chicago.  
But the space is also open to non-Puerto Ricans – including business owners from Black communities and other Latino communities. 
One is Cedric Salone, who sells homemade body lotions and oils through his company ButtersRx. Salone says he sees the Mercado as a way to diversify his clientele.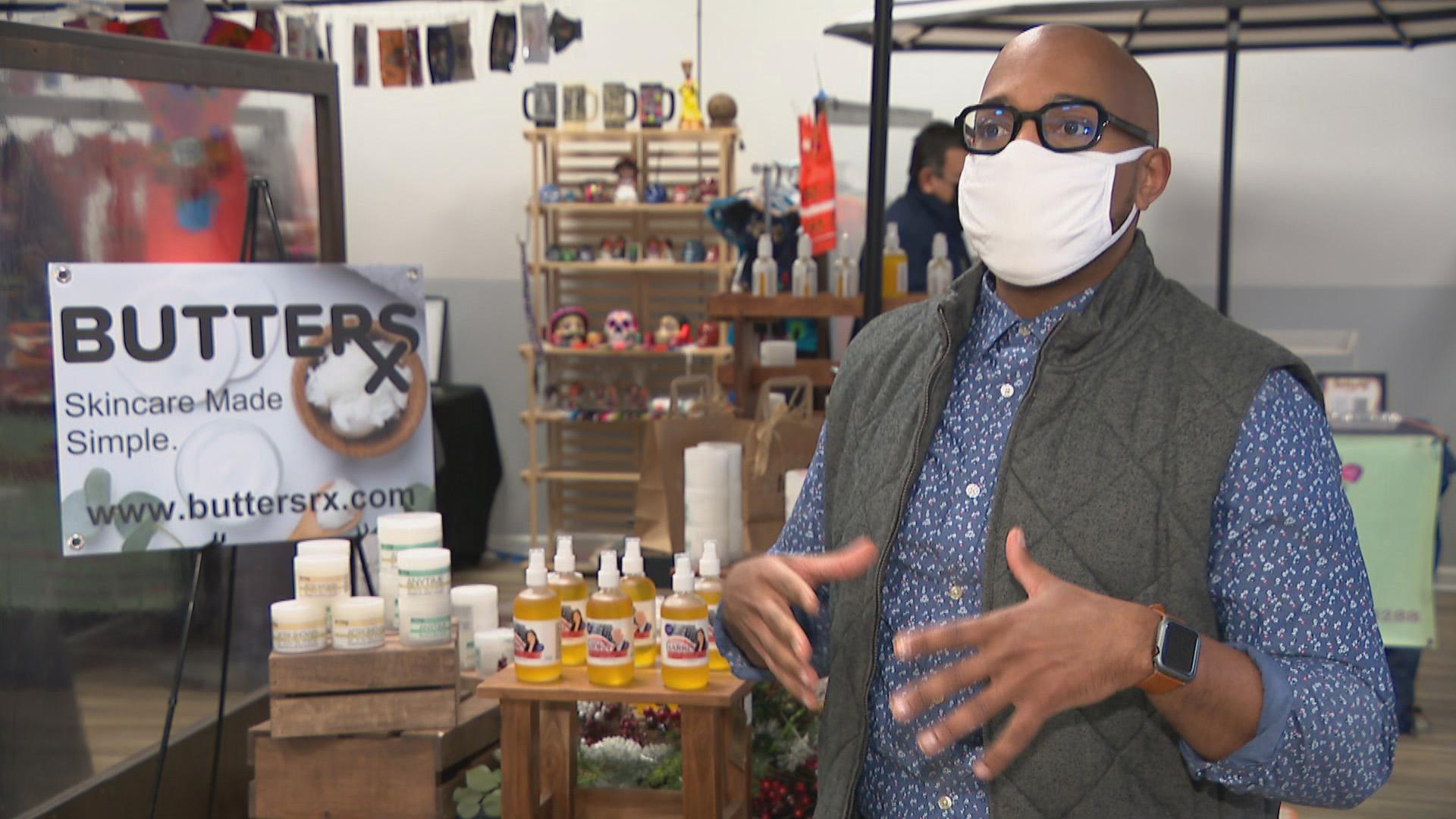 Cedric Salone (WTTW News)
"I have a huge online presence, but I have a small storefront in-person presence, so this puts me in a neighborhood that's very different, and also I get a lot of traffic, and introduce my product to different areas and groups that come through, kind of naturally," he said. 
PRCC organizers say businesses like Collazo's and Salone's – and the others they're supporting – are a way to keep dollars in the community, instead of having them spent elsewhere.   
"We're really rooted in this community, and we want to continue to perpetuate that rootedness," Lopez said. "So for us, this Mercado del Pueblo speaks to us of history, speaks to us of community, speaks to us of identity and also speaks to us of economic development in this age of COVID."
---
More on this story
The Mercado del Pueblo is located at the corner of Division and Rockwell streets in Humboldt Park. It's open from 4-8 p.m. Fridays and 10:30 a.m.-6 p.m. Saturdays and Sundays. Social distancing and face masks are required. 
---