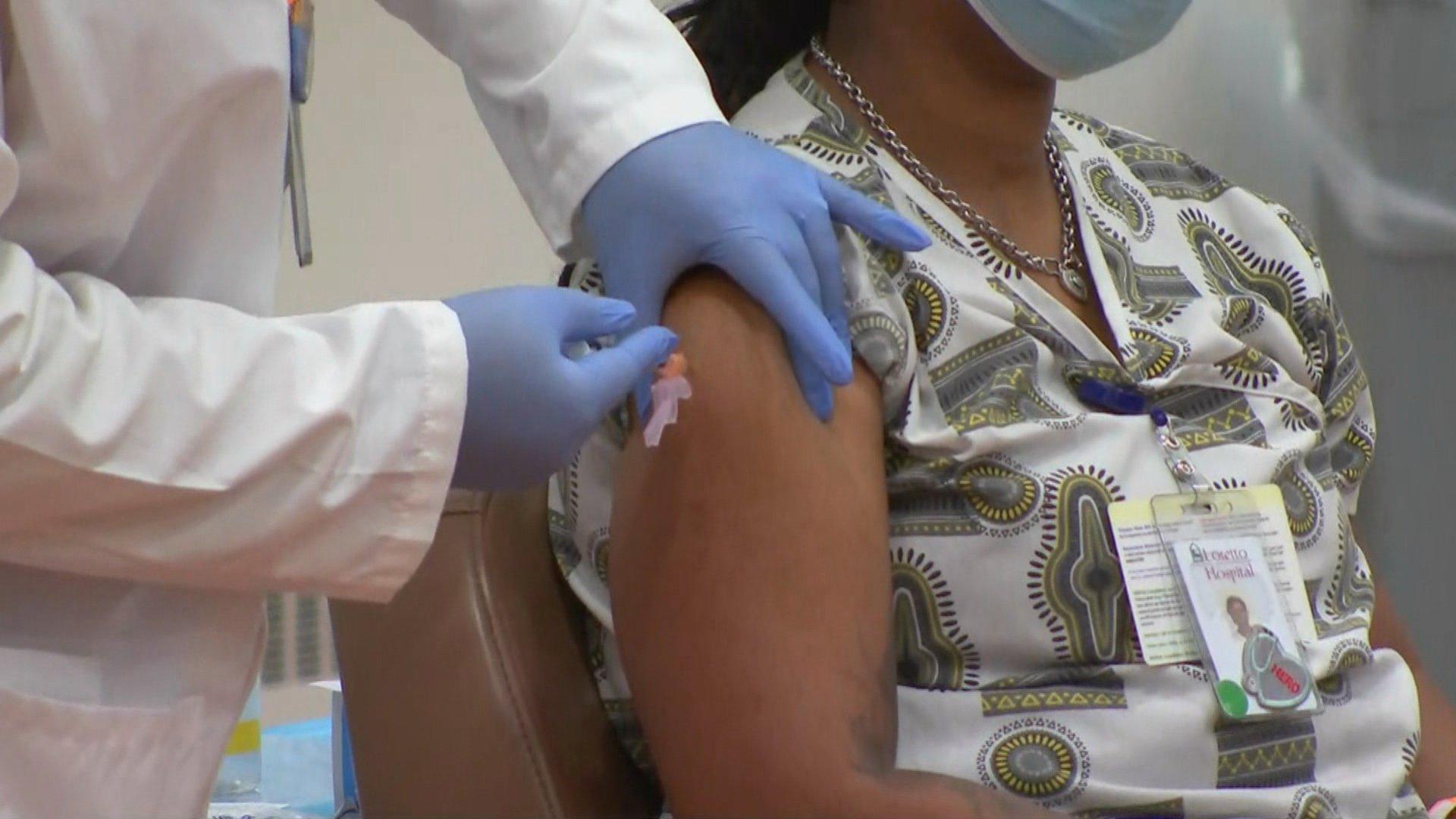 The first doses of the Pfizer vaccine in Chicago were administered at the Loretto Hospital on Tuesday, Dec. 15, 2020. (WTTW News)
As frustration grows among Chicagoans older than 65 and essential front-line workers that they cannot secure appointments to get the COVID-19 vaccine, city officials announced they would join an online platform designed to smooth the process.
The online scheduler crafted by ZocDoc is designed to "serve as a free public resource for Chicagoans who otherwise might have difficulty finding and accessing a vaccine," especially those who cannot get the vaccine through a doctor, pharmacy or employer, Chicago officials said.
"Our goal in Chicago is to vaccinate as many residents as possible as fast as we can," Mayor Lori Lightfoot said. "While vaccine availability is still very limited nationwide, this exciting new partnership with Zocdoc is another step toward empowering individuals and families as we fight this disease and lean into the historic recovery that is sure to follow."
The scheduler will include appointments at mass vaccination sites operated by the city as well as those offered by AMITA Health, Erie Family Health, Innovative Express Care and Rush University Medical Center.
However, Chicago's supply of the vaccine remains limited. The city got 39,950 first doses of the vaccine last week, said Dr. Allison Arwady, the commissioner of the Chicago Department of Public Health.
The scheduler is available at zocdoc.com/vaccine, and eligible patients will be able to book an appointment online if supplies are available.
An increasing number of Black and Latino Chicagoans are getting vaccinated against COVID-19, according to data released Tuesday by Arwady.
Approximately 20% of Chicagoans who have gotten the first shot are Latino, while 19% of those who have gotten the coveted shot are Black, according to the city's data. That is an increase from data released Jan. 25.
However, White Chicagoans are still more likely than any other racial or ethnic group in Chicago to have gotten vaccinated, making up 49.7% of all those who have gotten the first shot, even as Black and Latino Chicagoans are significantly more likely to contract the virus and suffer severe illness or die. Asian Chicagoans make up 11.1% of those who have been vaccinated.
Arwady said that data represents a "big improvement" but acknowledged that there was "a long way to go" before vaccinations in Chicago are equitable among the city's racial and ethnic groups.
The city's population is approximately one-third White, one-third Black and one-third Latino, according to census figures.
In addition, doses of the vaccine have been administered in 77 of the 78 skilled nursing facilities in Chicago, Arwady said.
Contact Heather Cherone: @HeatherCherone | (773) 569-1863 | [email protected]
---