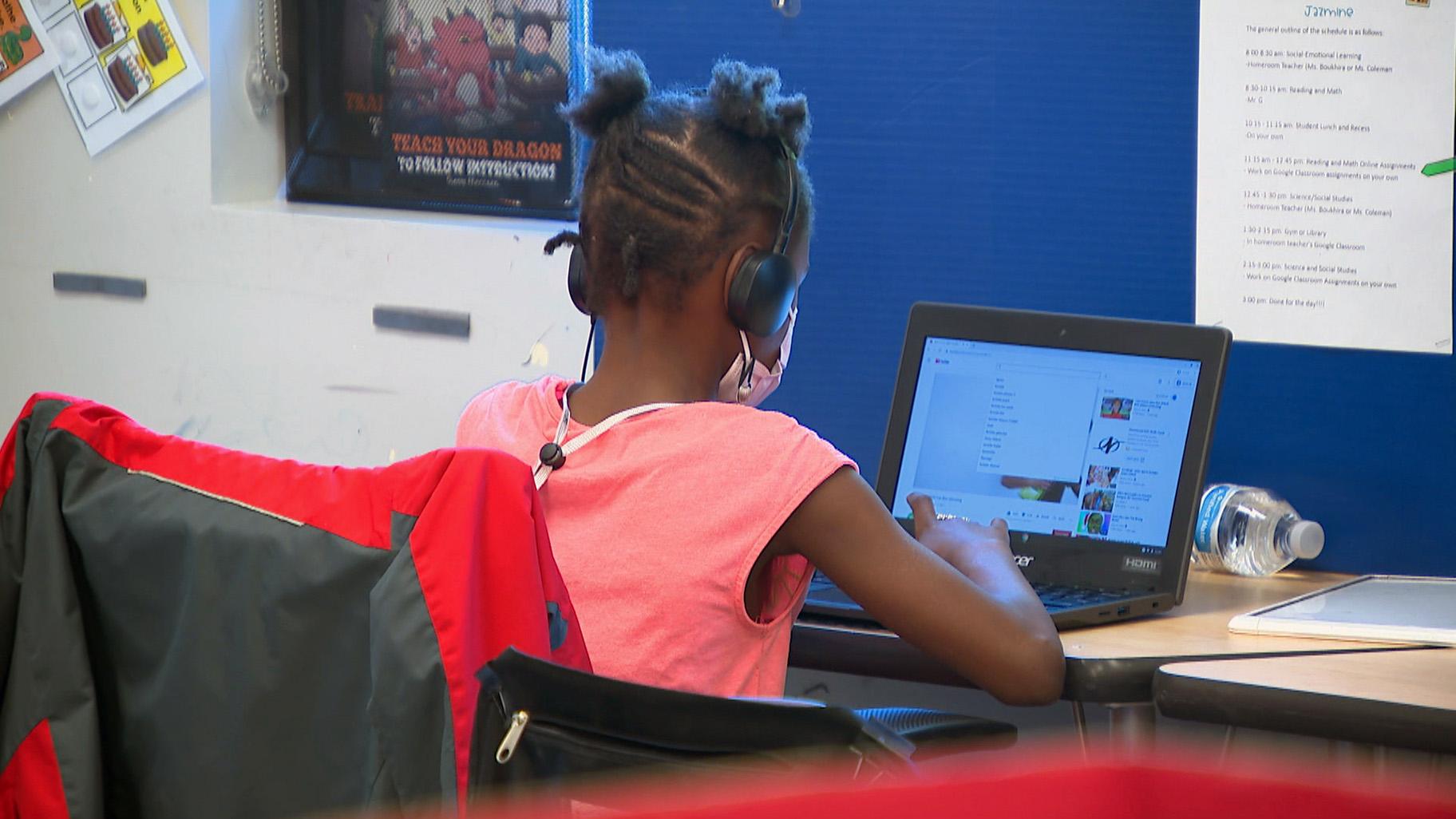 (WTTW News)
There is no agreement between Chicago Public Schools and the Chicago Teachers Union that would allow approximately 70,000 Chicago students to return to schools Monday and allow another 220,000 students to continue to learn remotely, Mayor Lori Lightfoot said in a news conference Sunday evening.
The absence of an agreement on how best to protect teachers and students from COVID-19 sets the stage for a strike or lockout — the second work stoppage in Chicago schools in 15 months.
Teachers who have not been permitted to work from home must report to schools Monday, while students will return to classrooms for in-person learning Tuesday, Lightfoot said.
Teachers who do not return to schools Monday will not be allowed to access their Google Education accounts after the end of the day, said CPS CEO Janice Jackson.
Leadership of the teachers union have said that will trigger a strike.
Chicago Teachers Union President Jesse Sharkey said he and other union leaders were disappointed that negotiations have failed to result in an agreement.
"We're struck on some hard issues," Sharkey said, adding that he was optimistic that a deal could be reached. "If there is a will, there is a way."
Sharkey said teachers will continue to teach remotely on Monday.
If the district responds by blocking teachers from Google, the union leadership will call a meeting of the House of Delegates to consider a strike vote, Sharkey said.
"We hope it won't come to that," Sharkey said.
No negotiations took place Sunday, even after the two sides reached tentative deals Saturday covering health and safety rules, classroom ventilation, contact tracing efforts as well as plans to set up committees at each school that would monitor positive cases of COVID-19.
No agreements have been reached on how to determine which schools should be closed after positive COVID-19 cases, vaccinations for teachers, who should be allowed to work from home as well as a testing program for staff and students.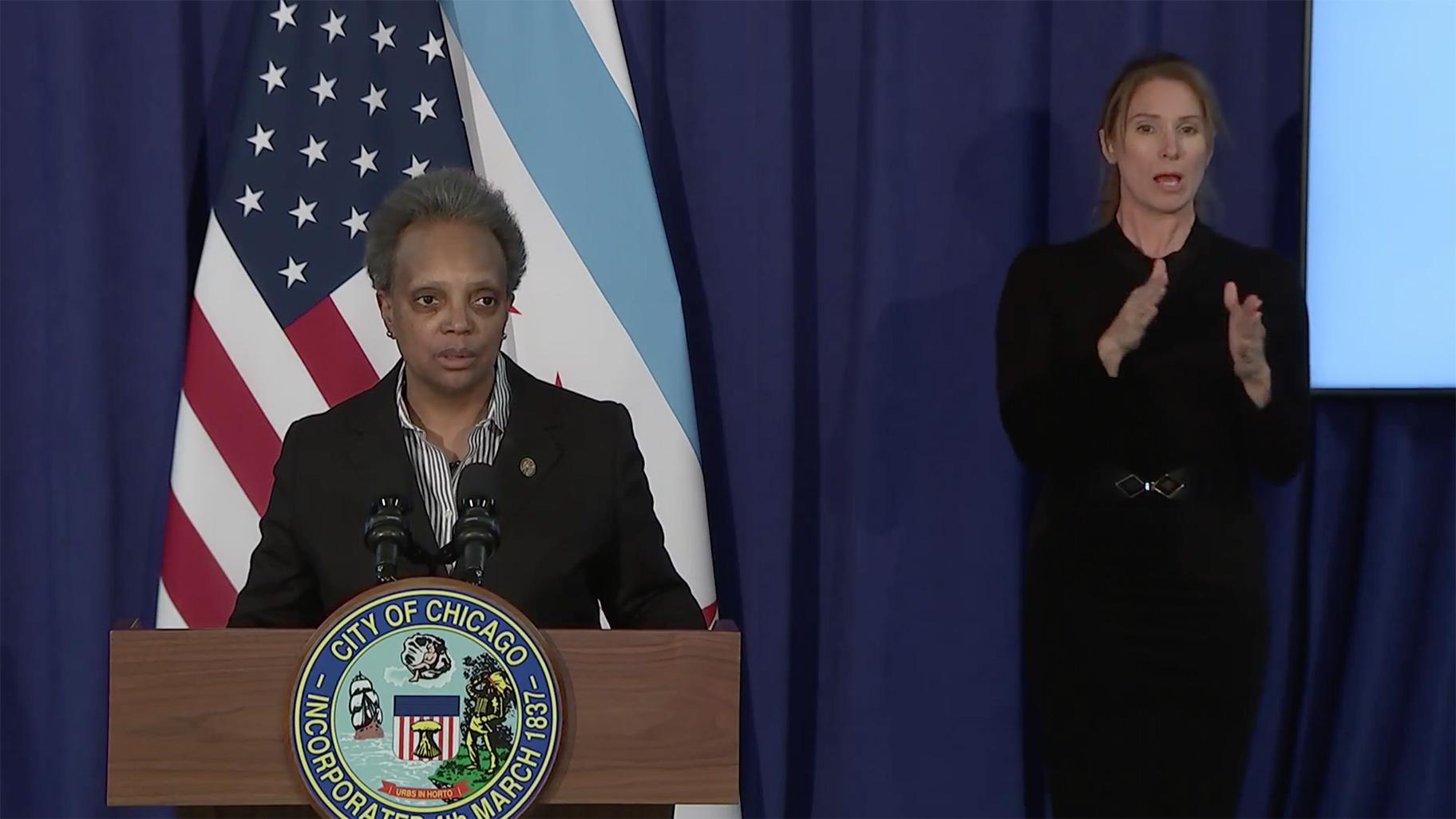 Mayor Lori Lightfoot gives an update on negotiations between Chicago Public Schools and the Chicago Teachers Union at a news conference Sunday, Jan. 31, 2021. (WTTW News via Chicago Mayor's Office Facebook)
The main sticking points are a plan to vaccinate the teachers as well as whether teachers who live with someone at a heightened risk of COVID-19 will be allowed to work from home, Lightfoot and Sharkey said.
Several thousand teachers who fear exposing a relative to COVID-19 have asked for an accommodation and been denied, Sharkey said.
"I don't know how you concede accommodations for a teacher whose wife has cancer," said union Vice President Stacy Davis Gates.
Union lawyer Thad Goodchild said the Chicago Department of Public Health had set aside 1,000 doses of the vaccine a week for teachers. The union has 28,000 members.
Since approximately 80% of Chicago students plan to keep learning remotely, Goodchild said teachers who fear giving an at-risk relative COVID-19 should be allowed to teach remotely.
That would allow the district to avoid having teachers instruct students present in person and remotely simultaneously, Goodchild said.
Before Lightfoot's news conference began, union officials tweeted that district officials were instructed not to attend negotiations unless "educators were prepared to make major concessions." 
However, school district officials tweeted a response that its bargaining team had been prepared to meet but "was told by CTU leadership that they were unavailable to meet until they could develop a response to our most recent offer."
Lightfoot said the district's bargaining team was ready to resume negotiations, and said a deal could be reached Sunday night. But the leadership of the teachers union is "inventing reasons" that teachers cannot return to in-person classes, Jackson said.
Jackson said she was "deeply disappointed" and "incredibly frustrated" that schools will not reopen, adding that her daughter was ready to return.
CPS officials insist that reopening schools would not speed the spread of COVID-19 in Chicago and was absolutely necessary to reach students struggling with remote learning. Enrollment is down, absenteeism is up and grades are falling across the district, but especially for Black and Latino students, Lightfoot said again Sunday.
An agreement between the two sides would have allowed approximately 67,000 elementary school students back into classrooms Monday, joining approximately 3,000 preschool and special education students who returned for in-person learning on Jan. 11.
Contact Heather Cherone: @HeatherCherone | (773) 569-1863 | [email protected]
---