In collaboration with the "Be An Arts Hero" campaign, arts workers across the country are writing their senators, demanding more federal funds amid the coronavirus pandemic. They say dedication to their craft has added more to the economy than agriculture and mining combined.
"When we look at Illinois, it's $30 billion in added value to Illinois' economy, which is massive," said Chicago playwright Matthew-Lee Erlbach, one of the organizers of the campaign. "It supports over 224,000 jobs in arts and culture. That's people in front of the camera and on stage, to sound technicians to pyro technicians, engineers, puppeteers, museums docents, people who are working in broadcast, you name it. So when you look at all those jobs in Illinois, you really want to put an economic floor under them because if they go, that's a huge chunk of Illinois' economy that just evaporates."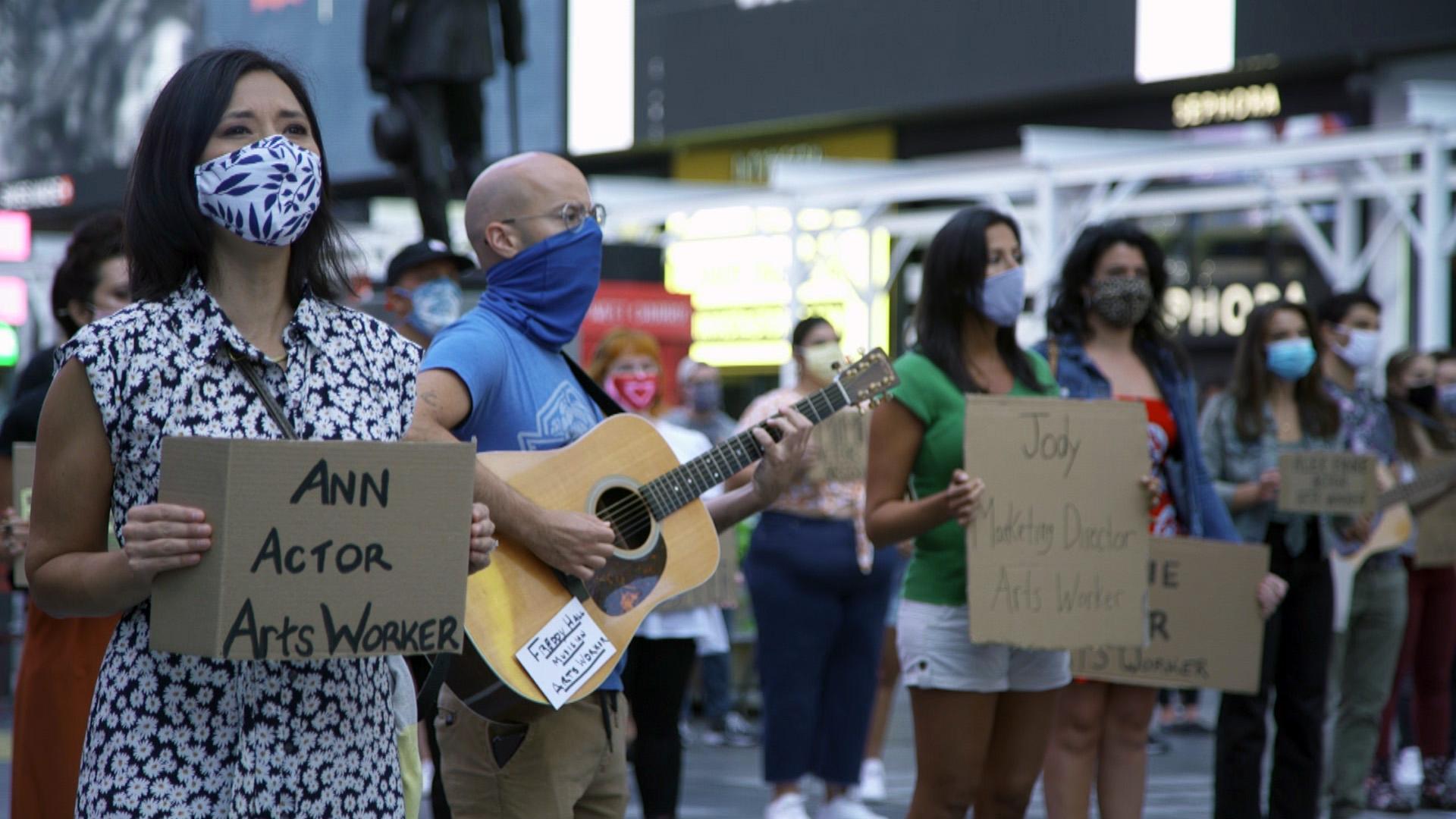 An image taken from a promotional video for the "Be An Arts Hero" campaign. (WTTW News via Be An Arts Hero)
The campaign features letters from more than 200 artists, including Chicago actress E. Faye Butler, who says the support would also be a reflection of appreciation for the work people in the arts do.
"Love us back a little bit. We need you. We need your support," she said. "We have families, homes. People have a misconception about artists as these wildflower people that roam the streets and don't need money. We're always thought of those without a job. People always look at us and go, 'OK, so that's fun. When are you going to get a job?' This is a job. This is my life, and it's hanging in the balance. For all of those arts workers out there, we need you. We're independent contractors and we need your support. So fight for us."
The DAWN Act would authorize $43.8 billion in grants to artists, performance venues and all other arts-related businesses. That includes community programs like Young Chicago Authors. Creative Director Kevin Coval says moments like Amanda Gorman's inaugural poem "The Hill We Climb" are reflective of art's ability to bring people together.
"Poetry in its best lived practice is a radically democratic forum that really truly believe, holds the notion, that regardless of who you are or where you come from, you have something essential to say. So in that way, we're all essential workers, because we all have something we need to contribute," Coval said.
With approximately 5.1 million arts workers across the country, Erlbach says the DAWN Act would solve a problem while also recognizing arts workers as the cornerstone of America's economic recovery.
"The problem of economic catastrophe, which is what we're facing," Erlbach said. "We're the first to close and the last to reopen. The DAWN Act is saying here's how we not only get economic revival, but national reconciliation."
---
More on this story
Arts workers are asking that grant money through the DAWN Act help them with expenses incurred through June 30, 2021. Learn more information about the DAWN Act and the "Be An Arts Hero" campaign.
Follow Angel Idowu on Twitter: @angelidowu3
Note: An earlier version of this story incorrectly stated the number of arts workers across the country. The story has been corrected.
---
Angel Idowu is the JCS Fund of the DuPage Foundation Arts Correspondent.
---