It's another benchmark in the rollout of the coronavirus vaccine: Chicago has entered phase 1B. But what does that mean? And how can you sign up to get a shot?
What you need to know about Chicago's vaccine rollout.
1. Who is eligible for the vaccine?
It's been six weeks since the first doses of coronavirus vaccine were given in Illinois to health care professionals — the doctors, nurses and support staff who have, and will, take care of COVID-19 and other patients. 
That was the start of Phase 1A. 
Staff and residents of nursing homes and other long-term care facilities were also part of that initial phase. (Gov. J.B. Pritzker said Monday that this has "gone exceedingly slow" and, as a result, doses are sitting on shelves, unused. He blames the federal government contracting with CVS and Walgreens to provide the vaccinations in nursing home and assisted living facilities and they've promised to finish administering those initial doses by Feb. 15. More on that later.)
As of Monday, millions more people are eligible.
Illinois and Chicago are now in Phase 1B.
Anyone age 65 and older is now eligible for the vaccine, as are front-line essential workers: first responders, day care providers, grocery store clerks. Teachers.
Health care workers and long-term care residents and staff who have been waiting for the virus or so far unable to get inoculated can still do so; there's no cutoff once you're part of an eligible class.
2. Where do you sign up?
Who's eligible for the vaccine is fairly straightforward.
Where to sign up to get the vaccine, less so.
Options:
—Through your primary care doctor, hospital or federally qualified health center
—Through a pharmacy; drug stores like Walgreens have online sign-ups
—At your workplace
—Via your local health department
Chicago has a vaccination finder. Suburban health departments are allowing residents to sign up online. Those who live or work in Cook County can visit this newly launched website or call a hotline, from 7 a.m. to 7 p.m. Monday through Friday: 833-308-1988.
Illinois is setting up mass vaccination sites, such as one in Tinley Park that Pritzker and Cook County Board President Toni Preckwinkle toured on Monday.
The Illinois National Guard is helping to staff the mass vaccination clinics. 
Other county websites:
Scheduling an appointment will likely involve filing out a questionnaire with your contact information, age and occupation.
Some health departments stress that appointments are only for people who live in the area; you may have to prove that if you do get an appointment.
"Eligible individuals will be asked to provide verification of their eligibility through either photo ID to confirm age-based eligibility or employment verification (Employee ID Badge, check stub, state licensure or certificate) to identify occupational eligibility," reads a warning on the DuPage County Health Department's website.
3. Then what? Wait.
As the federal government distributes its coronavirus vaccine supply, Illinois and Chicago are allotted doses based on population. But demand for vaccines is outpacing supply in Illinois and elsewhere.
DuPage County's Health Department warns it could take 12 weeks to vaccinate the 270,000 residents eligible in Phase 1B.
In suburban Cook County, some 600,000 residents are eligible in Phase 1B. "However, we do not have adequate vaccine supply to vaccine everyone immediately," Preckwinkle said Monday.
Cook County's health director Israel Rocha encouraged residents to fill out the online vaccination form even if they can't schedule an appointment.
You won't be able to book a vaccination appointment if the county's allotted doses have already been reserved by those who booked appointments first, but the process will enable you to get alerts about other COVID-19 information, and when time slots are opened for another round of shots.
"The website will only have appointments for which we have vaccine and we can guarantee," Rocha said. "If for some reason there's no appointments available you are entered in queue. Every time we update the site with availability of appointments you will get notifications based on that information, and if you're eligible at the time."
4. Who's been vaccinated so far?
As of Monday, only 1.08% of Illinois' 12.7 million residents — 137,990 — have been fully vaccinated so far.
Illinois has administered 692,763 doses of the vaccine.
That's got Illinois low on the New York Times rankings.
But Pritzker said Monday that Illinois is a large state and can't be compared with smaller ones — a sentiment echoed by Mayor Lori Lightfoot with regards to the rollout in Chicago.
Pritzker also said vaccine allotments to long-term care facilities may be thus far unused, but they cannot be diverted to other populations.
State data also may not be altogether timely.
"Data are reported based on the date IDPH receives vaccination reports from providers. Providers are to report as soon as practicable, but reporting can be delayed as much as 72 hours, which can lead to a lag between vaccines delivered to Illinois and vaccines administered," the state tracking site warns.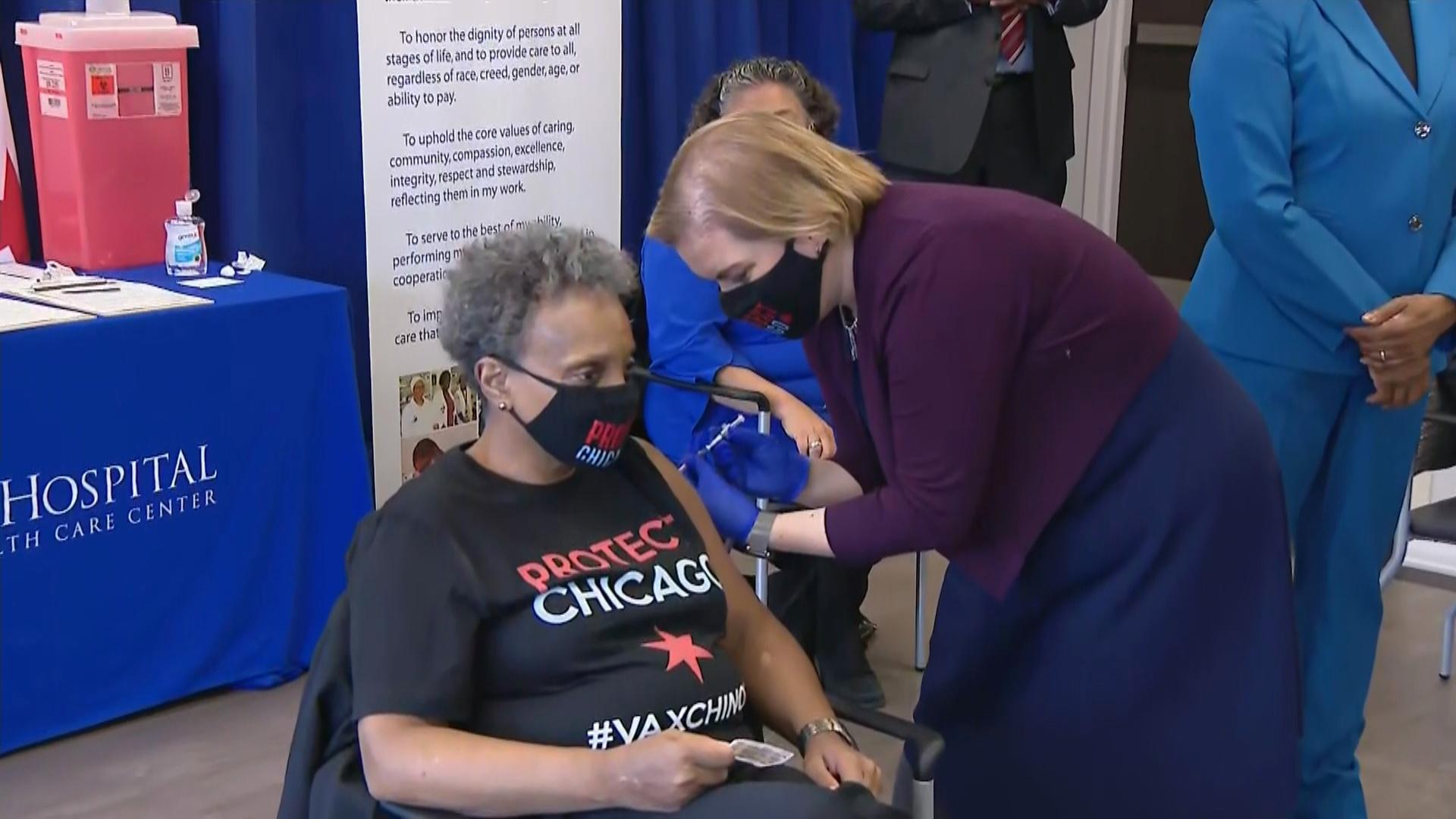 Mayor Lori Lightfoot gets her first COVID-19 vaccine shot, administered by Chicago Department of Public Health Commissioner Dr. Allison Arwady, at St. Bernard's Hospital in Englewood on Monday, Jan. 25, 2021. (WTTW News)
Meanwhile, 23,803 residents of suburban Cook County have had the full vaccine regiment, county data shows.
Chicago has loads of information about who has received the vaccine, including their zip code, race and age.
The stats, Lightfoot said Monday, show that the number of Black and Latino Chicagoans who have received the vaccine, despite being disproportionally impacted by the coronavirus, are "alarmingly low."
Chicago used a variety of data to create a vulnerability index; the 15 highest-need communities will be the focus of new Protect Chicago Plus, equity-centric program, geared toward increasing vaccination rates. Each of the communities have majority Black or Brown residents. 
The communities are: West Englewood, New City, Gage Park, North Lawndale, South Lawndale, Chicago Lawn, Englewood, Roseland, Archer Heights, Washington Heights, Austin, Montclare, South Deering, Belmont Cragin and Humboldt Park. 
"This does not mean that vaccine is not going to be available across the city, of course it it," Chicago Department of Public Health Commissioner Dr. Allison Arwady said.
5. What's next?
It will likely be months before the next phase: 1C. That's when other categories of "essential" workers (restaurant employees, members of the media) will be eligible.
Phase 1C is also when those between the age of 16-64 who have "underlying medical conditions" will be able to get the coronavirus vaccine.
State and local officials say they are ready to distribute the vaccine when it's available, but they need the federal government to send more.
Follow Amanda Vinicky on Twitter: @AmandaVinicky
---