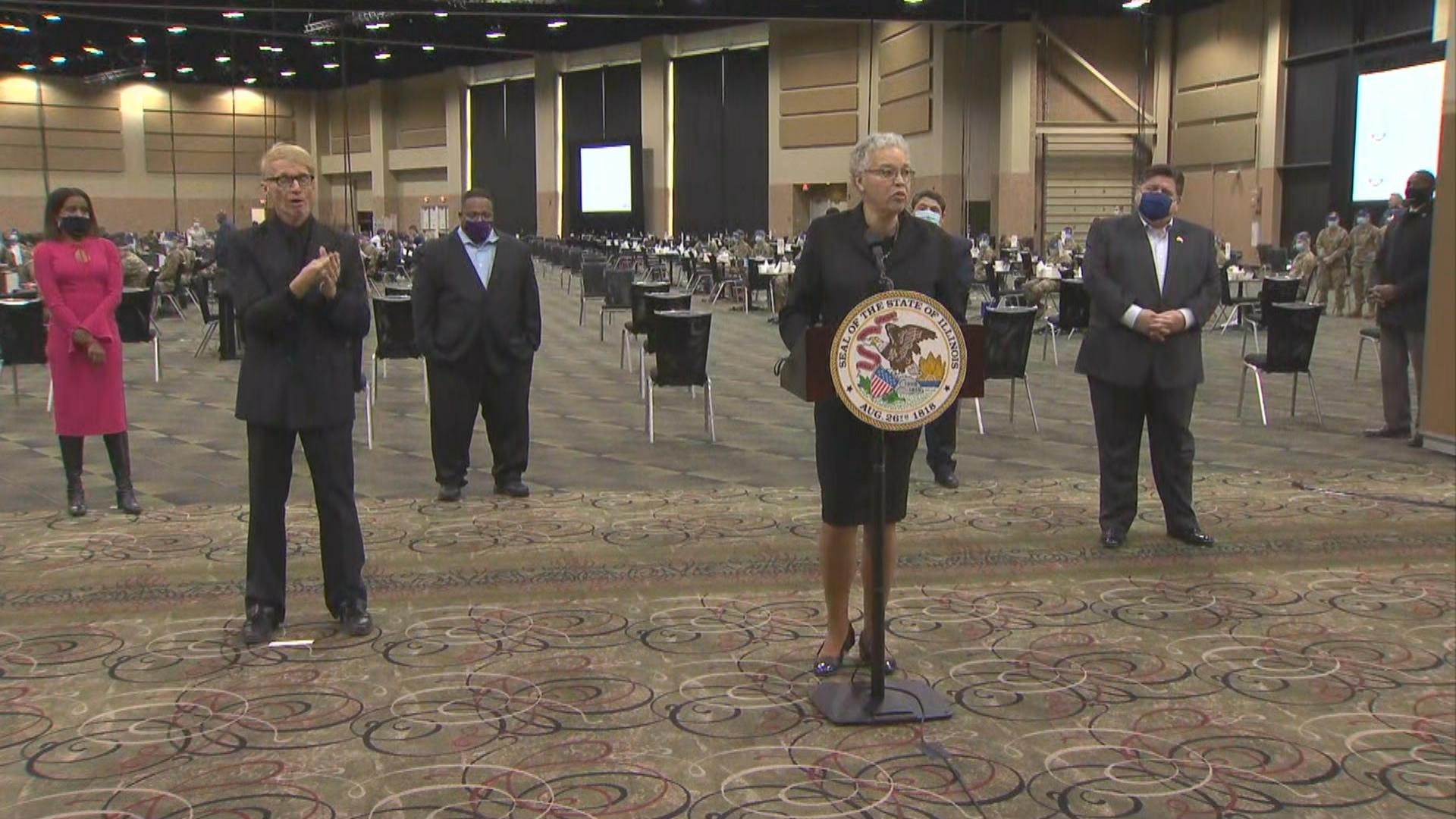 Cook County Board President Toni Preckwinkle speaks Monday, Jan. 25, 2021 at the Tinley Park Convention Center, which will serve as a mass vaccination site for the COVID-19 vaccine. (WTTW News)
A year after the first coronavirus case was reported in Illinois, the first mass coronavirus vaccination site was launched Monday in suburban Cook County.
"We're gathered to celebrate a major development in (our) COVID-19 vaccination efforts," Cook County Board President Toni Preckwinkle said Monday morning inside the massive Tinley Park Convention Center as the state moves into the next phase of its vaccination rollout.
The 75,000-square-foot center is the first of several mass vaccination sites set to open in suburban Cook County, according to Preckwinkle, who said others would be opening in the coming weeks.
She also announced the launch of a new website (vaccine.cookcountyil.gov) and hotline (833-308-1988) for those who live or work in Cook County to receive COVID-19 vaccination information and sign up for appointments. The hotline will be available 7 a.m.-7 p.m. Monday through Friday.
On Tuesday, vaccinations at the convention center will begin for eligible individuals: residents ages 65 and older, front-line essential workers and health care workers, according to officials.
The convention center is set to administer 9,000 vaccinations per week, according to Gov. J.B. Pritzker, who said the center has the capacity to administer 18,000 vaccinations per week.
"While we're excited to be taking these steps, I want to be sure we set clear expectations. At this moment, not just here but across the country, demand is heavily outweighing our supply of vaccines," Preckwinkle said. "Over 600,000 individuals are eligible for vaccination in phase 1b. … However, we don't have adequate vaccine to supply to vaccinate everyone immediately."
Cook County Health CEO Israel Rocha echoed that sentiment, saying it will take weeks to vaccinate everyone who is eligible. "This is a marathon, not a sprint," he said.
Vaccination appointments will be made available only when vaccine doses are guaranteed in order to avoid having to cancel appointments, according to Rocha. "It's important people recognize all (vaccination) sites work on an appointment system," he said.
Anyone who lives or works in Cook County can sign up on the county's website, regardless of vaccine eligibility, and they will be put on a listserv, according to Rocha. "Once you're on there, whether you're eligible or not, you're in queue," he said, adding that individuals will be notified via email when appointments are available to those who are eligible to receive one.
On Monday, officials announced a new feature on the state's coronavirus website that allows eligible residents to find nearby vaccination sites. The site also provides residents with information on how to make an appointment, updates on the state's vaccination plan and answers to frequently asked questions about the vaccine.
"This site will serve as a hub of all vaccine-related information, directing residents to the appointment booking homepages of our 97 local health departments and our pharmacy partners, which will total hundreds of locations statewide," Pritzker said in a statement. The site will be updated as new vaccination locations open.
State officials also provided links to both Walgreens and Jewel Osco for eligible residents to schedule appointments, which began Monday at Walgreens and Tuesday at Jewel Osco.
State health officials reported 2,944 new confirmed and probable COVID-19 cases Monday and 49 additional deaths. Since the first infection was reported in Illinois a year ago, there have been 1,104,763 cases and 18,798 deaths across the state.
As of Sunday night, 2,962 people were hospitalized with COVID-19, and of those, 601 patients were in intensive care units and 302 were on ventilators, according to the Illinois Department of Public Health.
The preliminary seven-day statewide positivity rate for cases is 4.7%, — down from 5.9% a week ago, according to IDPH data.
The preliminary seven-day statewide test positivity is 5.8%, according to state health officials. That number is higher in both suburban Cook County (6.9%) and Chicago (7%), according to IDPH regional data.
For information about COVID-19 vaccinations, including how to register for an appointment in suburban Cook County, visit vaccine.cookcountyil.gov or call 833-308-1988, which operates 7 a.m.-7 p.m. Monday through Friday.
Contact Kristen Thometz: @kristenthometz | [email protected]
---