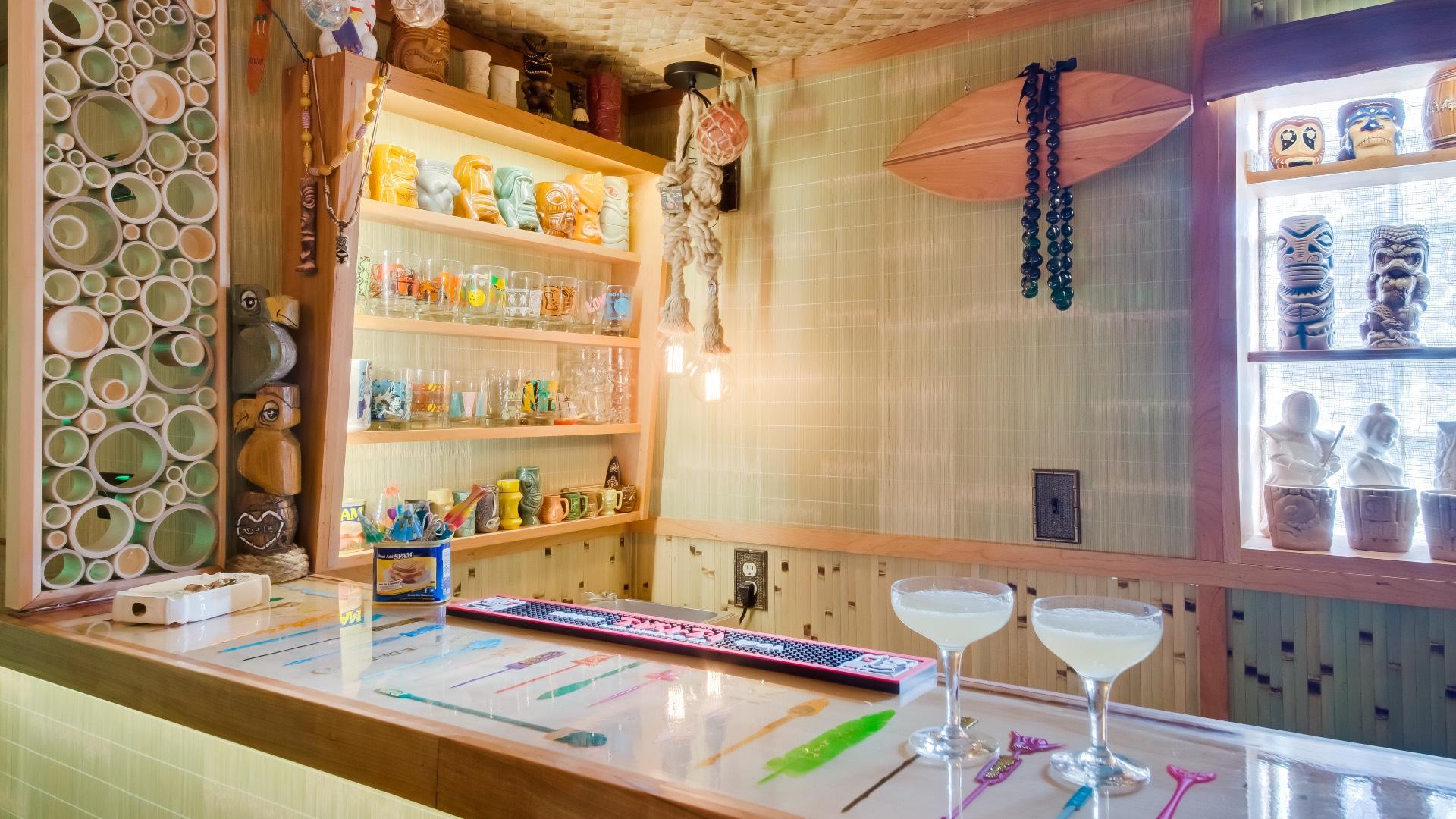 A Portage Park couple transformed their bungalow basement into a tiki bar. (Courtesy of Chicago Bungalow Association)
People's houses have been pulling double and triple duty this past year. Our homes aren't just where we live, they're also where a lot of us work and play these days.
In the face of these added demands, plenty of folks found their abodes lacking. Some actually did something about it.  
To reward the efforts of inventive DIY-ers, the Chicago Bungalow Association added a "COVID Creativity" category to its Driehaus Awards, which are handed out annually.
The 2020 winners of the honor are a pair of Portage Park homeowners who transformed their bungalows' basement and garage, respectively, into areas for relaxation and escape.
Alex Dunham and Jennifer Bakija now have an underground Tiki bar retreat where they can enjoy a drink, play some ping pong and generally unwind. For Bakija, who's been working at home since last March, it's nice to close the door on her home office, head downstairs and enter another world, she said in an interview with the Bungalow Association.
The renovation process was helped by the fact that Dunham is a former contractor who was largely able to realize the couple's vision on his own. Among the unique features: a resin bar top studded with swizzle sticks that Bakija unconsciously "collected" over the years simply by bringing them home in her purse.  
The other "COVID Creativity" award went to Christopher Gordon and Carolina Gomez, whose two-car garage can now be converted into a pub, a music studio or whatever other use the family needs.
The project's genesis will sound familiar: "We were all going stir crazy," Gordon told the Bungalow Association. 
He initially just wanted a place for "dart night" but wound up expanding the renovation's scope to include collapsible pub-style tables (the garage still needs to house the family's cars in the winter) and a pass-through window with seating on both sides. With enough room and air flow for people to comfortably social distance, Gomez, a cellist, can hold in-person music lessons with students.
Gordon, who tackled the construction himself, said it only came together thanks to an assist from Chicago's bungalow community. After sharing his idea online, another bungalow owner reached out to say she had a stash of wood planks in her attic. "She said I was welcome to any of it. If it wasn't for her generosity, this probably never would have happened," he said. 
The Driehaus Bungalow Awards were established in 2005 and honor the best in bungalow restoration and renovation. Winners are chosen by a panel of architects, preservationists and community leaders. 
In addition to "COVID Creativity," awards and honorable mention were announced in seven other categories. Winning projects ranged from a major front porch rehab in Albany Park to a back room update in Auburn Gresham that involved the unexpected excavation of multiple layers of linoleum tile. 
Before and after images of all the honorees can be viewed online.  
Contact Patty Wetli: @pattywetli | (773) 509-5623 |  [email protected]