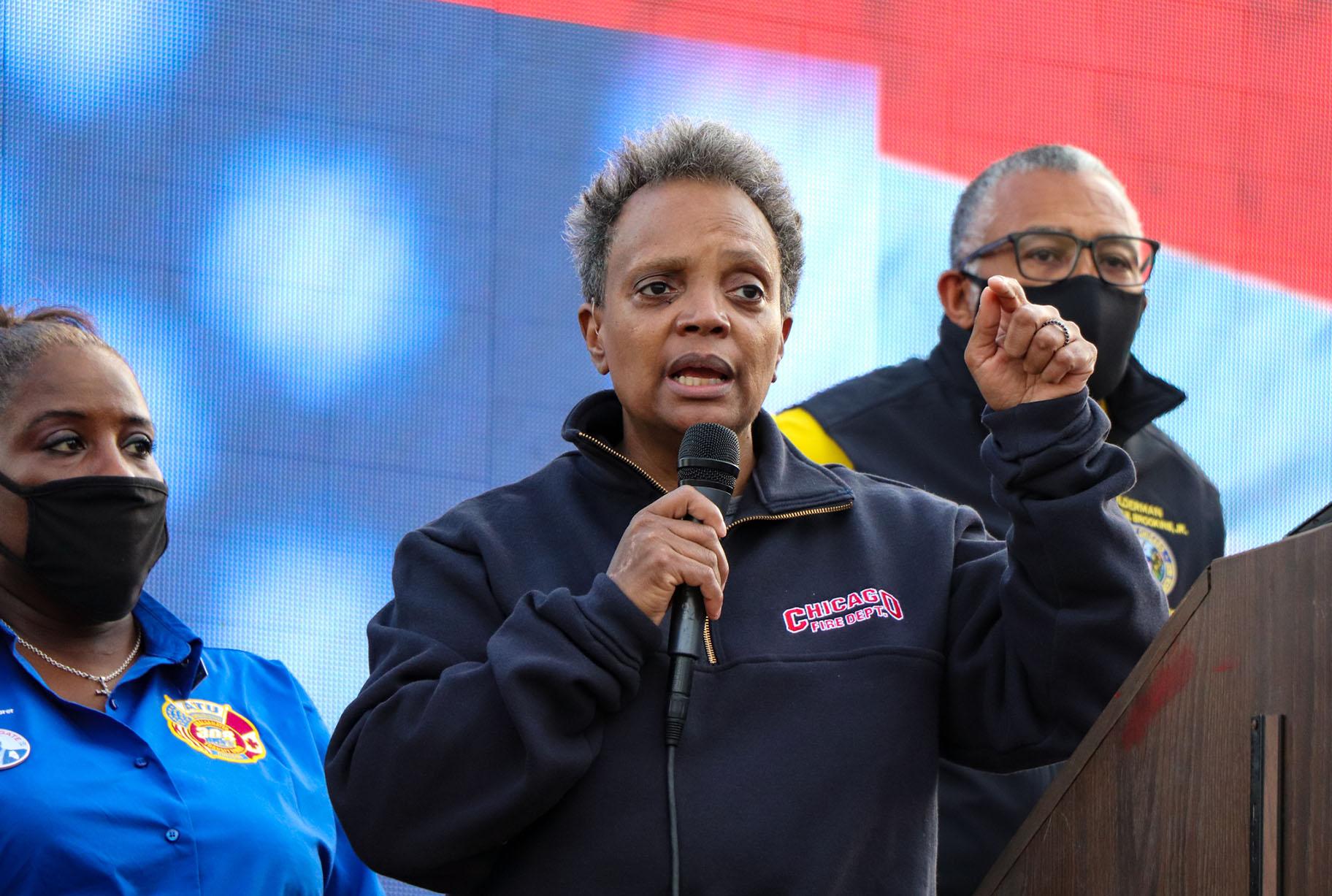 Mayor Lori Lightfoot speaks at a press conference in Chicago's 21st Ward on Sunday, Nov. 8, 2020, a day after Joe Biden defeated President Donald Trump to become the 46th president of the United States. (Grace Del Vecchio / WTTW News)
President Joe Biden's inaugural address was "pitch perfect," Mayor Lori Lightfoot told WTTW News on Wednesday, calling his words "balm" for the nation's troubled soul.
Lightfoot, who endorsed Biden during the Democratic primaries and campaigned on his behalf, said she was "grateful" to hear Biden deliver a soaring defense of democracy two weeks after supporters of former President Donald Trump stormed the U.S. Capitol in an attempt to prevent the certification of the presidential election.
"Democracy is back, and it is tough and resilient," Lightfoot said. "Those were words that people needed to hear."
Lightfoot said she was particularly struck by one line of Biden's inaugural address: "We will lead not merely by the example of our power but by the power of our example."
"That is really pitch perfect," Lightfoot said, noting that the United States has work to do both at home and abroad to rebuild its standing. "His words were a balm that was really needed."
Lightfoot, who is the first Black woman to be elected Chicago mayor, says she was thrilled to see Vice President Kamala Harris take the oath of office in "power purple," worn in tribute to the suffragist movement.
READ: Vice President Harris: A New Chapter Opens in US Politics
Harris, like most Black women, see the promise of America, but are also "very clear-eyed about the challenges we are facing," Lightfoot said.
During Biden's first days in office, Lightfoot said she would "enthusiastically" push Congress to approve his $1.9 trillion COVID-19 relief and economic stimulus plan. That package includes aid to cities and states, whose budgets were decimated by the collapse of the economy during the coronavirus pandemic.
"It fills in the gaps that were left," Lightfoot said. "There is so much that needs to be done."
If Chicago gets additional funds from the federal government, Lightfoot said her first priority would be to revise the city's 2021 spending plan to reduce the amount of borrowing it depends on. 
As approved by the City Council, the plan calls for the city to borrow an additional $1.7 billion to refinance existing city debt to save $450 million in 2020 and $501 million in 2021. The refinancing plan will return the city to the era of scoop and toss, a budget-stretching tactic reviled by fiscal watchdogs as a costly gimmick.
Lightfoot acknowledged that is "not sexy stuff" but would improve the city's long-term financial health.
But perhaps the biggest change for Chicago with Biden in the Oval Office will be that Lightfoot, and the majority of the city, will no longer be at odds with the nation's most powerful politician.
Trump frequently targeted Chicago and other cities as violent, gang-infested places that he vowed to subdue. Five days after his inauguration in 2017, Trump tweeted that he planned to "send in the feds" to deal with Chicago violence, setting the pattern of what was to come for the next four years.
Lightfoot said she hopes that Trump's retreat from the center of the national political stage prompts soul searching among not only Republicans but also members of the news media. Trump will not be the last person to threaten America's democracy, Lightfoot said.
"What are the lessons we can learn from enduring the last four years?" Lightfoot asked.
But on Wednesday, the inauguration of Biden and Harris was enough, Chicago's mayor said, "to put a big smile on my face."
Contact Heather Cherone: @HeatherCherone | (773) 569-1863 | [email protected]
---