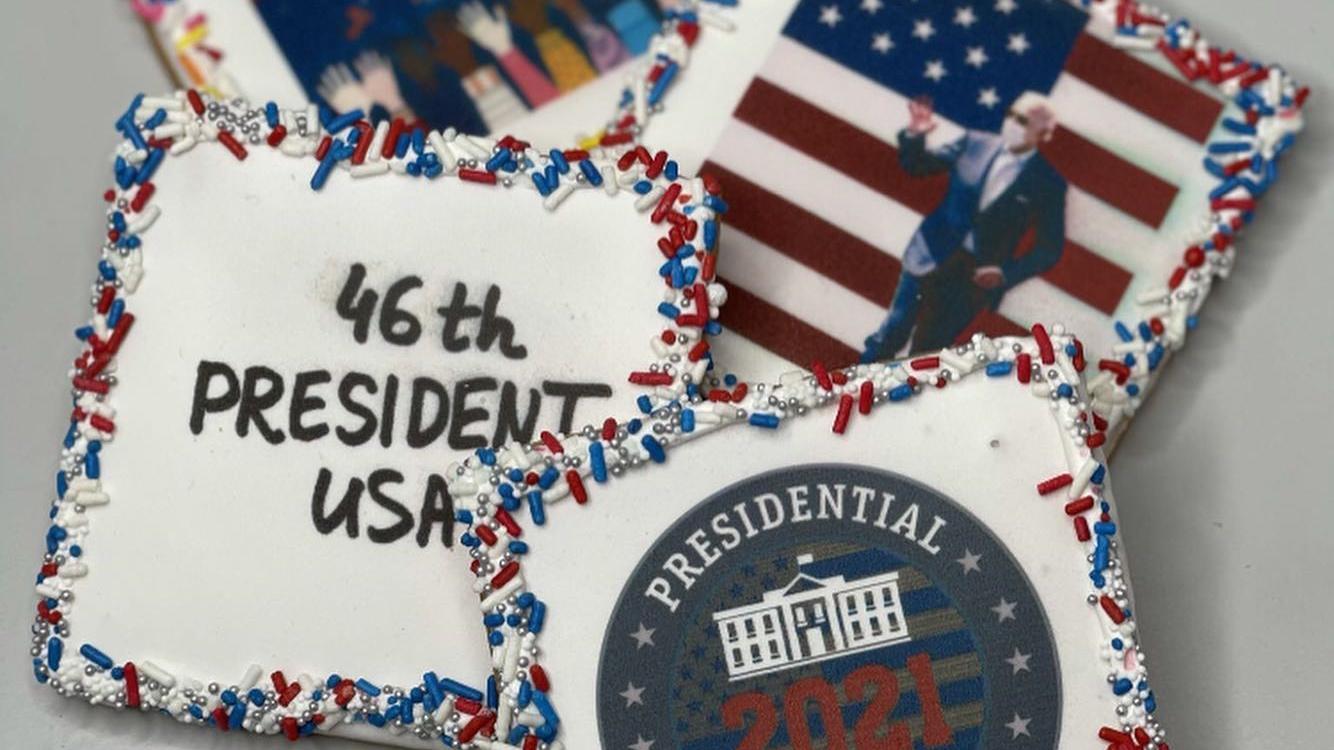 Vanille Patisserie has a full menu of Inauguration Day baked goods. (Courtesy of Vanilla Patisserie)
For all the folks planning to stress eat their way through Inauguration Day, Vanille Patisserie has the thematically appropriate goods. 
The Lincoln Park-based bakery has a full red, white and blue menu of cookies, cakes, pies and tarts designed especially for the occasion, because why not?
"We're in the business of celebration, so anything we can celebrate, we do," said owner Sophie Evanoff, a French Pastry School grad who bought Vanille in 2011. "I've only received three emails that think we're taking things too lightly. But in light of three emails versus the thousands of people who are buying these products and love what we're doing — we're bringing a little joy and laughter — that's a risk we're willing to take."
Vanille's offerings include macarons featuring images of the first family, a DIY cookie-and-frosting kit for kids, and a "VP Like Me" cake in honor of Kamala Harris, which has been a top seller, according to Evanoff.
"It has the first verse of a poem by a good friend of mine, Leslé Honoré. She changed her wording a little bit to honor there's a Brown girl in the White House and it's finally somebody that looks like 'me.' Every little girl should be able to dream big and see someone that's done it, and not be limited," Evanoff said. "It's the first female vice president. As a female business owner, how could you not celebrate that? Regardless of what you think or feel, it's incredible."
Pre-pandemic, Evanoff said Vanille likely wouldn't have waded into remotely political waters. But when its entire wholesale business was wiped out due to the coronavirus shutdown — Vanille supplied pastries to numerous hotels and McCormick Place — the bakery started tossing all sorts of ideas against the wall, from "Tiger King" cakes to press conference cupcakes.
"We don't know what's going to stick, what's not going to work," Evanoff said. "We're holding out day by day. We're just throwing out new ideas constantly and seeing what people respond to. If things are trending, we'll pull from it and we'll make a pastry."
A "stay home, save lives" cake with Mayor Lori Lightfoot was a big hit back in the spring, and so was a "stud muffin" with Gov. J.B. Pritzker. (Stud muffins are muffins topped with frosting and studded with a macaron.) Even more popular was a "Mac the Vote" campaign last fall, where Vanille tallied "votes" for Joe Biden and Donald Trump based on the number of macarons purchased with the candidates' visages. Biden macarons won.
"After the election, people still wanted Biden cookies and macarons. That's when we were like, 'Let's do an inauguration menu. What do we have to lose?'" Evanoff said.
Orders for the Inauguration Day menu are open through 1 p.m. Tuesday, and Vanille's Lincoln Park storefront, 2108 N. Clark St., is already stocked with cookies and macaron sets for walk-in customers. National shipping is an option for some of the items.
Evanoff says 10% of weekend sales will be donated to Elevated Chicago, an organization devoted to equitable transit-oriented development.
Given the amount of business Vanille lost in 2020, and with 2021 still very much a question mark, can the bakery afford to be charitable? Evanoff said it can't afford not to.
"Each day we can stay open is because of the community," she said. "What you put out you get back. We're going to keep pushing and helping and doing what we can."
Contact Patty Wetli: @pattywetli | (773) 509-5623 |  [email protected]
---