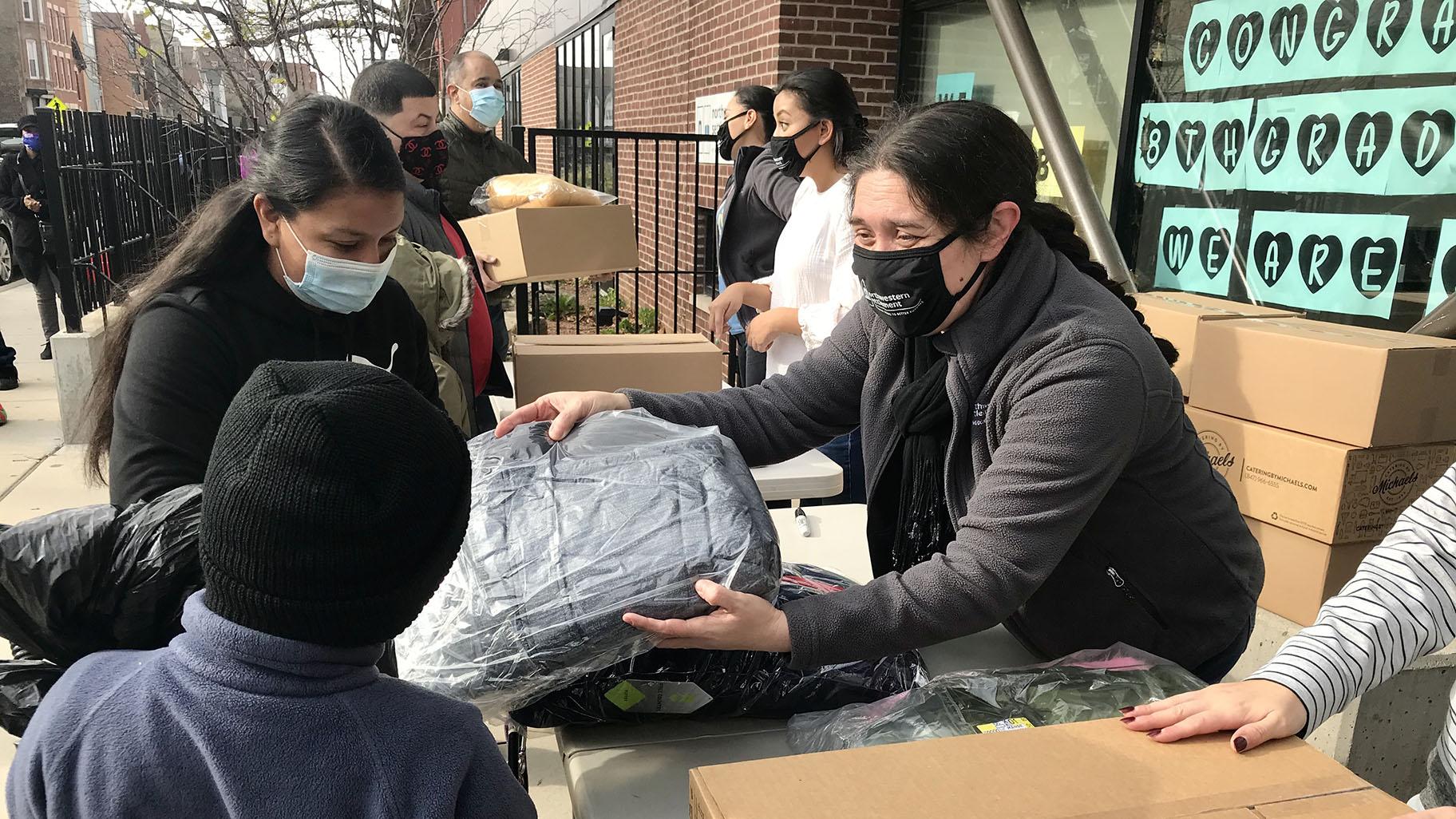 Families pick up Thanksgiving meal boxes and coats for their children at West Town nonprofit Northwestern Settlement on Saturday, Nov. 21, 2020. (Ariel Parrella-Aureli / WTTW News)
The disproportionate impact of the coronavirus on Black and Latino communities has been documented this year by public health departments and the Centers for Disease Control and Prevention. Now, a report finds that Black and Latino families across the U.S. are also more likely than their White counterparts to struggle with food security and housing payments.
In Illinois, 24% of Black adults and 18% of Latino adults said they sometimes or often didn't have enough food to eat in the past week, compared with 10% of Whites, according to the KIDS Count policy report "Kids, Families and COVID-19."
The report, based on weekly surveys conducted by the U.S. Census Bureau throughout the pandemic, analyzed how families are faring during the crisis by measuring food security, the ability to make rent or mortgage payments, health insurance status and mental health concerns.
---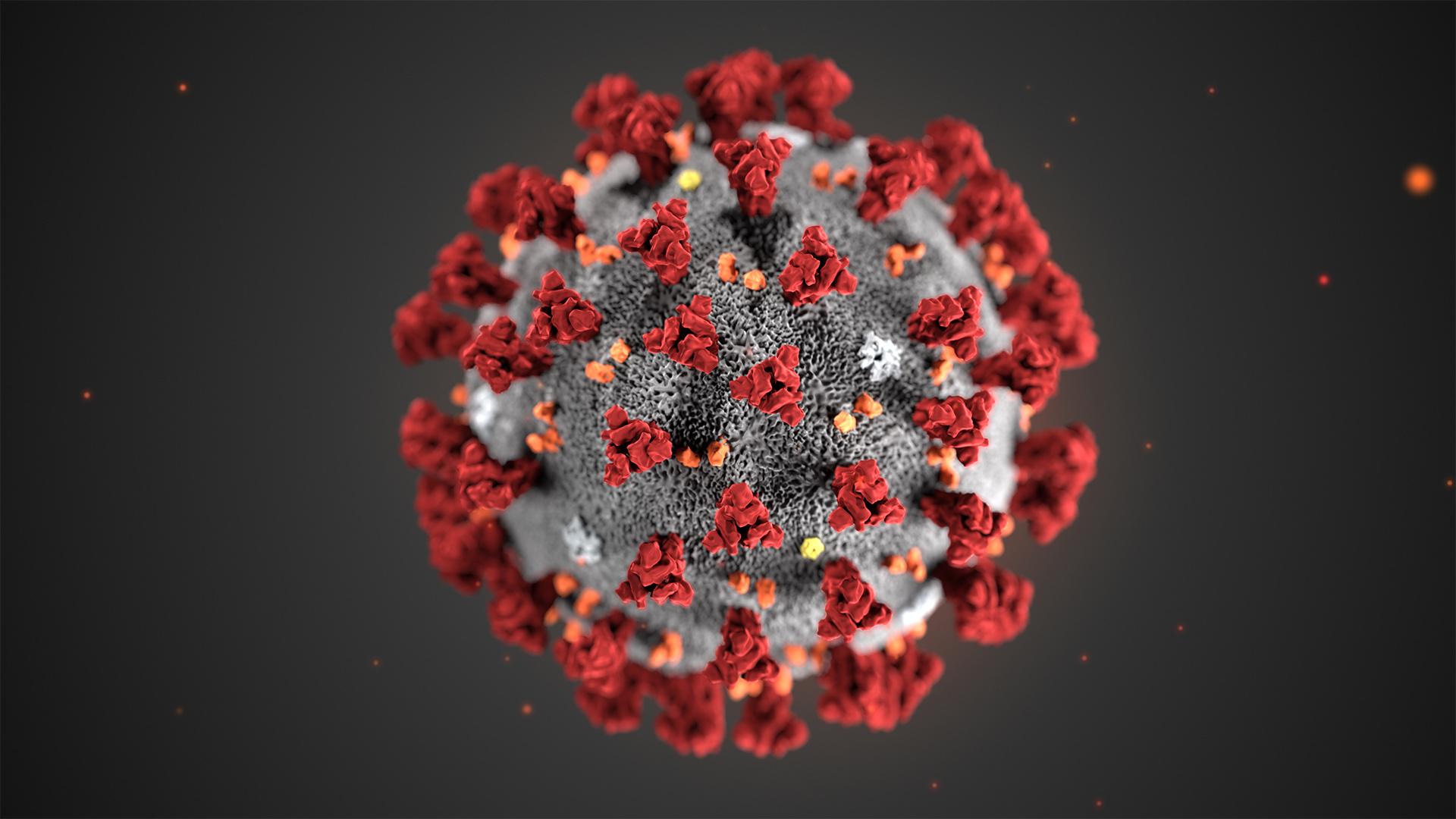 Full coverage of the COVID-19 pandemic from WTTW News.
---
"The pandemic really took all the problems we already had and accelerated and exacerbated them," said Bill Byrnes, KIDS Count project manager. "Every metric you look at for the state of Illinois and nationally, you see people of color consistently disadvantaged in terms of economic (status), education, housing status and things along those lines."
In Illinois, Black and Latino residents were also more likely to report difficulties related to housing. According to the report, 32% of Blacks and 25% of Latinos said they had little or no confidence in their ability to make their next rent or mortgage payment on time, compared to 10% of Whites and 20% of all Illinois residents.
While Gov. J.B. Pritzker recently extended the state's ban on evictions caused by the coronavirus pandemic until Jan. 11, Byrnes worries about what happens once evictions are allowed to resume.
"If the state and federal government don't continue extending the moratorium, we're going to get to a point where there's a serious housing catastrophe on our hands, not just in Illinois, but as a nation," Byrnes said.
According to a University of Arizona study, between 279,000 and 590,000 Illinois households are at risk of eviction due to the COVID-19 pandemic. Nationally, those researchers say as many as 9.5 million to 13.9 million renters are at risk of eviction.
"Even if the pandemic ended tomorrow, there's still going to be a lot of need for assistance (for people) who owe back payments," Byrnes said. "A lot of assistance from state and federal resources are going to be needed to make sure housing remains stable."
That relief needs to be "focused on populations and areas that need it most, particularly among people of color, people living in poverty and people living in rural counties in the state," he added.
Byrnes says to avoid an eviction crisis, Pritzker should extend the state's eviction moratorium until "COVID-related closings are no longer necessary."
The coronavirus pandemic, which has sickened more than 870,000 people in Illinois, has underscored the need for access to health care, but the report found 10% of Illinoisans didn't have health insurance. That rate is even higher among Blacks (22%) and Latinos (15%), but lower among Whites (4%), according to the report.
"Lacking insurance – and limiting contact with the outside world – families are forgoing the care they need, putting parents, children and young people at risk," the report states.
Blacks and Latinos are less likely to have health insurance, in part, because of their occupations, according to Byrnes. "People of color in the state tend to work or are overrepresented in occupations where social distancing isn't possible," he said. "Latinos are overrepresented in food service and preparation, transportation, food processing and material fabrication. And Blacks are overrepresented in service sectors and transportation. In many cases, people of color are represented in jobs without benefits like health insurance and paid sick leave."
Byrnes says people shouldn't have to choose between going to work and risk getting sick or staying home and losing a paycheck, and if people do get sick with COVID-19, they shouldn't have to "bear the brunt of the hospital bills."
"We need to make sure the uninsured are protected from the worst parts of the pandemic," he said. "The fact of the matter is getting a hospital bill in the mail when you're uninsured is simply something most families in America can't afford, even if it's staying one or two days."
While the report found Blacks and Latinos faced more challenges than Whites in terms of food security, housing and health insurance, Whites had higher rates of depression. According to the report, 21% of White Illinoisans said they felt "down, depressed or hopeless," compared to 17% of Blacks and 13% of Latinos.
Byrnes said he's not sure why that's the case but he hopes to get more data in the future as to why those differences exist.
"I think the important takeaway is that the pandemic has left no one untouched, and the people of Illinois need resources to help get them through it – whether those resources are financial, emotional or otherwise," he said.
The report calls on policymakers to put racial and ethnic equity first in responding to the pandemic and to engage community stakeholders to ensure "the policymaking process is informed by those hardest hit by the pandemic."
The report also makes several recommendations for policymakers to enact to help families, including expanding access to unemployment insurance for part-time and gig-economy workers, low-wage workers and students; removing barriers to the Temporary Assistance for Needy Families program; and increasing the availability of public housing.
Policymakers should also make sure schools are "better and more equitably funded" to meet the needs of students impacted by the pandemic.
"We need to also prioritize the physical and mental health of all kids in the state and to guarantee that any vaccine will be available without cost as a factor," Byrnes said.
Byrnes says it's crucial that the issues outlined in the report are addressed. "Because we didn't do enough prior to the pandemic to eliminate these problems, the pandemic only took these things and only exacerbated and accelerated them," he said. "After the pandemic is over, we need to ensure people's needs are being met. … If we don't do that, we're just going to see the effects of this pandemic for years to come."
Contact Kristen Thometz: @kristenthometz | (773) 509-5452 |  [email protected]
---