Video: A conversation with Dr. Doriane Miller, a physician at UChicago Medicine and director of the health system's Center for Community Health and Vitality.
---
The messaging throughout the COVID-19 pandemic, whether from the World Health Organization or Hollywood celebrities, has been "we're all in this together." But the truth, Mayor Lori Lightfoot said during a press conference Monday afternoon, is that "we are not experiencing this crisis in the same way."
Newly released data show that while black residents make up 30% of Chicago's population, they account for 52% of the city's 4,680 lab-confirmed cases of COVID-19, and 72% of Chicago's 98 deaths.
"Those numbers take your breath away," Lightfoot said. "It's unacceptable. No one should think this is OK."
Chronic, underlying conditions including diabetes, heart disease, hypertension and lung disease have played a significant role in nearly every death, noted Dr. Allison Arwady, director of the Chicago Department of Public Health.
These outcomes underscore longstanding racial inequities — among them poverty, joblessness, hunger and, most devastating during the coronavirus pandemic, a lack of access to health care resources. Issues specific to COVID-19 have placed impoverished residents at even greater disadvantage, such as living in households where social distancing is impractical or working jobs that can't be performed from home.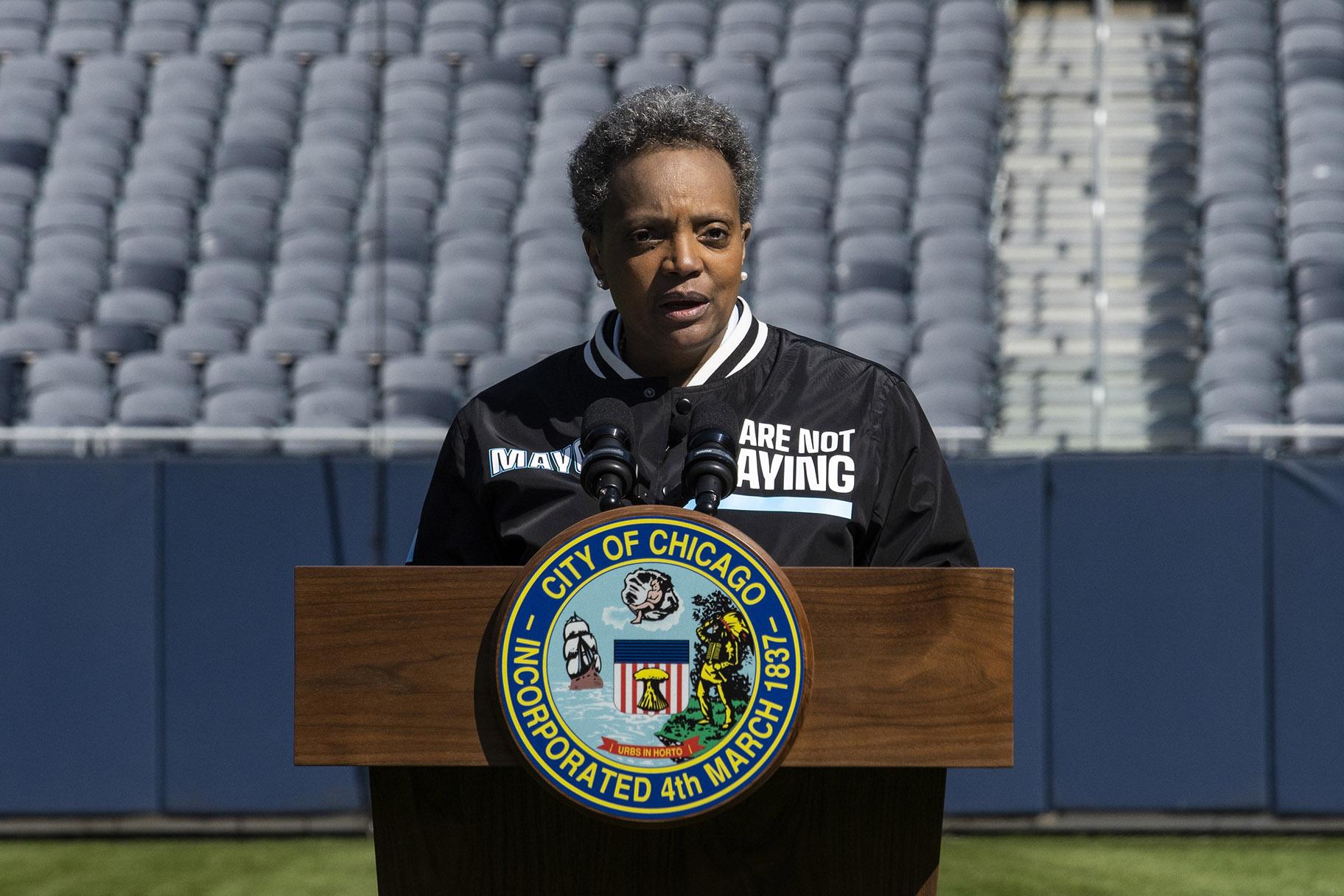 Mayor Lori Lightfoot announces the "We Are Not Playing" campaign during a press conference at Soldier Field, Monday morning, April 6, 2020, in Chicago.(Ashlee Rezin Garcia / Chicago Sun-Times via AP)
Stating that "we are not going to tolerate these disparities," Lightfoot announced a number of measures aimed at stemming the disproportionate spread of COVID-19 among Chicago's most vulnerable communities.
The CTA, for one, is redeploying its longer, accordion-style buses to routes on the South and West sides that are still experiencing high ridership in order to allow for greater social distancing among commuters who rely on public transit, be it to travel to work or the grocery store.
In another move, the Department of Public Health has issued a patient data health order, which requires demographic data from all health care providers. The "boxes" related to race and ethnicity have gone unchecked in a quarter of the COVID-19 test results reviewed by her department, Arwady said.
"It can be uncomfortable to ask," she acknowledged, but particularly in the case of the city's Latino population, it has likely led to an underreporting of the spread of the coronavirus.  
That demographic data — available to the public at chicago.gov/coronavirus — will be used by a newly formed Racial Equity Rapid Response Team, led by West Side United, as the basis of a hyperlocal, tactical effort to reach out to those in need of health care services, from symptom monitoring to testing to proactive care, Lightfoot said.
READ: Ald. Roderick Sawyer on COVID-19's Disproportionate Impact on Black Chicagoans
Every hospital has a coronavirus-discharge coordinator, Arwady said, and those individuals should ask patients about the conditions in their home: How crowded is it? Who else is living there, and are any of them vulnerable to the coronavirus? In those situations that are either unsafe for the patient or their housemates, the city has isolation and quarantine facilities at area hotels that should be put to use, she said. 
"This is painful," Lightfoot said of data. "All these numbers, all these ZIP codes, these are people. These are our sisters, our brothers, our mothers, our fathers, our children. Some family is being deeply and irreparably touched."
Chicago's future depends on how it deals not just with the crisis at hand, but the poverty that has plagued the city for too long, she said. "If we do not focus on it like a laser beam, we will have failed."
Demographic data uncovered some other disparities among those affected by COVID-19:
—Only 8% of Chicago's population is over the age of 70, but people over 70 account for 50% of the deaths from COVID-19, reinforcing the vulnerability of the city's elderly, Arwady said.
—Confirmed cases of COVID-19 are split evenly between men and women, but men represent 63% of deaths. Men, Arwady said, are more likely to smoke (an underlying condition) and are not only less likely to seek medical treatment but are also less likely to wash their hands, which is one of the best known ways to kill the virus.
Contact Patty Wetli: @pattywetli | (773) 509-5623 |  [email protected]
---