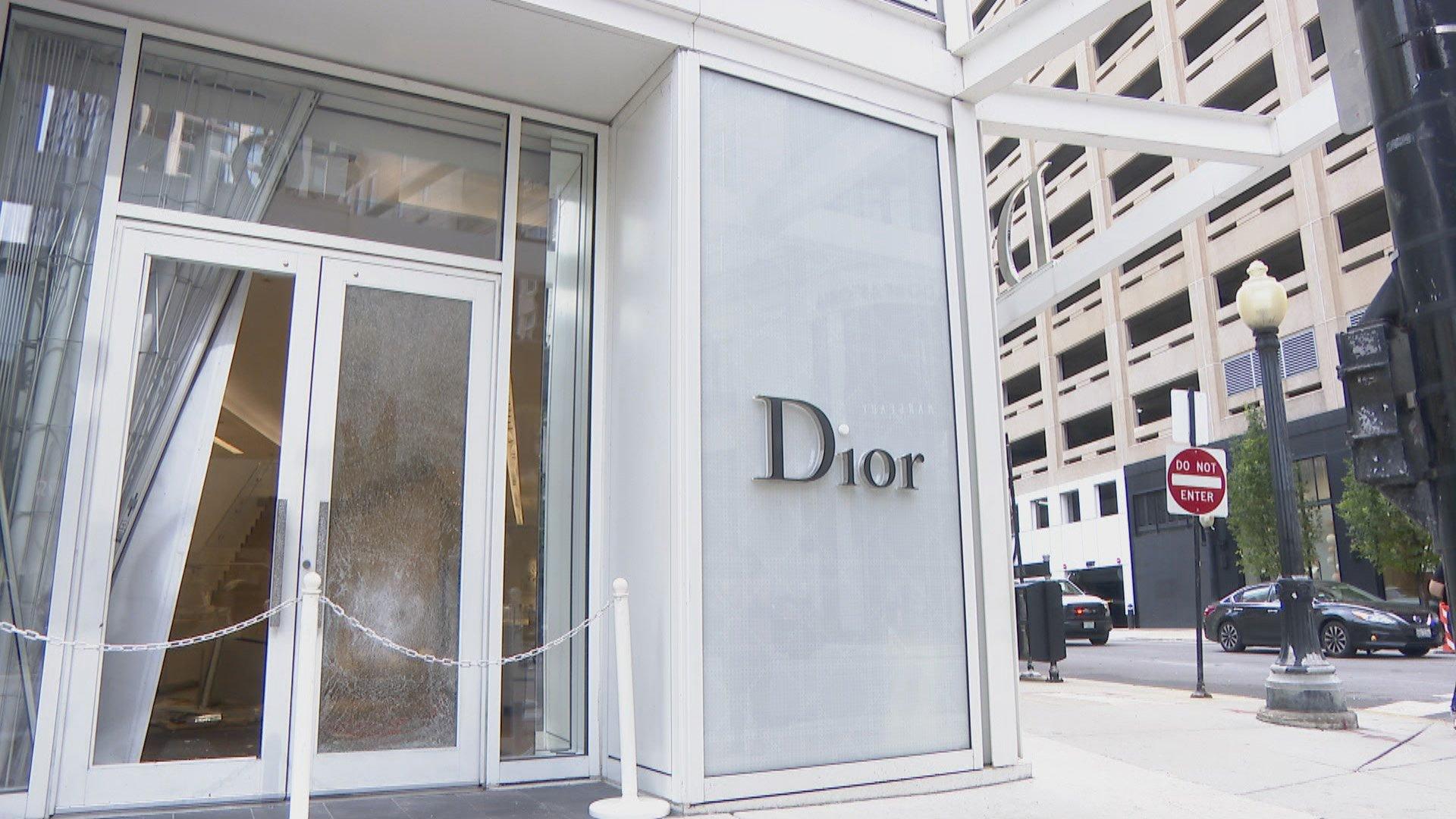 Broken windows at a Dior store in downtown Chicago on Monday, Aug. 10, 2020. (WTTW News)
A plan to raise taxes along Michigan Avenue failed to advance Monday after it was blocked by the two aldermen who represent downtown Chicago.
Backed by the Magnificent Mile Association, which represents businesses in Chicago's most high-profile and luxurious shopping district, the effort would have raised taxes by 0.05% on commercial properties along Michigan Avenue from the Chicago River to Oak Street.
After weeks of debate and facing a Dec. 29 deadline, the City Council's Committee on Economic and Capital and Technology Development took no vote on the matter Monday, which means a final vote by the full City Council cannot take place on Wednesday. That meeting is the final City Council meeting scheduled in 2020.
Alds. Brendan Reilly (42nd Ward) and Brian Hopkins (2nd Ward) said the effort to create the new taxing district — known as a Special Service Area — to fund security, attract businesses and spruce up the streets and sidewalks was pushed through too quickly by the city's Department of Planning and Development and should not move forward.
"This has been a short, rushed process," Reilly said. "Historically, when that is the case, we make mistakes."
Typically, it takes 12 to 18 months to form a Special Service Area because it requires the signatures from at least 20% of the property owners who would pay the additional tax. But city planning officials agreed to waive those requirements in response to pleas for help from business owners struggling to recover from the pandemic and unrest.
The decision by Ald. Gilbert Villegas (36th Ward), the chair of the committee, not to hold a vote on the taxing district served as a reaffirmation of aldermanic prerogative — the largely unwritten, decades-old practice giving aldermen a veto over ward issues.
Reilly said part of his opposition stemmed from the fact that the district's proposed budget of $764,714 would have been used to pay for staff rather than direct efforts to help businesses along Michigan Avenue recover from the pandemic, which forced many stores to shut their doors entirely from mid-March to early June and operate at a reduced capacity since then.
In addition, dozens of businesses were damaged after civil unrest followed anti-police brutality protests triggered by the May 25 death of George Floyd in Minneapolis police custody. Another round of looting and damage took place on Aug. 11.
Contact Heather Cherone: @HeatherCherone | (773) 569-1863 | [email protected]
---