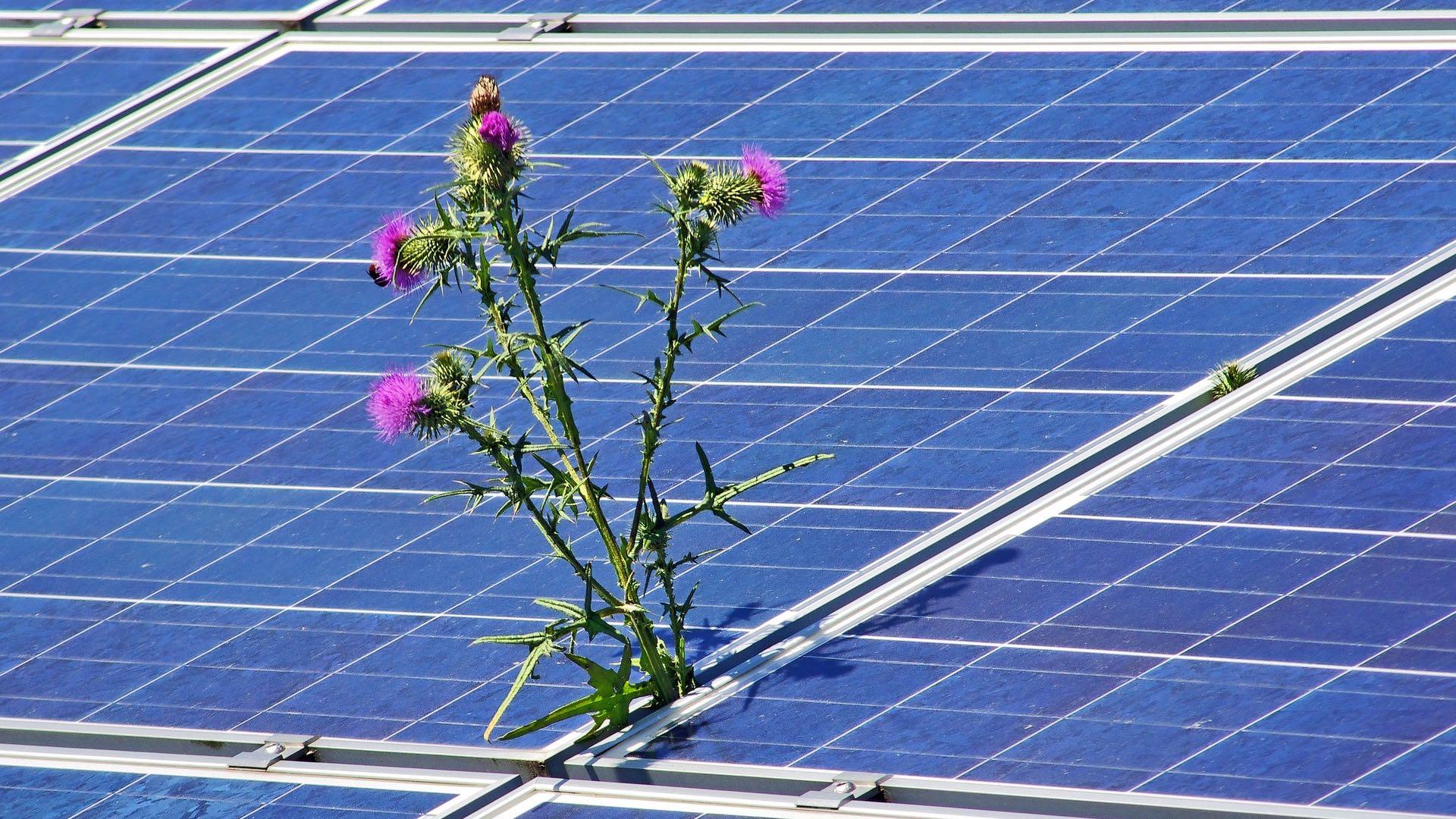 Interspersing native plants with solar panels can benefit pollinators. (Andreas Senftleben / Pixabay)
Solar energy might be "green" compared to coal or petroleum, but massive utility-scale solar installations, encompassing thousands of acres of panels, aren't necessarily eco-friendly. 
When the panels are embedded in gravel or surrounded by low-lying turf grass, the facilities create food and habitat deserts for wildlife, particularly pollinators.
Sprinkling native plants amid the panels would benefit butterflies, bees, birds and other insects, but utility companies are wary of being sold on the upside, only to get socked by hidden costs for things like weeding and watering, said Iris Caldwell, program manager and senior engineer at the University of Illinois at Chicago's Energy Resources Center (ERC).
Backed by a $1.8 million grant from the U.S. Department of Energy, Caldwell will lead a team of UIC-ERC researchers as they embark on a three-year investigation into the practicalities of marrying pollinator habitat with large-scale solar installations.
"What we're continuing to hear from the industry is that they recognize the opportunity, but they want to understand the implications before making a decision," she said. "They sense it's the right thing to do, but they want to know what it's going to cost."
Solar might provide "green" energy, but acres of panels surrounded by gravel aren't eco-friendly. (geodhartpc /Pixabay)
The team from UIC-ERC is aiming to study as many five large-scale sites in the Midwest and mid-Atlantic, with one already confirmed in Urbana-Champaign and another in Indiana. Big picture, the researchers will be looking at the costs of not just installing, but also maintaining pollinator habitat and whether doing so actually provides an ecological value.
Drilling further down, Caldwell said her team will explore additional questions, including how much habitat it takes to make a difference for pollinators, how different seed mixes affect results, and whether attracting birds and bats to solar installations have a negative impact on the panels' performance. 
At the end of the study, the UIC-ERC team will roll out implementation tools that companies can use to assess the cost-benefits for their site, Caldwell said. Should a company choose to invest in a pollinator habitat, those tools will also include native seed selection options and a planting manual.
Contact Patty Wetli: @pattywetli | (773) 509-5623 |  [email protected]
---