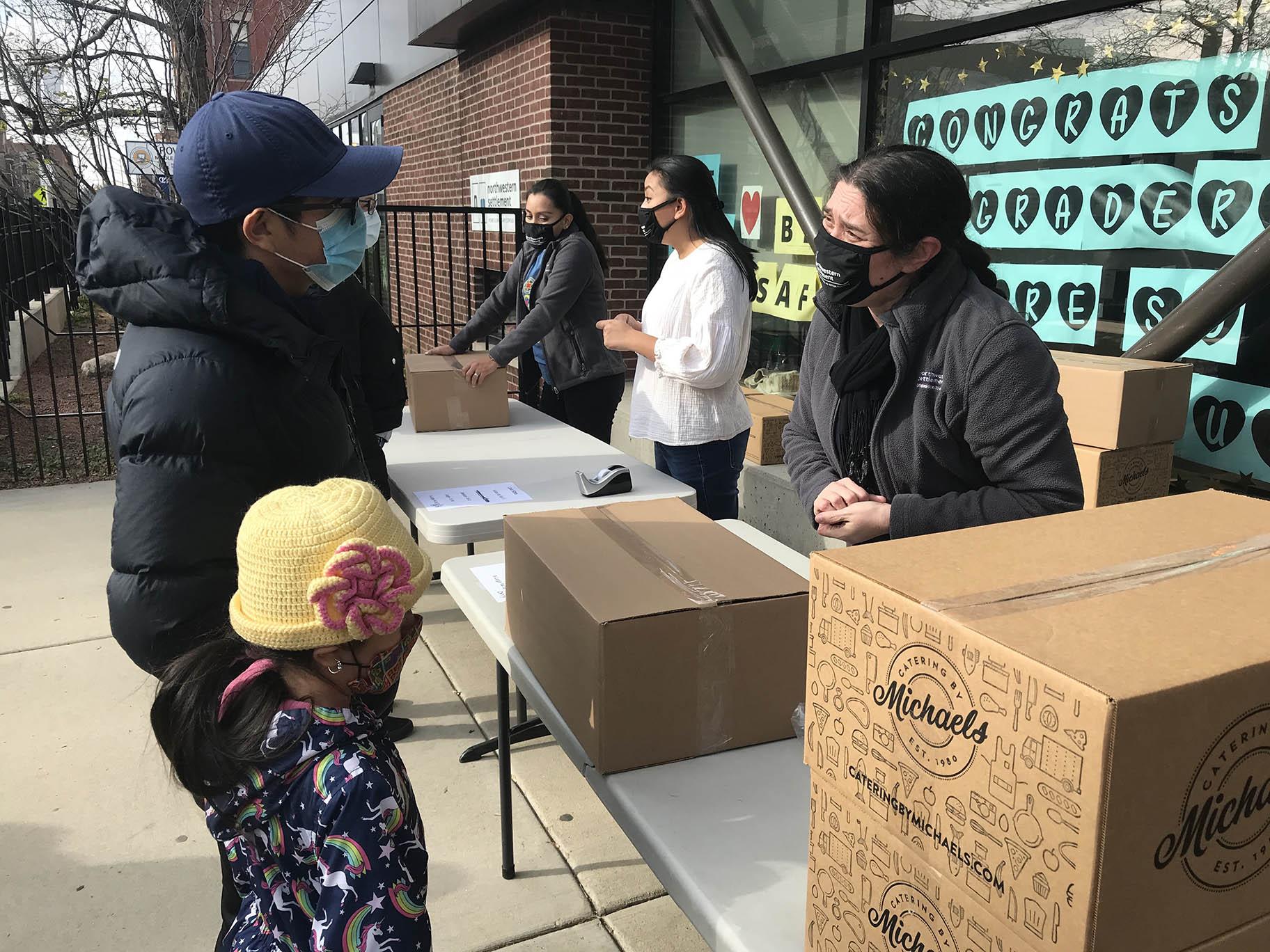 Families pick up Thanksgiving meal boxes and coats for their children at West Town nonprofit Northwestern Settlement on Saturday, Nov. 21, 2020. (Ariel Parrella-Aureli / WTTW News)
Bundled up in a long blue coat, brown hat and a red-and-blue mask, Irma Ruiz-Carabez greeted all of her friends standing in line to get a free Thanksgiving meal and a warm coat outside of longtime West Town nonprofit Northwestern Settlement.
In English and Spanish, Ruiz-Carabez said hello to new and familiar faces, some of whom she hasn't seen since the start of the pandemic, which has brought her community almost to a standstill as normal life has gone online. 
The mother and West Town resident was one of hundreds of Chicagoans who lined up at Northwestern Settlement on Saturday to receive a Thanksgiving meal cooked and delivered by Catering by Michaels and find community, strength and hope during the public health crisis. 
"I want to celebrate happiness," Ruiz-Carabez told WTTW News. "We are not socializing anymore — we are becoming antisocial."
She said she was grateful for the food that will help feed her son and her sister, and is counting her blessings that she still has an office job, though her days were cut to two a week.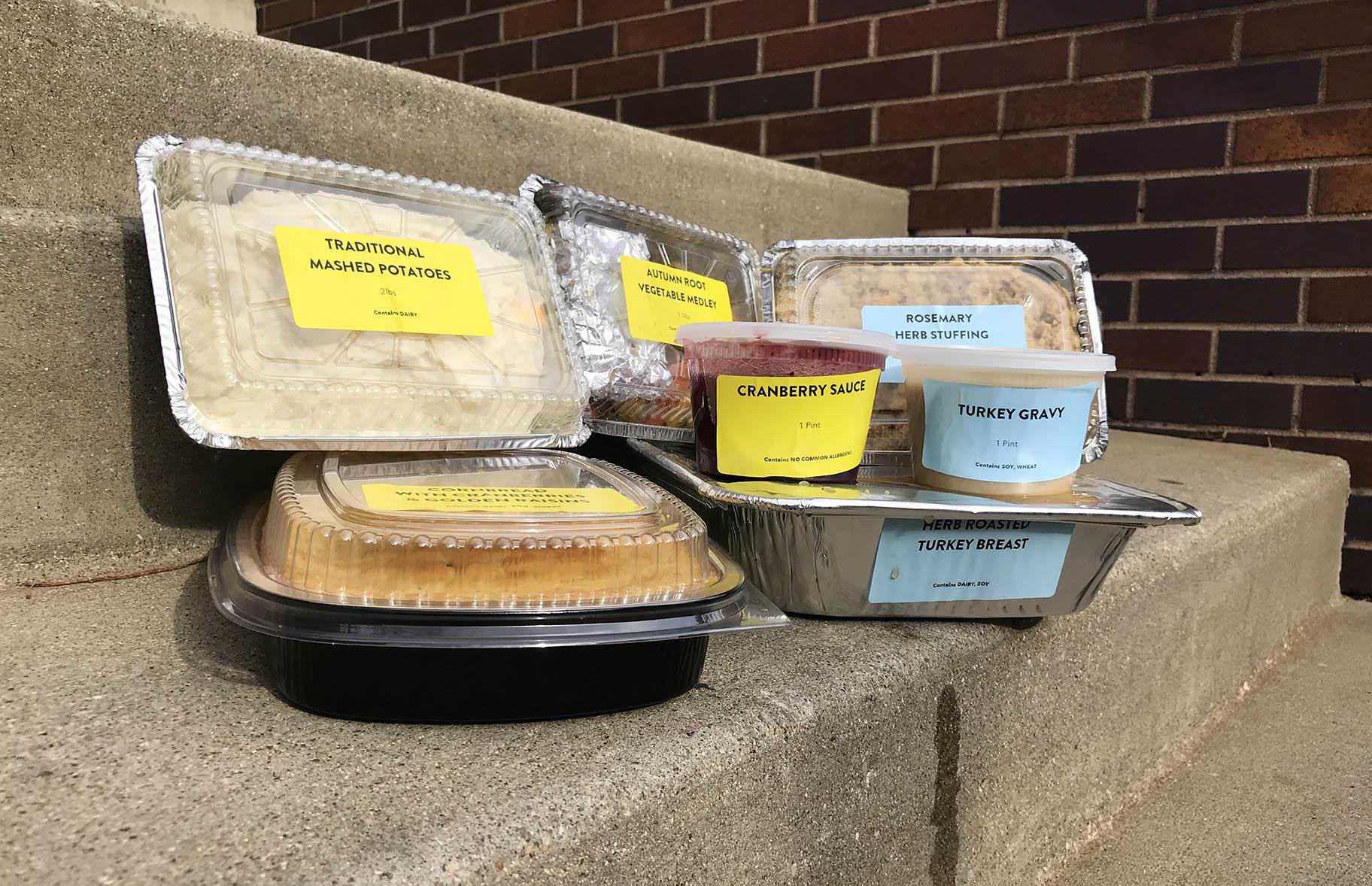 The boxes have all the traditional Thanksgiving goodies: mashed potatoes, cornbread, stuffing, cranberry sauce, gravy, a vegetable medley and 3.5-pound turkey. (Ariel Parrella-Aureli / WTTW News)
The meal giveaway by the nonprofit, which has offered more than 70 neighborhood programs since 1891 in an effort to end generational poverty, donated 700 boxes of food to its members and parents at neighboring Rowe Middle School, who had lined up at least an hour before the event began at noon. Parents who brought their children also received a warm coat for their little ones donated by the nonprofit's board members. 
The event replaced the organization's annual Thanksgiving community dinner, which normally serves 400 people. This year, due to the pandemic, the group decided it wasn't an option not to feed its families and wanted to do so with a larger impact. With each box meant to serve four people, this year's giveaway was seven times larger than the in-person dinner.
Ron Manderschied, Northwestern Settlement president, said the goal of the event was to instill hope and bring together the neighborhood, especially as the holidays approach and more families find themselves struggling to pay bills, rent and food. 
"These are horrible consequences for everyone," Manderschied said. "COVID creates this gloomy cloud over everyone. This [is] that bright point."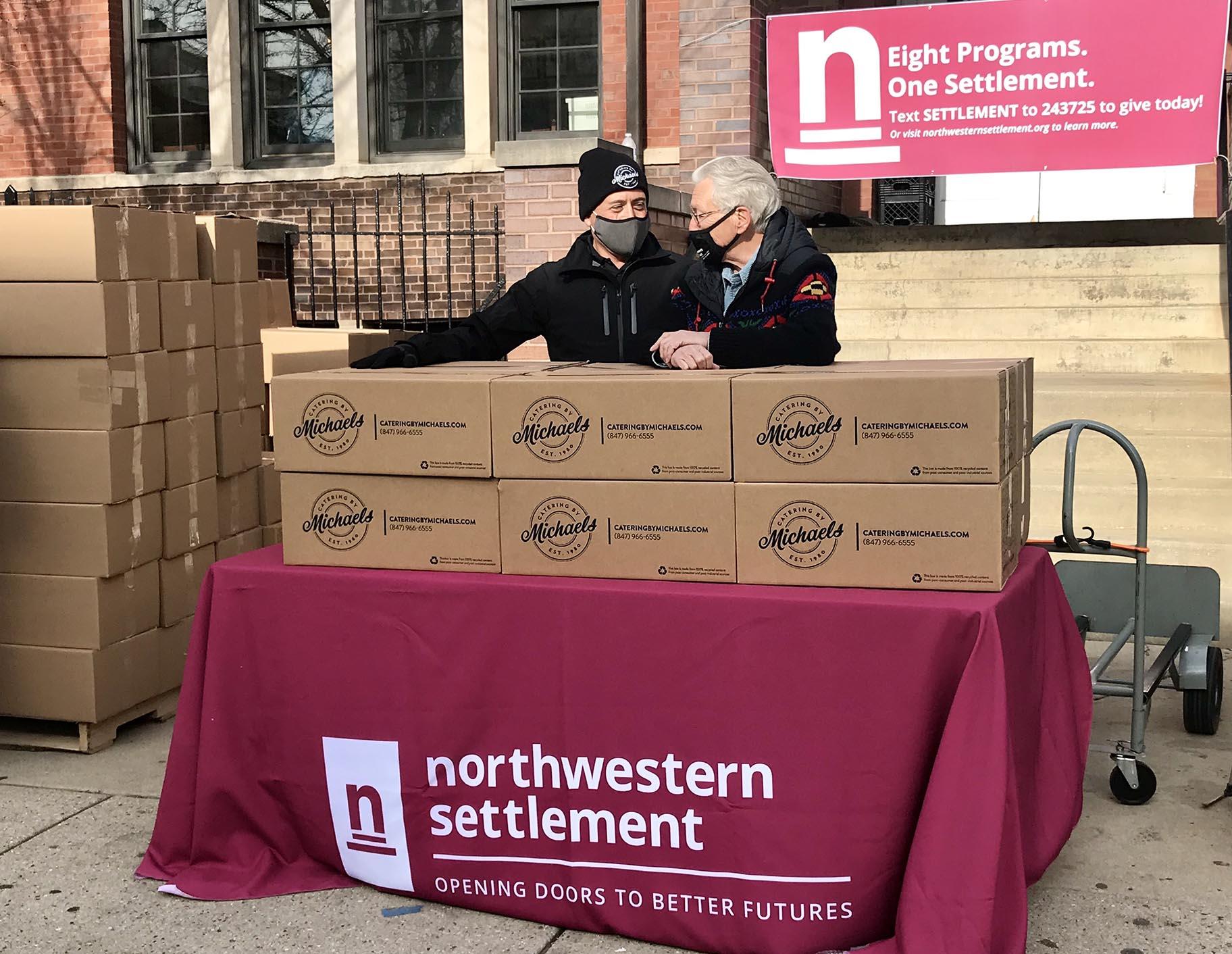 Stewart Glass, left, president of Catering by Michaels, and Ron Manderschied, president of Northwestern Settlement, stand with some of the Thanksgiving boxes before handing them out to the community. (Ariel Parrella-Aureli / WTTW News)
He said that while the typical dinner won't be possible, what's important is that neighbors like Ruiz-Carabez still feel valued and welcomed by the organization and that the community can still exchange holiday stories, share recipes and find happiness through food. 
"Feeding hunger is also feeding the spirit, that's what events like this do," he said. "It provides the food for sustenance but also feeds the soul." 
The Settlement also runs a food pantry, which usually feeds about 40 families a day. Now, it serves about 200 a day, Manderschied said. It's seen a 400% increase in visitors and has distributed over 8,000 boxes of food since March.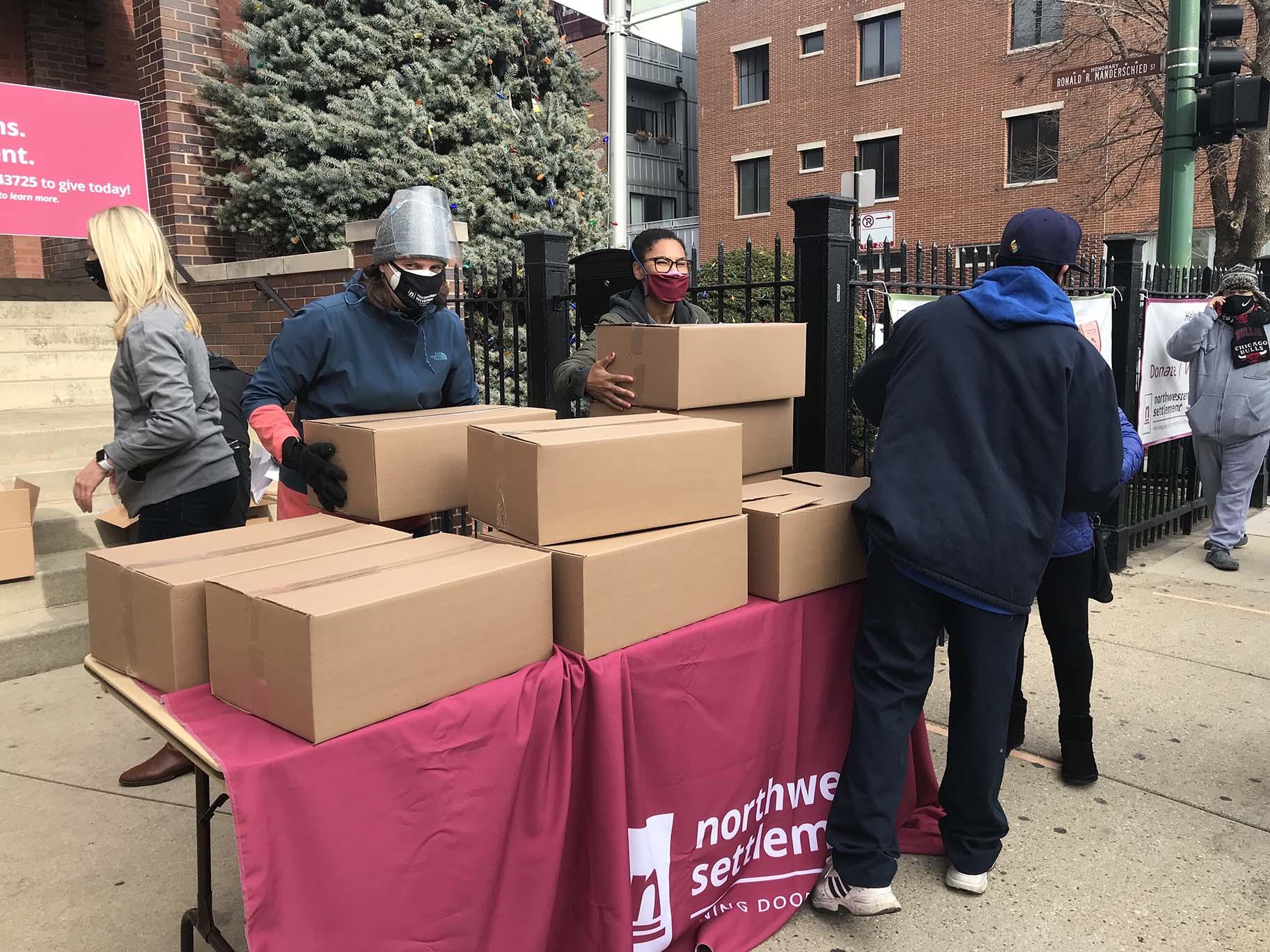 Volunteers help distribute meals to families and at Northwestern Settlement in West Town. (Ariel Parrella-Aureli / WTTW News)
The Thanksgiving donation was made possible by Associated Bank and Northwestern Settlement's Winnetka Auxiliary Board. The event also helped Catering by Michaels' vendors and farmers who have been adversely affected by the pandemic, and 15 of the company's workers were rehired for Saturday's event.
Sam Espada and Jose Padilla, two delivery truck drivers with the catering company who drove the boxes of food from Morton Grove, said the event was a beautiful show of community that made them proud to work for Catering by Michaels.
"It brought back employees on furlough, that helps us out as well," said Espada, who has worked for the company for six years. 
Padilla, who has logged 13 years with the company, agreed that working the event was a big help financially. Giving fresh, high-quality food to the community also was crucial to helping families, and seeing their gratitude made him smile. 
"It's good food, which makes a big difference [for families]," Padilla said.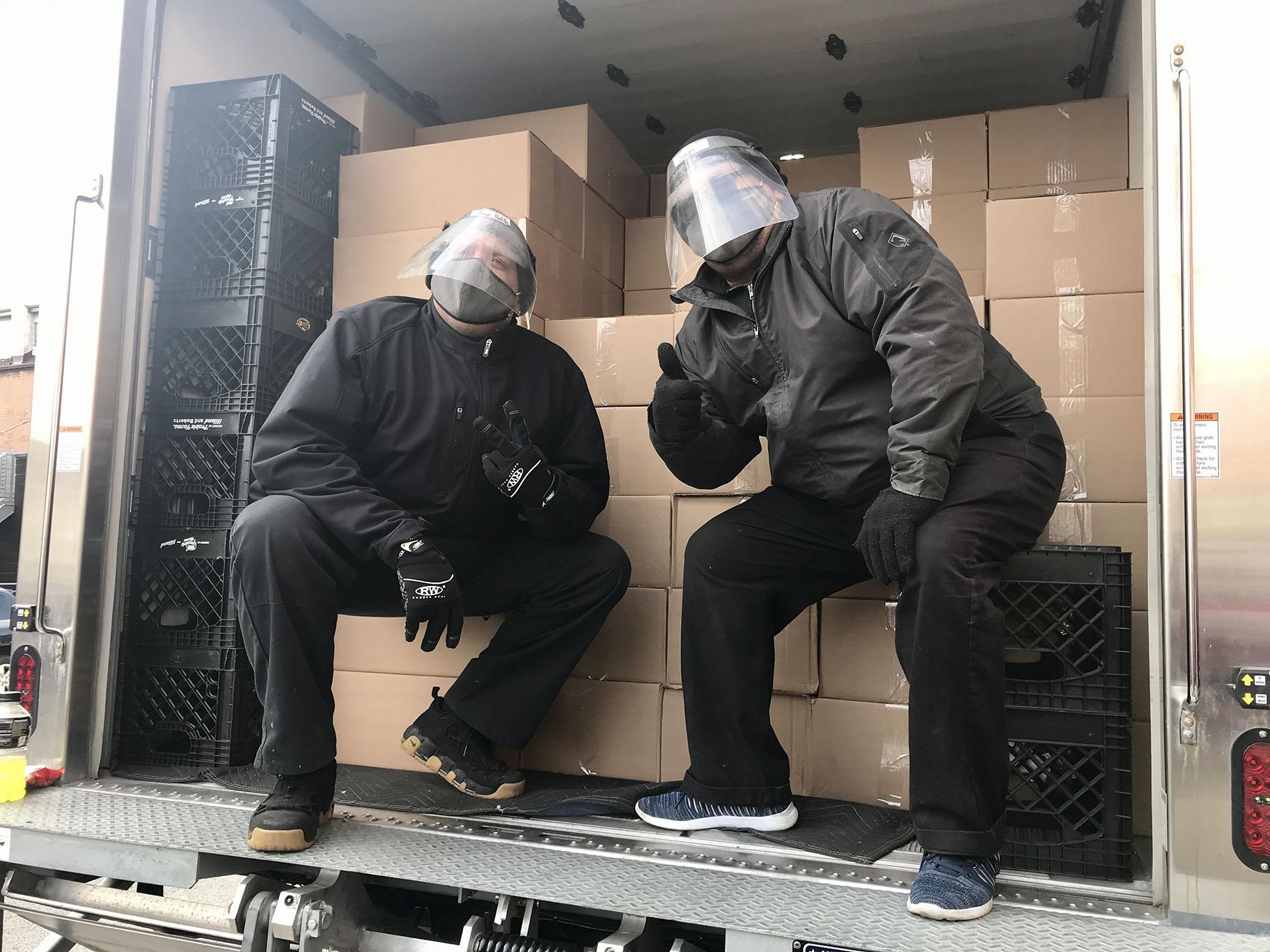 Catering by Michaels delivery truck drivers Sam Espada and Jose Padilla pose for a photo on Saturday, Nov. 21, 2020. (Ariel Parrella-Aureli / WTTW News)
Northwestern Settlement serves 4,000 people per year, including 1,500 families enrolled at nearby schools. Longtime community member Ruiz-Carabez, whose 11-year-old son attends Rowe Middle School, appreciates the efforts to make life less stressful during these turbulent times.
Although she is sad not to have a community dinner with all her friends in person, she's grateful for the free meal — the turkey is her favorite Thanksgiving menu item.
"Having the dinner at home is really different because here it's to share a little bit with the rest of the community participating instead of in the house with only my sister and my son," she said. "I'm glad we had that opportunity."
Ariel Parrella-Aureli is a freelance contributor to WTTW News: @ArielParrella
---