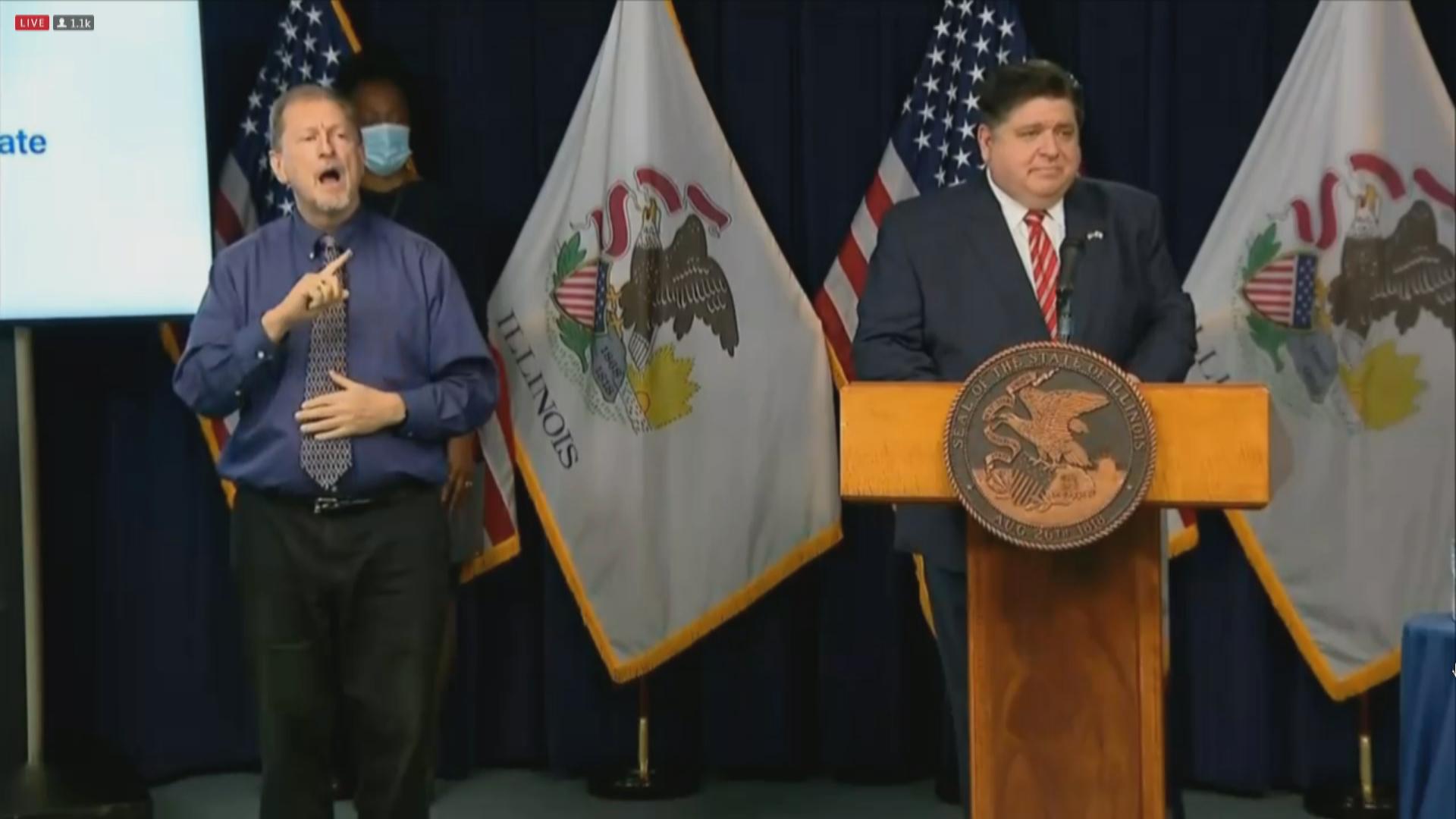 Gov. J.B. Pritzker gives his daily COVID-19 press briefing on Thursday, Nov. 19, 2020. (WTTW News)
One day before additional statewide coronavirus mitigations go into effect, Gov. J.B. Pritzker said he is more concerned with saving lives than dealing with those who are mad at him over the new restrictions.
"My No. 1 consideration is not whether someone's going to get angry at me," he said Thursday. "It's whether I can save a life or save the lives of people who are potentially going to get sick. That's what I think about every day."
Beginning Friday, museums, casinos and theaters across Illinois must close, and retail stores must adhere to new capacity limits. Additionally, big-box stores must operate at 25% capacity, while grocery stores can operate at a maximum capacity of 50%.
Pritzker added that he continues to listen to those working in the industries most impacted by the new and existing mitigations, but ultimately these measures are needed to stem the spread of COVID-19.
"I'm not the one, in the end, who is causing these restrictions to be imposed," he said. "Truthfully, this virus is taking people's lives and … it is our job to keep people alive so we can get to the other side of this."
The governor's comments come on a day when Illinois saw its highest single-day death count since mid-May, with 168 new coronavirus-related fatalities, according to the Illinois Department of Public Health. There were also 14,612 new confirmed and probable COVID-19 cases reported Thursday.
Since the onset of the pandemic, the state has now recorded 621,383 cases and 11,178 deaths.
The preliminary statewide positivity rate for cases as a percentage of total tests is 12%, according to IDPH data. Test positivity across the state — the number of positive tests as a percentage of total tests — is 14%, the data shows. That rate remains higher both in Chicago (15.4%) and suburban Cook County (15.7%), according to IDPH regional data, though both figures have declined slightly in recent days.
Pritzker noted Thursday there have been "hints of leveling" in the number of new cases and positivity rates in most regions across the state, but cautioned that it's too early to say if this is a trend or simply a pause in the "exponential" spread of the disease.
Dr. Kamaljit Singh, an infectious disease specialist with NorthShore University HealthSystem, said it hasn't been easy for health care workers to witness so much illness. He termed the ongoing pandemic a "21st century mass casualty event."
"Our message to you is: We stay in the hospital for you and we need you to stay home for us," he said.
With Thanksgiving one week away, Illinois health officials once again urged residents against traveling or gathering in groups with those outside one's household to celebrate the holiday.
IDPH Director Dr. Ngozi Ezike stressed that it can take up to 14 days for symptoms to present themselves and anyone who has been in contact with a person who is COVID-19 positive must quarantine for the full two weeks.
"A negative test does not get you a free pass to celebrate Thanksgiving in person," she said. "I don't want anyone to have to look back and say 'If only we didn't have people over for Thanksgiving, so-and-so might still be here for New Year's or Christmas or Hanukkah or Kwanzaa.'"
Contact Matt Masterson: @ByMattMasterson | (773) 509-5431 | [email protected]
---