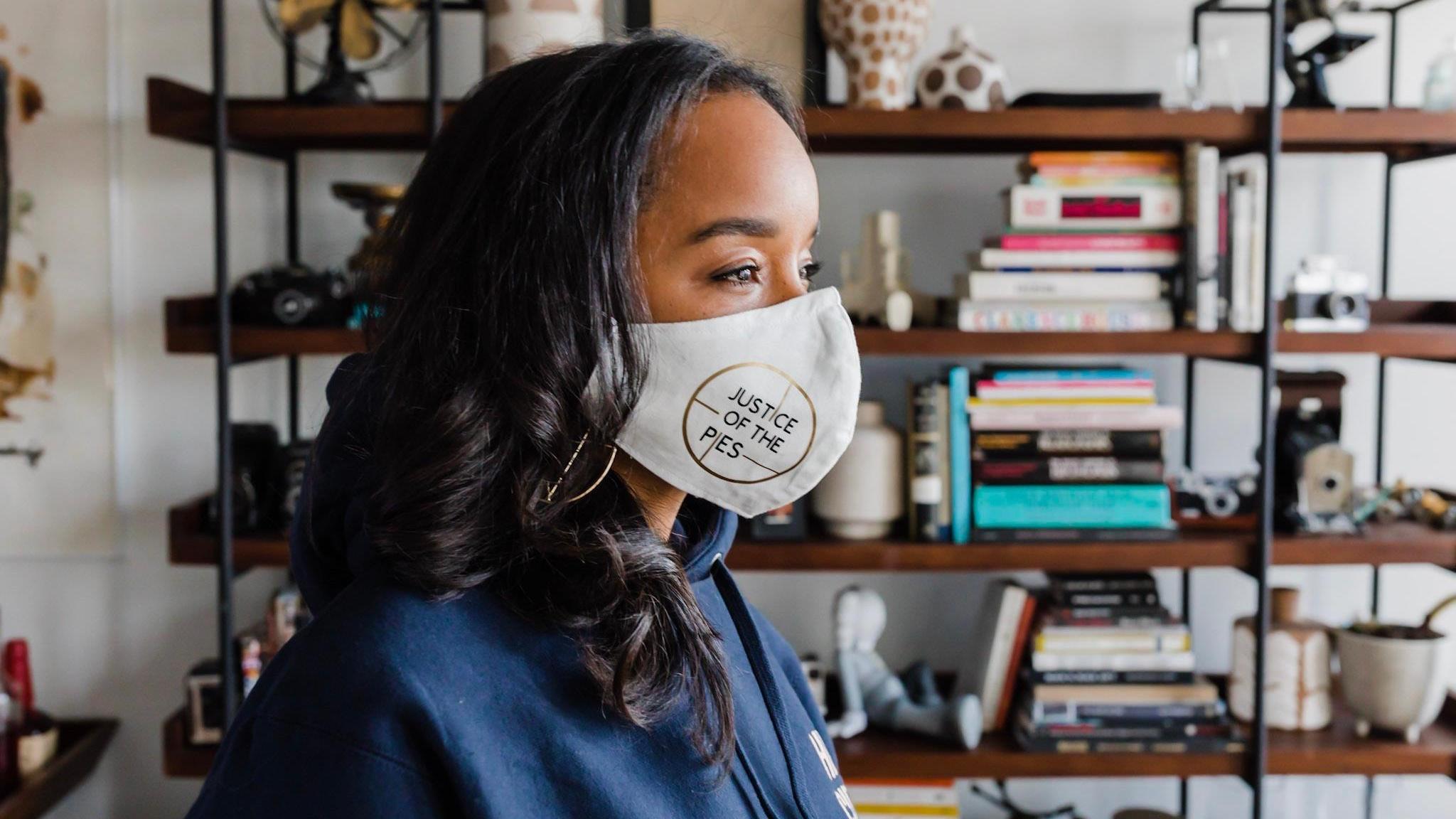 Maya-Camille Broussard, owner of Justice of the Pies. (Justice of the Pies / Facebook)
The coronavirus pandemic has been hard on small businesses, like Chicago-based Justice of the Pies.
Maya-Camille Broussard, who runs the bakery out of The Hatchery in East Garfield Park, saw the catering side of her business dry up, lost wholesale accounts when restaurants shut down, and watched her usual farmers market stall be transformed into a COVID-19 testing site.
But there is a silver lining for Broussard.
Her small business was one of 31 recognized this year by the Illinois Office of Tourism in its Illinois Made program, which spotlights the state's makers, creators and artisans via the Enjoy Illinois website. The businesses are also included in trip itineraries, ad campaigns and gift guides promoted by the tourism office to locals and visitors alike.
Broussard, who grew up in Hyde Park and South Shore, said she was "surprised, grateful and excited," and hoped the honor would mean increased exposure among the broader Illinois population. Because the more customers that are drawn to her business — snapping up signature bakes like salted caramel peach, sweet potato praline and strawberry basil key lime — the more people she can help.
Justice of the Pies, founded in 2014 by the self-taught Broussard, operates as a non-profit/for-profit hybrid (a business model known as an L3C). Pre-orders for Thanksgiving showcase both sides of her enterprise, with options to purchase fixings for your own meal (orders are open through Friday) or donate to others.
"As a social mission-based brand, our goal is to be stewards for fairness and equality," said Broussard. "We are constantly doing the work."
It's an ethos she inherited from her father, criminal defense attorney Stephen Broussard — Justice of the Pies is a play on justice of the peace — who also happened to be a passionate pie maker.  
Proceeds from the for-profit side of Justice of the Pies support Broussard's I Knead Love workshop, a culinary program designed for fifth- to eighth-graders living in lower-income communities, teaching nutrition and kitchen skills with a goal of combating food insecurity. Broussard also partners with Cabrini Green Legal Aid (CGLA), collaborating on a yearly "pie drive" to raise money for the organization, which serves low-income individuals negatively impacted by the criminal justice system.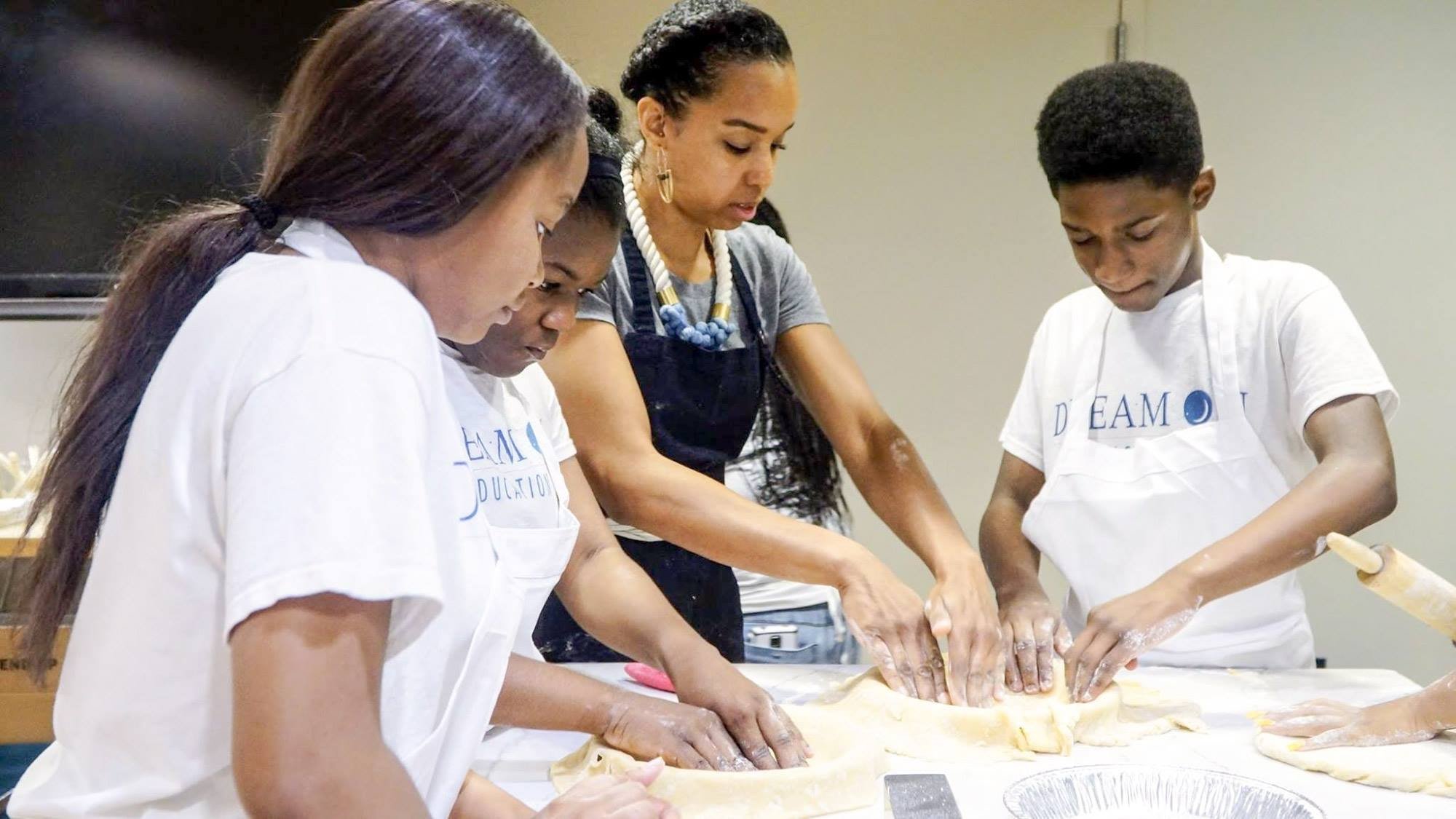 The for-profit side of Justice of the Pies supports programs like I Knead Love, a culinary workshop for elementary school students from lower income communities. (Justice of the Pies / Facebook)
During the pandemic, donations to Justice of the Pies defrayed a portion of Broussard's expenses as she provided more than 3,000 meals to health care workers, including staff at Stroger Hospital. More recent contributions from donors are funding pies for Thanksgiving meal kits that will be distributed to families in need, she said. 
To compensate for lost revenue streams, Broussard launched Justice for All, a membership-based series of online cooking workshops. Subscribers receive a weekly list of necessary ingredients; recipes for a cocktail, entree and dessert; and access to step-by-step video tutorials.
"As long as there is a need and a demand for it, then I will continue to do it," Broussard said.
The workshops, coupled with pie pop-up shops centered around holidays like Thanksgiving, Fourth of July and Mother's Day have been enough to keep Justice of the Pies afloat during the pandemic, she said.
Asked what's sustained her personally during a challenging year, Broussard had an unexpected answer: the quarantine.
"For some people, the quarantine was an actual blessing because it allowed us to slow down, catch our breath and to finally rest," she said.
Other Chicago-area businesses named to the Illinois Made program:
Barnstormer Distillery, Rockford;
Broken Brix Home Brew Shop, St. Charles;
Danche Custom Guitars, Forest Park;
Edgewater Candles, Chicago;
Fire Department Coffee, Rockford;
Flossmoor Station Restaurant & Brewery, Flossmoor;
Funky Rooster Tattoo & Art Gallery, Elgin;
Gina's Italian Ice, Berwyn;
Hearth & Hammer General, Batavia;
Hollingworth Candies,Lockport;
Kribi Coffee Air Roasters, Forest Park;
Maple Leaf Coffee Roasters, Roselle;
MASHALLAH, Chicago;
Richardson Adventure Farm, Spring Grove;
Scratch Goods, Chicago;
Star Union Spirits, Peru;
Sue Regis Glass Art, Joliet;
The Milk House, Pingree Grove;
Virtue Restaurant, Chicago;
Wild Blossom Meadery, Chicago
Contact Patty Wetli: @pattywetli | (773) 509-5623 |  [email protected]