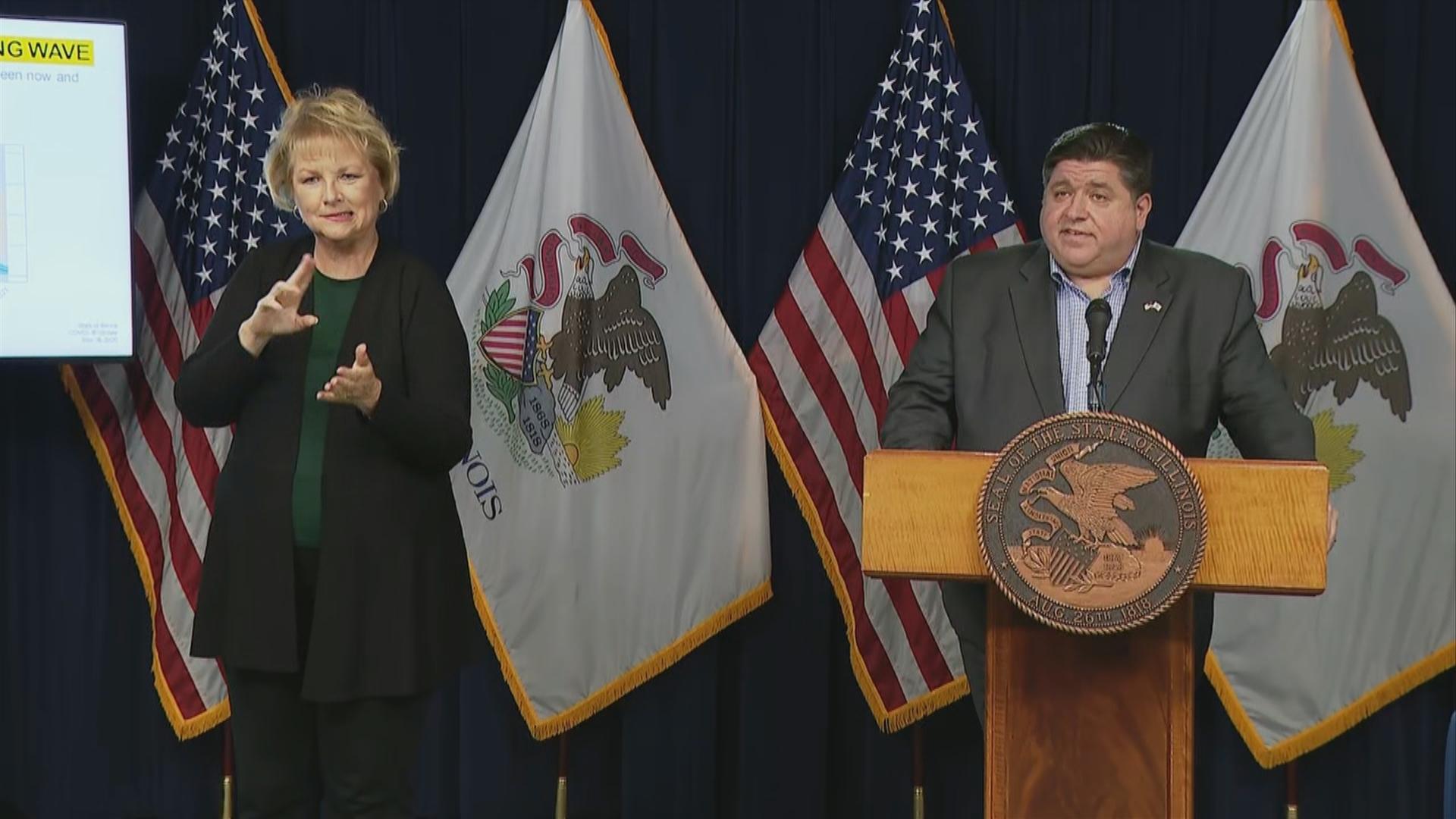 Gov. J.B. Pritzker gives his daily COVID-19 press briefing on Wednesday, Nov. 18, 2020. (WTTW News)
Illinois crossed two more major COVID-19 thresholds Wednesday as the state reported it has surpassed 11,000 coronavirus-related deaths and 600,000 total cases since the pandemic began.
The Illinois Department of Public Health announced 140 deaths and 8,922 new confirmed and probable COVID-19 cases Wednesday, bringing statewide totals to 11,014 deaths and 606,771 cases.
"COVID-19 is now the third leading cause of death in Illinois, behind heart disease and cancer," Gov. J.B. Pritzker said. "Not only that, between March and October, COVID-19 took more lives than the next two highest causes — strokes and accidents — combined."
The average daily number of hospitalizations has also increased to 5,561 patients, which is 739 more than the highest average seen during the onset of the pandemic in the spring, according to Pritzker.
Late last month, IDPH Director Dr. Ngozi Ezike said Illinois was on track to surpass 11,000 deaths by the end of the year. But the state has now hit that mark with more than a full month to go.
"It means we're in bad shape," Ezike said. "If we've exceeded all of our projections by more than six weeks, the numbers for the end of the year would just be untenable."
The preliminary statewide positivity rate for cases as a percentage of total tests is 11.9%, according to IDPH data. Test positivity across the state — the number of positive tests as a percentage of total tests — is 14.2%, the data shows. That rate remains higher both in Chicago (15.5%) and suburban Cook County (16%), according to IDPH regional data.
Pritzker on Tuesday announced statewide tier 3 mitigations will go into effect Friday, which means museums, casinos and theaters must close, and retail stores must adhere to new capacity limits.
The governor has also signaled that there could be another statewide stay-at-home order if Illinois' COVID-19 metrics do not improve. Asked Wednesday when such an order could go into effect, he said that health officials would need to wait at least one to two disease incubation periods — meaning as much as 28 days — to see if the new mitigation measures are having any effect.
Pritzker did note a bit of possible good news Wednesday, in that the statewide positivity has dipped slightly over the past three days, though he stressed that this should be taken with a grain of salt.
"The news has been so bad for so long … Yes, there's a glimmer of optimism, I guess is the right way to say it in the idea, but I have been fooled before by the numbers," he said. "I don't want to draw any conclusion until we see more days."
The governor opened his daily briefing Wednesday by calling out those who still believe that COVID-19 is a hoax and refuse to wear a mask or socially distance in public, blaming some combination of "conspiracy theories, right-wing political ideology or naivety."
He also said that health care workers, who in the spring had received free pizza from grateful residents or heard the clamoring of pots and pans at the end of their shifts, are now on the receiving end of verbal assaults from some of the very patients they are trying to treat.
Ezike said people may have a right to "bury their heads in the sand and pretend that this virus doesn't exist," but those people don't have a right to put others at risk.
"You don't have the right to expose another person to a potentially deadly virus," she said. "So even if you can't see how real this virus truly is, can we at least agree to be respectful of others and wear a mask and keep our distance?"
Contact Matt Masterson: @ByMattMasterson | (773) 509-5431 | [email protected]
---