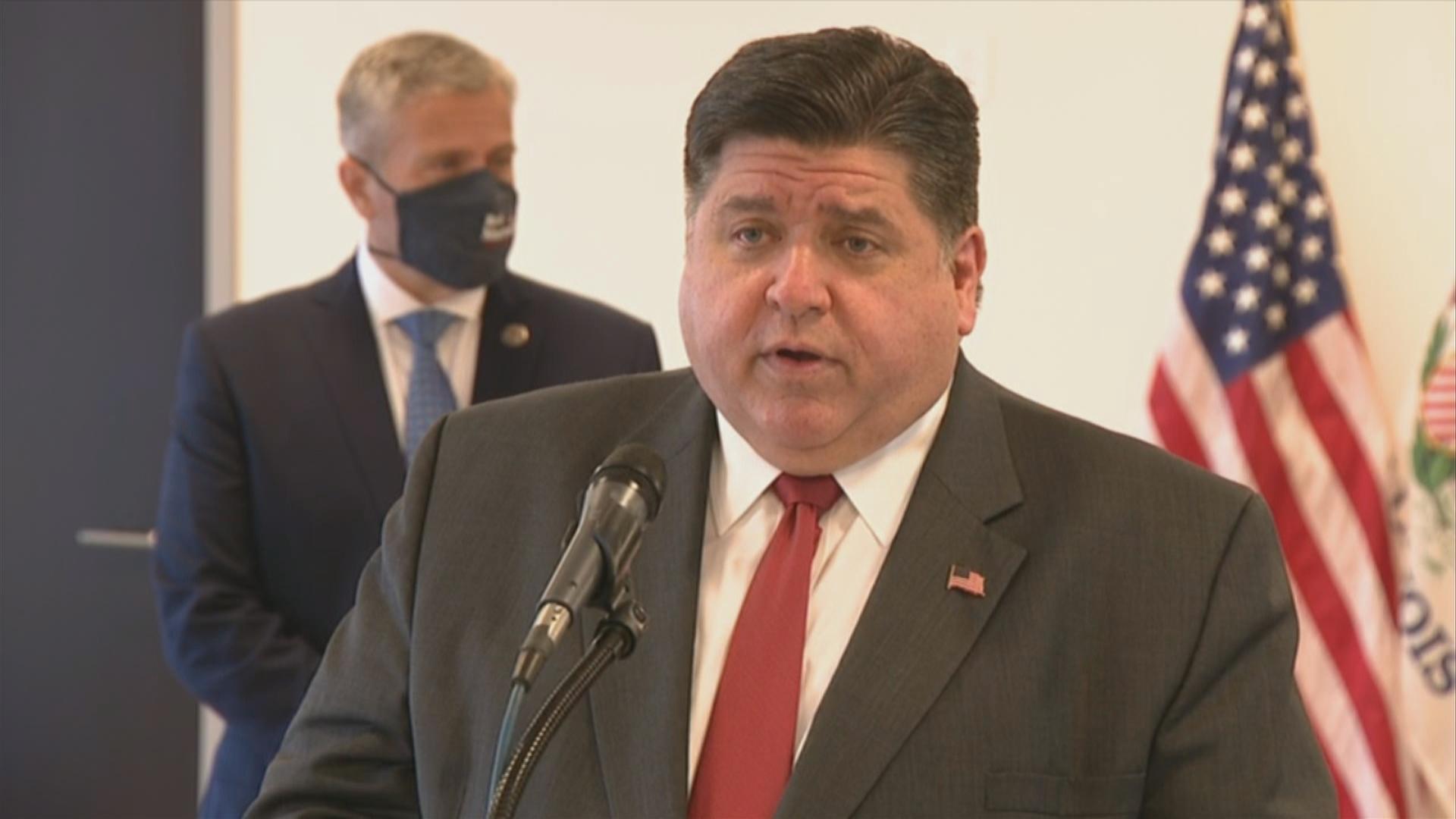 Gov. J.B. Pritzker talks Wednesday, Nov. 11, 2020 at the newly opened veterans home. (WTTW News)
The first home for Illinois veterans in Chicago will welcome its first residents in February 2021 — more than four years after it was scheduled to open, officials announced Wednesday.
Surrounded by state and federal officials, Gov. J.B. Pritzker celebrated the completion of construction of the $118 million, five-story, 187,000-square-foot facility at 4250 N. Oak Park Ave. in Chicago's Dunning neighborhood.
Construction on the 200-bed facility started in 2014 under former Gov. Pat Quinn, but got caught in the crossfire between former Republican Gov. Bruce Rauner and the General Assembly, which is controlled by the Democratic Party.
That dispute left the half-built husk of the building — visible from Irving Park Road and Oak Park Avenue — in limbo. When an agreement allowed construction to restart in the summer of 2016, crews discovered a design flaw in the original plans that meant that much of building's foundation had to be rebuilt.
The original cost of the project — with federal funds covering 65% of the tab — was $70 million before it ballooned because of delays and construction mistakes.
The building is on the grounds of the former Chicago-Read Mental Health Center and adjacent to the Dunning-Read Conservation Area, a 23-acre oasis of wetlands and woodlands being restored to its natural state.
The facility has been designed to create 16 households, to encourage family-style living, officials said. Four of the households are specifically dedicated to residents with dementia and Alzheimer's disease.
The ribbon cutting ceremony gave U.S. Sen. Tammy Duckworth (D-Illinois) an opportunity to reminisce about her time as the director of the Illinois Department of Veterans' Affairs, when she pushed Quinn to build a state home for veterans in Chicago because there was a 2,000-person long waiting list for a bed in a state-run veterans' facility.
The closest veterans' facilities to Chicago are in Manteno, Lasalle and Quincy.
"You're seeing brick and mortar and stone and aluminum, but this place is love," Duckworth said.
Duckworth praised Pritzker for fully funding the facility's construction in 2020.
Rauner "tried to steal" the fund set aside for the Chicago facility, said Duckworth, who served as a U.S. Army helicopter pilot before being shot down in Iraq in 2004. Duckworth was seriously injured, and lost both of her legs and some mobility in her right arm. 
Duckworth, who was considered as a vice presidential nominee, did not rule out accepting an appointment to President-elect Joe Biden's cabinet, perhaps to oversee the U.S. Department of Veterans Affairs.
"I have the best job every day being the U.S. junior senator from Illinois," Duckworth said. "I am in regular contact with the transition team on a number of issues, but I am really happy where I am, and I have not talked to them about any particular position."
However, Duckworth said she has always responded to calls to serve her country and would "listen" to a request from Biden.
Contact Heather Cherone: @HeatherCherone | (773) 569-1863 | [email protected]
---