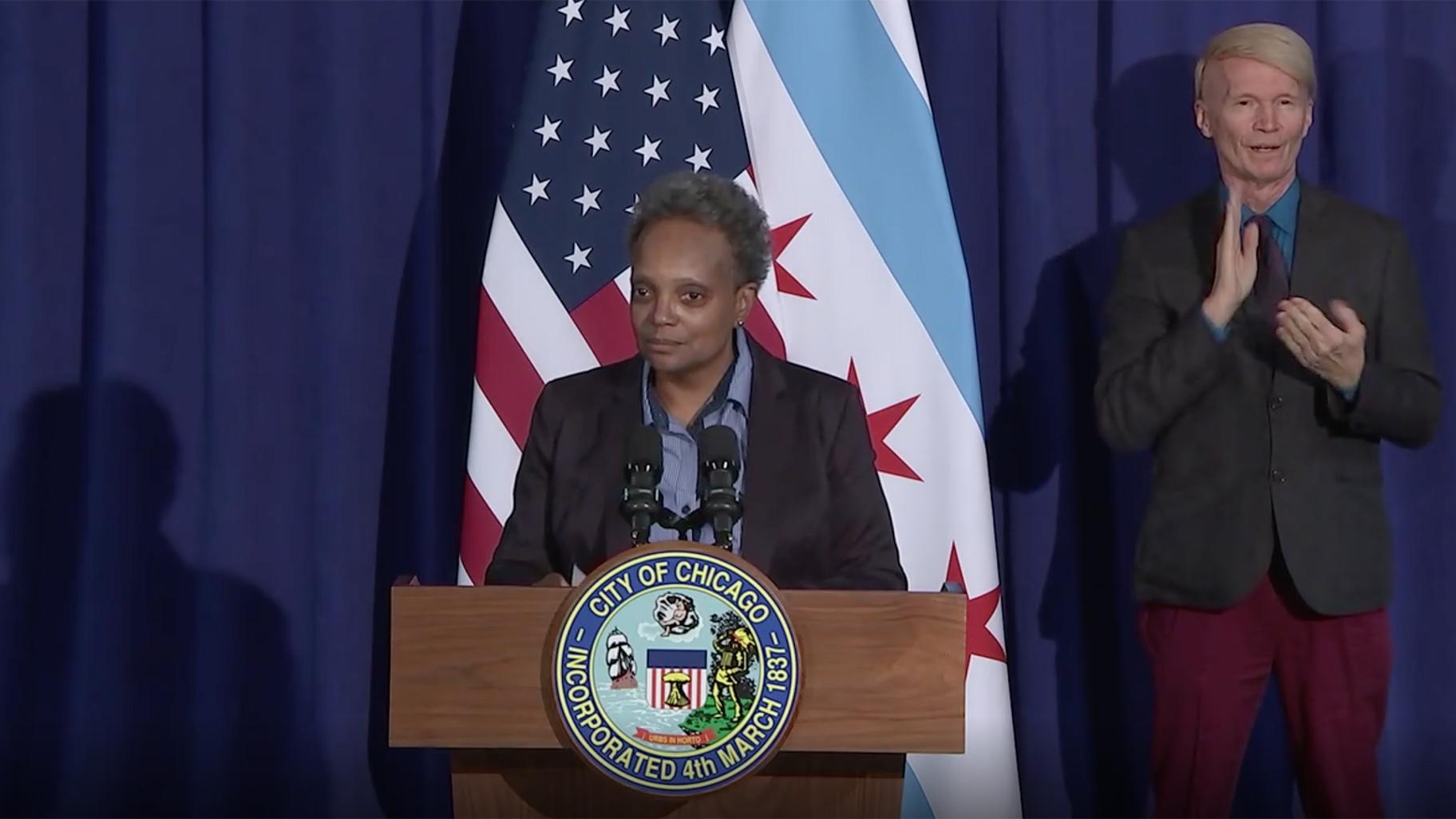 Mayor Lori Lightfoot offers her congratulations to President-elect Joe Biden and Vice President-elect Kamala Harris on Saturday, Nov. 7, 2020. (WTTW News via Chicago Mayor's Office)
As throngs of Chicagoans poured into the street in jubilation on Saturday, Mayor Lori Lightfoot joined in the celebrating the election of Democrats Joe Biden and Kamala Harris as president and vice president, five days after a record-setting number of voters cast ballots.
Lightfoot relished referring to Biden as the president-elect and Harris as the vice president-elect.
"Has a nice ring to it, doesn't it?" Lightfoot said, smiling.
Lightfoot proclaimed herself "elated, and yes, a little relieved" that President Donald Trump had been denied a second term. The two clashed frequently over a range of issues, and the president often held up Chicago as an example of the failures of Democratic leaders, particularly those who are female or people of color.
Lightfoot endorsed Biden in March, just after the former vice president resurrected his campaign for the Democratic nomination with a convincing victory in South Carolina and on Super Tuesday.
Lightfoot said she felt an affinity with Biden, who was born in Scranton, Pennsylvania, 371 miles from her Rust Belt hometown of Massillon, Ohio.
"With Joe Biden as our president, we're going to never have to wonder whether he sees and understands our triumphs and our tragedies," Lightfoot said.
Lightfoot also celebrated the election of Harris as the nation's first female, first Black and first South Asian vice president. Lightfoot is Chicago's first Black and openly gay mayor.
"In America, truly anything is possible," Lightfoot said. 
Both Lightfoot and Harris are former prosecutors. 
Lightfoot called for unity, and called for those who did not vote for Biden to support the outcome of the election, which Trump has sought to undermine with claims of fraud that have no basis in fact.
"We must come together as a country to literally heal ourselves in the face of this horrific virus," Lightfoot said. "Over the course of this very hard year, we have been battered, but not broken."
Lightfoot grew emotional as she paid tribute to former Supreme Court Justice Ruth Bader Ginsburg and civil rights icon and former U.S. Rep. John Lewis (D-Georgia) who died during the campaign.
"Thank you, Ruth, and thank you, John," Lightfoot said.
Although the celebrations were entirely peaceful, CTA officials closed several North Side train stations. Lightfoot said that was necessary to avoid overcrowding amid a huge crush of revelers.
Contact Heather Cherone: @HeatherCherone | (773) 569-1863 | [email protected]
---