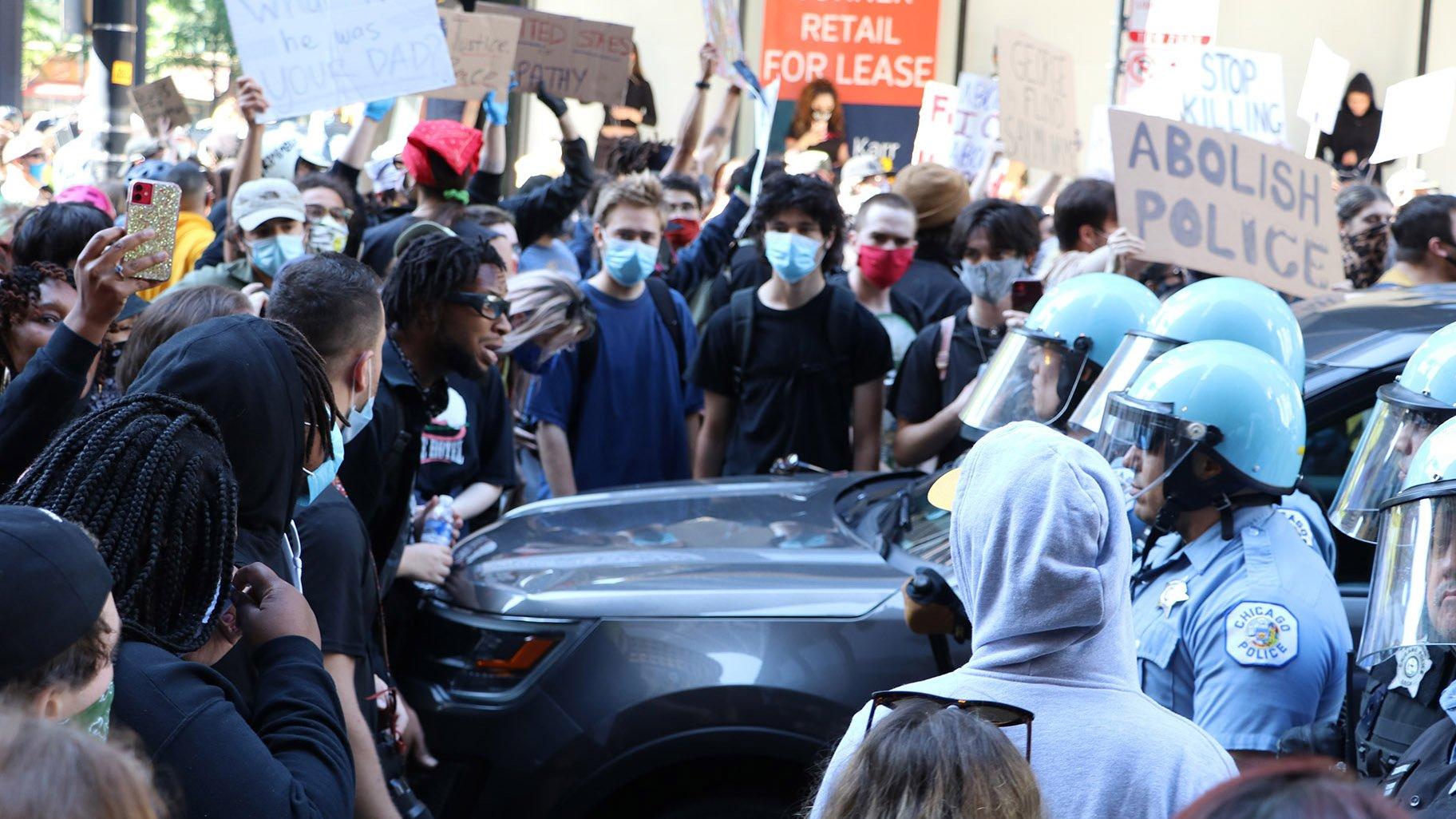 Protesters and police officers wearing riot gear have a standoff near Daley Plaza on Saturday, May 30, 2020. (Evan Garcia / WTTW News)
Inspector General Joseph Ferguson told aldermen Monday that the Chicago Police Department has delayed his office's probe of how the police department responded to the protests and unrest that swept Chicago this year.
In response to a question from Ald. Harry Osterman (48th Ward), Ferguson said that if police department officials had promptly responded to his requests, first made months ago, that his review would be complete by now.
But there was a "very, very long lag" in getting the documents he needs to review whether the department followed its own policies, Ferguson said. The review should be complete within two months, he said.
Chicago police spokesperson Karie James said the department would not comment on Ferguson's ongoing investigation.
The city's watchdog is not the only person investigating how the department handled the protests that swept the city starting on May 29, four days after George Floyd died in Minneapolis police custody.
Maggie Hickey, who is keeping tabs on whether the police department is complying with reforms ordered by a federal judge, is also investigating allegations that officers abused protesters and violated their civil rights.
Protesters filed 518 complaints against officers in relation to protests between May 29 and Oct. 1, and 58% alleged excessive force, according to data provided by the Civilian Office of Police Accountability.
During an August federal court hearing, protestors told the judge that officers hit them with batons, used pepper spray against them at close range and punched and shoved them.
Eight officers have been relieved of their police powers in connection with a protest-related complaint, and recommendations that another four officers be stripped of their police powers are pending, according to COPA.
COPA has 170 open protest-related complaints, while another 286 complaints have been referred to the police department's Bureau of Internal Affairs. Five complaints have been referred to Ferguson's office, and another five were sent to state or federal law enforcement agencies for review, according to COPA data.
COPA investigators closed one probe, and administratively terminated 61 investigations. No conclusion was reached in those 61 probes, and that method of closure is used in cases when a complainant does not give a sworn statement or when COPA opts to end an investigation on its own authority.
In a September audit, Ferguson's office found that COPA's practice of administratively closing misconduct complaints "is ill-defined and frequently misapplied."
Several aldermen told Ferguson that they hoped Mayor Lori Lightfoot would appoint him to another four-year term as inspector general during the five-hour hearing on his office's $10.7 million budget for 2021. His fourth term ends in late 2021.
"This city is in a world of hurt," Ferguson said. "The issue of my tenure and whether I continue, I don't have it on my horizon."
Ferguson also declined to weigh in on the debate over whether the full investigation by his office into former Superintendent Eddie Johnson should be released. Ferguson concluded Johnson apparently passed out in his running car at a stop sign in Bridgeport for nearly two hours after consuming "several large servings of rum" at a bar in the Loop in October 2019. 
The police investigation into the incident was incompetent and several officers gave Johnson special treatment, Ferguson concluded.
However, the city ordinance allows the city's top lawyer to release full investigative reports only in cases of high public interest that involve a felony or death.
"There's arguments to be made both ways," Ferguson told aldermen.
Ferguson gave aldermen a glimpse at some of his work in progress, including audits of the city's revamped workers compensation system. Controlled for decades by indicted Ald. Ed Burke (14th Ward), much of the program was outsourced under the oversight of Comptroller Reshma Soni.
In addition, Feguson said he was also auditing spending by City Council committees — taking aim at a cherished perk by the city's most powerful aldermen.
Ferguson's announcement that his office's public safety division, led by Deborah Witzburg, is creating a dashboard to track 911 calls drew the attention of several members of the Progressive Caucus.
Ferguson said that data would give aldermen a clear picture of how many calls involve those needing mental health services — and help aldermen determine how to make changes to the police department in order to fund a holistic approach focused on providing mental health services to those in crisis, as well as a safe place to live.
Pressed by Ald. Rossana Rodriguez Sanchez (33rd Ward) on when that data would be available, Ferguson said he planned to complete the work in three to four months. That would allow six months of review and debate — setting up major changes in the 2022 budget, he added.
The Progressive Caucus has recommended that the budget take funds from the Chicago Police Department's $1.69 billion budget to help fill the shortfall caused by the coronavirus pandemic and the city's rising pensions bills.
Contact Heather Cherone: @HeatherCherone | (773) 569-1863 | [email protected]
---