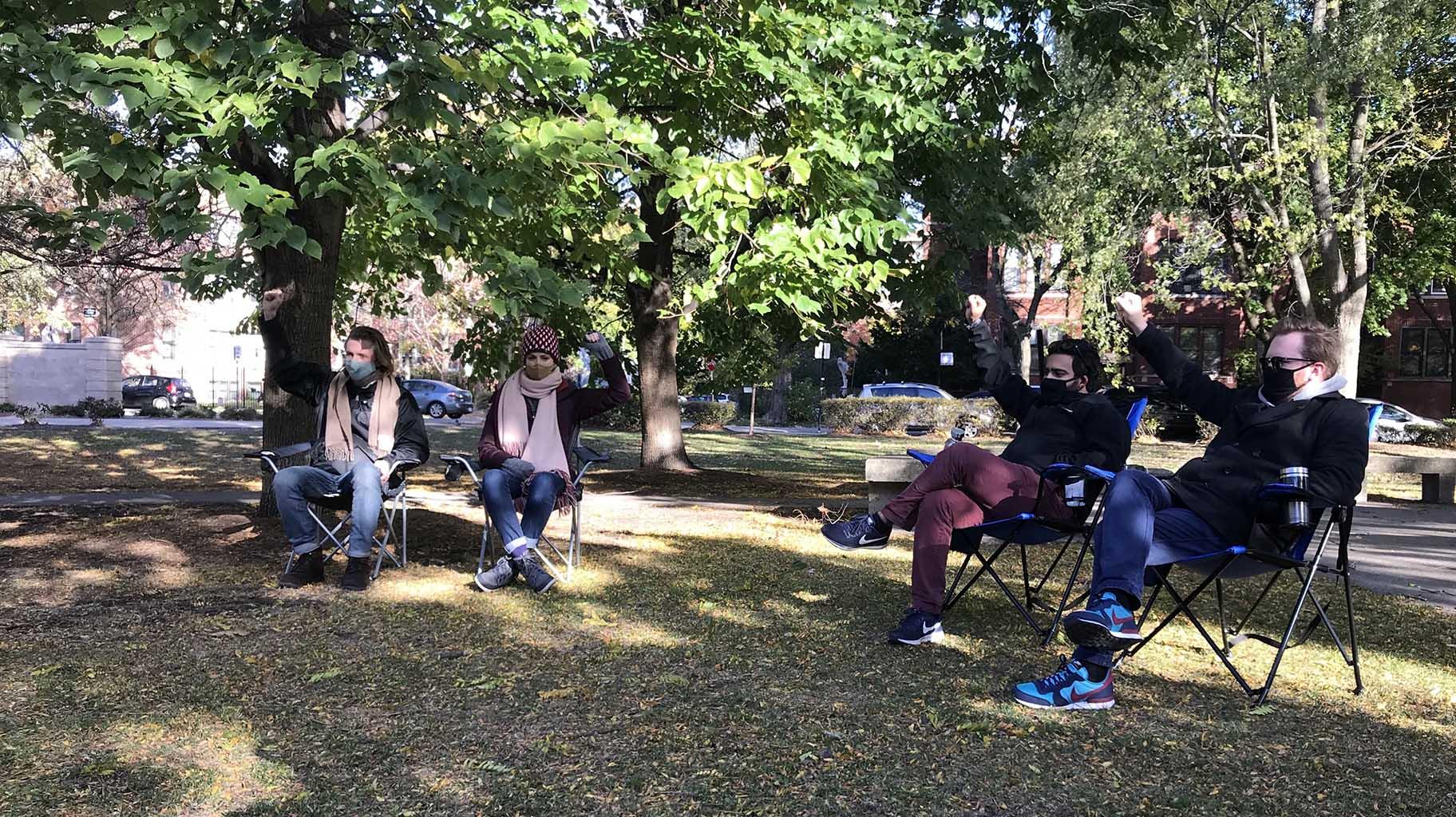 A listening party for the audio play "Good Trouble" in the courtyard of Senn High School on Sunday, Nov. 1, 2020. (Ariel Parrella-Aureli / WTTW News)
Cold weather did not deter Thomas Murray from joining a small group Sunday afternoon for an outdoor listening party of "Good Trouble," a new musical audio play that uses the words of protesters, activists, immigrants and survivors to explore recent social and protest movements.
The premiere was livestreamed across the country, with socially distanced listening parties held in various cities while Blindspot Collective, the California-based theater company that created the work, hosted its own event in San Diego. 
"Something that was happening at the same time in cities across the country seemed really appealing," said Murray, a director and playwright who lives in Edgewater. "I was hoping it was going to be warmer than it was today but it was worth sticking it out."
With live theater performances canceled for the foreseeable future due to the coronavirus pandemic and community events halted, Murray said the listening party was a way to feel part of a community and experience art together again. 
"Good Trouble" is based on interviews with community organizers and activists and includes original music and poetry, plus calls for audience interaction. According to Blindspot, "participants will 'perform a protest' while listening to this audioplay."
The play takes its name from the late civil rights activist and longtime member of Congress John Lewis, whose words open and close the show with moving speeches about the importance of collective action and standing up for a more equal future. 
The play hits on a litany of topics, including the Black Lives Matter movement; the tense political divide exacerbated by President Donald Trump's racist rhetoric; the systematic oppression faced by Black, Brown and LGBTQ communities; immigration; education reform; defunding the police; and perhaps the biggest issue of the year: the coronavirus pandemic. 
The stories are raw, emotional, educational and personal, while illustrating what activism looks like for youth. Filled with narratives from immigrants whose parents have been deported to folks who have lost loved ones to police brutality, "Good Trouble" highlights the issues many young people face — and how they have been fighting to overcome them. 
"Speaking as an elder millennial, it felt like a passing of the baton," Murray said after listening to the hourlong show. "Our generation certainly has not shied away from activism but it felt like I was listening to the next generation assert their moral stand."
Avhi Mishra, a researcher studying public policy who also attended the listening party, said the play gives him hope for the next generation.
"As someone who is an educator and researcher, it made me think about ways in which we engage with younger folks who are just coming out of high school and going into college, and ways in which sometimes academia can be a little disjointed from the urgency of their concerns," Mishra said. 
Jana Ross and Laura Nessler, board members of the local creative collective The Midwives, organized the Chicago listening event held in the courtyard of Nicholas Senn High School in Edgewater. One of the collective's members is part of the Blindspot Collective. Hosting the listening event was an opportunity for them to support one of their own and connect folks to different styles of art-making, which is part of the group's mission, Ross said.
She said reflecting on this moment in history was cathartic.
"I've heard lots of these things expressed in some variation before, but the focus on Gen Z and what they're holding in this moment I found very illuminating," Ross said.
Nessler, meanwhile, was plugged into a Zoom video call during the performance with other hosts and filmed the Chicago crowd. She said listening to the livestream with other people in cities across the country was a unique experience.
"It's nice to [be] in a larger community, especially in COVID times," Nessler said. "It's easy to feel isolated."
The Zoom call did more than bring folks together — it showed that Chicago was clearly the coldest city participating in the livestream, she said. People in California were dancing in summer clothes, while people in Chicago drank tea under blankets, thick scarves and masks. 
As for what she is taking away from the audio play, that's easy, she said: hope, and a stronger awareness of youth activism. 
"I have not a ton of interaction with Gen Z so it made me think more about their perspective more," she said. "It makes me hopeful." 
Ariel Parrella-Aureli is a freelance contributor to WTTW News: @ArielParrella
---