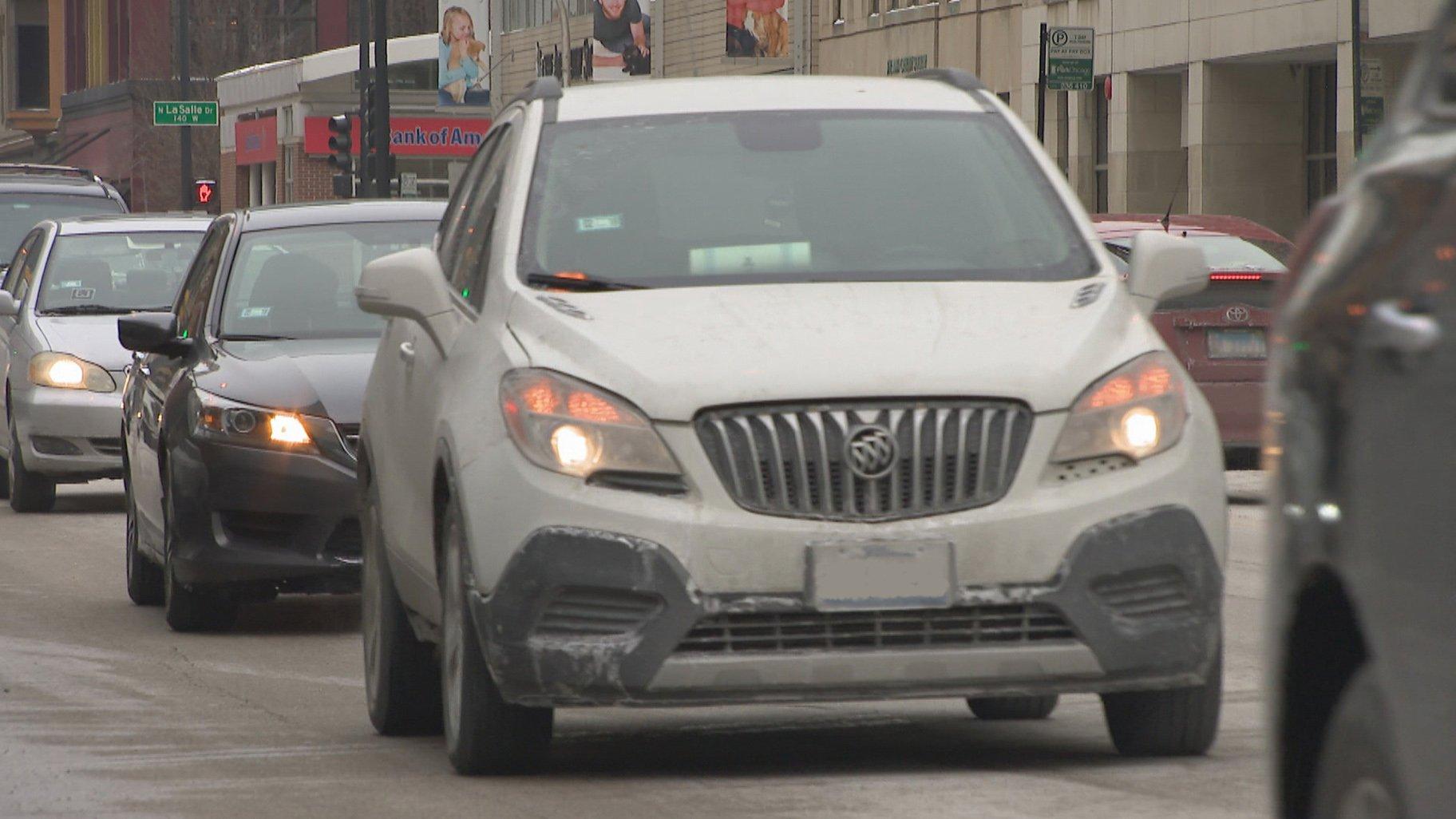 Chicago traffic (WTTW News)
Aldermen urged city transportation officials on Friday to help them repave more Chicago streets, spotlighting a perennial gripe about potholes and rough rides during a budget season like no other.
Every Chicago alderman gets $1.3 million every year to spend as they see fit to fix up roads, sidewalks or other projects designed to spruce up their wards. Some aldermen spend that money after a vote by ward residents, while others use it all for street repaving.
Several aldermen encouraged Chicago Department of Transportation Commissioner Gia Biagi to help them stretch those dollars by using more of her budget to repave streets. Biagi promised to work with aldermen — but was politely noncommittal, since the department's $772 million budget has been pinched by the economic collapse triggered by the coronavirus pandemic and the city's soaring pension bills.
Mayor Lori Lightfoot's $12.76 billion spending plan for 2021 closes a $1.2 billion shortfall with a mix of tax hikes, debt restructuring, layoffs, furloughs and the elimination of vacant positions.
But the issue has long been a sore spot for aldermen with large wards. While redistricting keeps each ward at about 54,000 residents, some wards are much bigger than others and have miles more of roads to keep in drivable condition.
As 47th Ward Ald. Matt Martin pointed out, his ward could fit inside Ald. Susan Sadlowski Garza's 10th Ward — along with several other North Side wards. 
But each alderman gets the same amount of money — regardless of the condition of their ward's roads. That's an equity issue — especially since some of the smallest wards are also some of the wealthiest, and are mostly white, several aldermen said.
An audit released in April 2017 by Inspector General Joseph Ferguson determined the rules have created an unequal system where some wards aren't as well-funded as others — exacerbating inequities between the North and South sides.
But aldermen declined to make any changes, fiercely guarding one of their last remaining perks in an era when patronage has been outlawed.
Known as "menu money" for the list of permanent improvement projects that aldermen get to choose from, the project allows aldermen a pot of money to spend as they see fit — and curry favor with voters.
In 2015, the best-funded ward in the city was Ald. James Cappelman's 46th Ward, which received 88% of what the inspector general's audit calculated it needed.
The worst-funded ward in the city was Ald. Carrie Austin's 34th Ward, where it received only 15% of what it needed, according to the audit.
Austin was one of the aldermen who objected to the current system — which Mayor Lori Lightfoot has not sought to change, even though she has made equity and development on the South and West sides priorities during her administration.
Aldermen also lodged a number of complaints with Biagi about scooters as a second trial run designed to determine whether the two-wheelers can help reduce congestion and solo car trips rolls on. 
Others urged Biagi to do more to ensure that lights along city streets and alleys are promptly replaced since dark spots can pose a safety hazard.
Biagi also defended Lightfoot's plan to use automated speed cameras near parks and schools to issue $35 tickets to cars driving a minimum of 6 miles per hour more than the posted limit. 
While the mayor's budget relies on $38 million next year from increased fines and penalties, including speed-camera tickets, Biagi said the move was designed to reduce a growing number of fatal crashes involving bicyclists and motorists that she called "a crisis."
With the streets emptied by the coronavirus pandemic, there has been a "dramatic increase in vehicle speeds due to fewer vehicles on the road," Biagi said.
Crashes in Chicago killed 100 people through the first nine months of 2020, a 40% increase as compared to all of 2019, according to data provided by the Chicago Department of Transportation. However, it was not clear how many of those crashes were caused by excessive speed.
Ald. Maria Hadden (49th Ward) said the city should not approve a budget that relies on "nickeling and diming" residents.
Contact Heather Cherone: @HeatherCherone | (773) 569-1863 | [email protected]
---