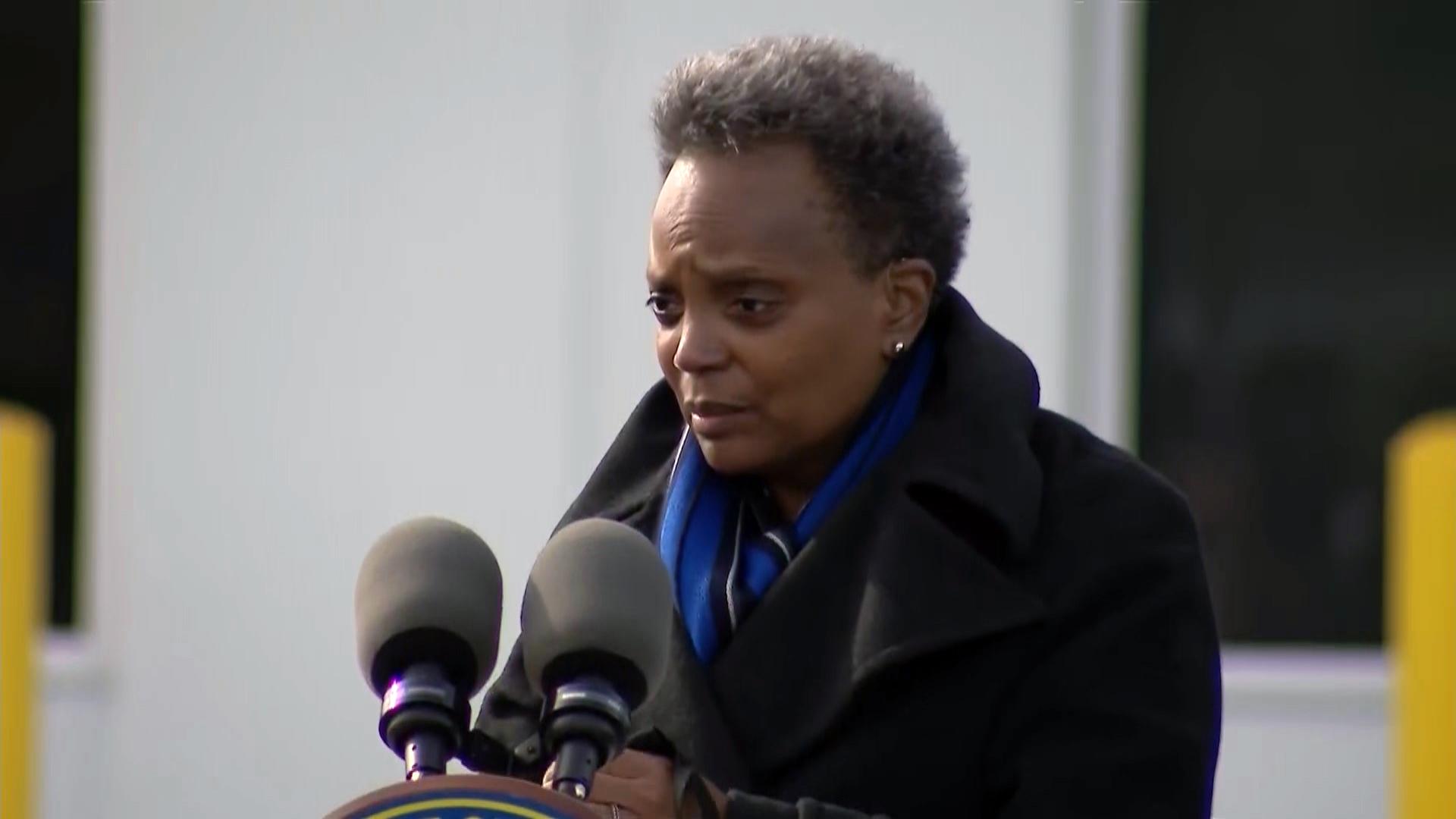 Mayor Lori Lightfoot speaks in Pullman on Wednesday, Oct. 28, 2020. (WTTW News)
Mayor Lori Lightfoot said Wednesday that she did not ask Gov. J.B. Pritzker to give Chicago "special treatment" when she objected to his order to suspend indoor dining and drinking in Chicago to stop a dramatic surge in coronavirus cases.
Lightfoot said she spoke with Pritzker for about an hour on Wednesday, a day after the serious split between the officials leading the effort to stem the pandemic spilled into public view.
Twice Lightfoot called that discussion "very frank," a turn of phrase often used by lawyers and public officials to politely signal a profound disagreement.
"We explored a lot of issues and we came out of that discussion really committed to making sure that we work hard together," Lightfoot said, emphasizing that her concern was for the restaurants that have been "hanging on by a thread" during the pandemic and may have to close at midnight Friday and not reopen. 
The two Democrats both held unrelated and separate events in Pullman on Wednesday, but did not appear in public together.
During an interview Tuesday evening on the "PBS NewsHour," Lightfoot said she had asked Pritzker to reverse his order. The governor declined, saying his approach was guided by scientific data.
Pritzker ordered the restrictions after Chicago recorded a significant increase in its test positivity rate during the past month, as well as a sustained increase in coronavirus-related hospitalizations for more than seven of the past 10 days.
In July, the Illinois Department of Public Health published its Restore Illinois Resurgence Plan, which laid out the metrics that would trigger restrictions on nonessential businesses and gatherings. 
Pritzker's actions on Tuesday followed that plan.
Lightfoot again suggested on Wednesday that closing Chicago bars and restaurants to indoor dining might not be effective, since two-thirds of new confirmed cases of the coronavirus stem from close contact with a friend or relative, rather than a stranger at a bar or restaurant.
"We are following the science," Lightfoot said. "Things are nuanced here in Chicago — they're different than what we've experienced." 
The governor's order came five days after Lightfoot reimposed restrictions on Chicago bars — closing those that do not serve food entirely — and ordering nonessential businesses to shut down at 10 p.m. and ordering all liquor sales to stop at 9 p.m.
Lightfoot's restrictions took effect Friday and will be in place for a minimum of two weeks, according to city officials.
Pritzker has repeatedly told reporters he was confident there was a causal relationship between the fast spread of the virus and indoor dining and drinking, citing studies from a variety of sources.
Lightfoot can impose tougher restrictions in Chicago than those ordered by the governor, but she cannot overrule his order.
An average of 818 Chicagoans have been diagnosed each day with the coronavirus during the past week, a 34% increase from the previous week, according to Chicago Department of Public Health data. The city's average test positivity rate is 7.6%, while an average of 15.9% of all people tested for COVID-19 have the virus, according to the data.
Confirmed COVID-19 cases in Chicago are growing as fast as they did from March 19 to March 31, when Pritzker ordered Illinois residents to stay home and shut down nonessential businesses. Cases are doubling every nine days, Chicago officials said Tuesday.
If the state-determined test positivity rate drops below 6.5% for three days and there is a decrease in hospital admissions during the same three-day period, and the three-day rolling average in availability of intensive care beds is greater than or equal to 20% during a seven-day period, the state restrictions will lift in Chicago, state officials said.
Contact Heather Cherone: @HeatherCherone | (773) 569-1863 | [email protected]
---