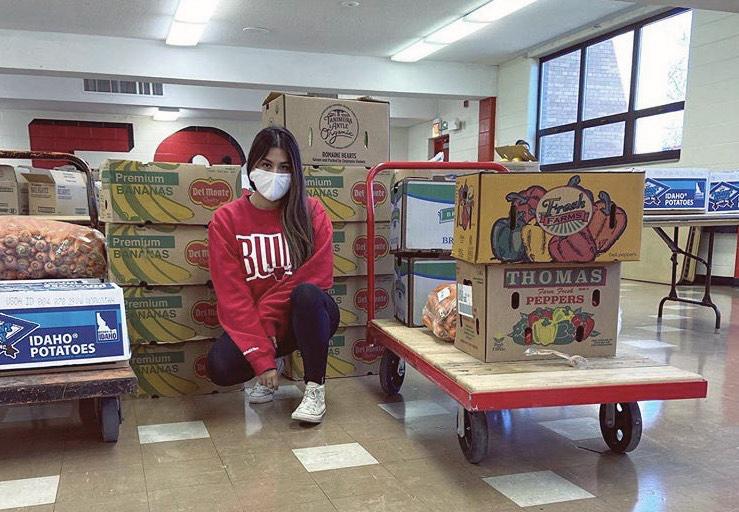 Elizabeth Morales, founder of Del Dia Chicago, sits with boxes of fresh produce she gets every week from farmers. (Courtesy Elizabeth Morales)
As a child, Brighton Park native Elizabeth Morales remembers driving with her mother to the city's North Side for dance classes that weren't offered on the South Side. She spent seven years dancing in festivals and performances, but the drive was far and long, and Morales' mother could not afford to keep it up.
"I tried to find something similar in the realm of 'Musica Latina' dance classes down South and there was nothing," said Morales, who was 12 when she stopped taking classes up North.
The experience left a lasting impact on Morales, now a 29-year-old teacher and community service organizer. She started Del Dia Chicago in 2017, an after-school program offering extracurricular activities like dance classes and health and nutrition workshops for youth, and English classes for immigrant parents at a Little Village storefront, all with a focus on healthy eating to boost education, engagement and opportunities for low-income families.
Morales' mother, who has worked in the food industry for a decade, played a key role in the program's direction. She would come home with pounds of fresh food from area farms that would otherwise go to waste, which inspired Morales to start providing youth with healthy snacks at Del Dia.
The response was so positive that she expanded the program to help those experiencing homelessness on the South Side as a way to show older youth the importance of community service, especially as a way to get them off the street and away from violence.
"We started to feed our friends on the street, writing nice things on bags, for our youth to realize that a simple gesture can go such a long way," she said. "With that, we were able to teach our families about produce."
When the coronavirus pandemic hit, Morales was compelled to increase the group's efforts to support families already struggling with food insecurity and access to fresh produce. She and her team increased their partnerships and expanded the program to the South and West sides, officially naming it Feed the Crib. 
At the start of the pandemic, Morales says her team fed more than 600 families every week for 20 weeks straight. They have worked with organizations like Save Money Save Life, founded by Grammy-nominated artist Vic Mensa, and Love Fridge Chicago.
Community members have greatly supported Del Dia's work, Morales said, with donations of food and money that have helped the group continue serving families in need. They also purchase produce and receive donations from over 400 farms based in the Chicago area and Central America that are already delivering food to Chicago. As winter approaches and many local farms plan seasonal breaks, Feed the Crib will keep working, prepping bags at Twisted Cantina in Pilsen. 
"We are blessed to say that all of our products will still be at our fingertips," Morales said. "The only thing that will change is the type of food we are giving out because with seasons, things change."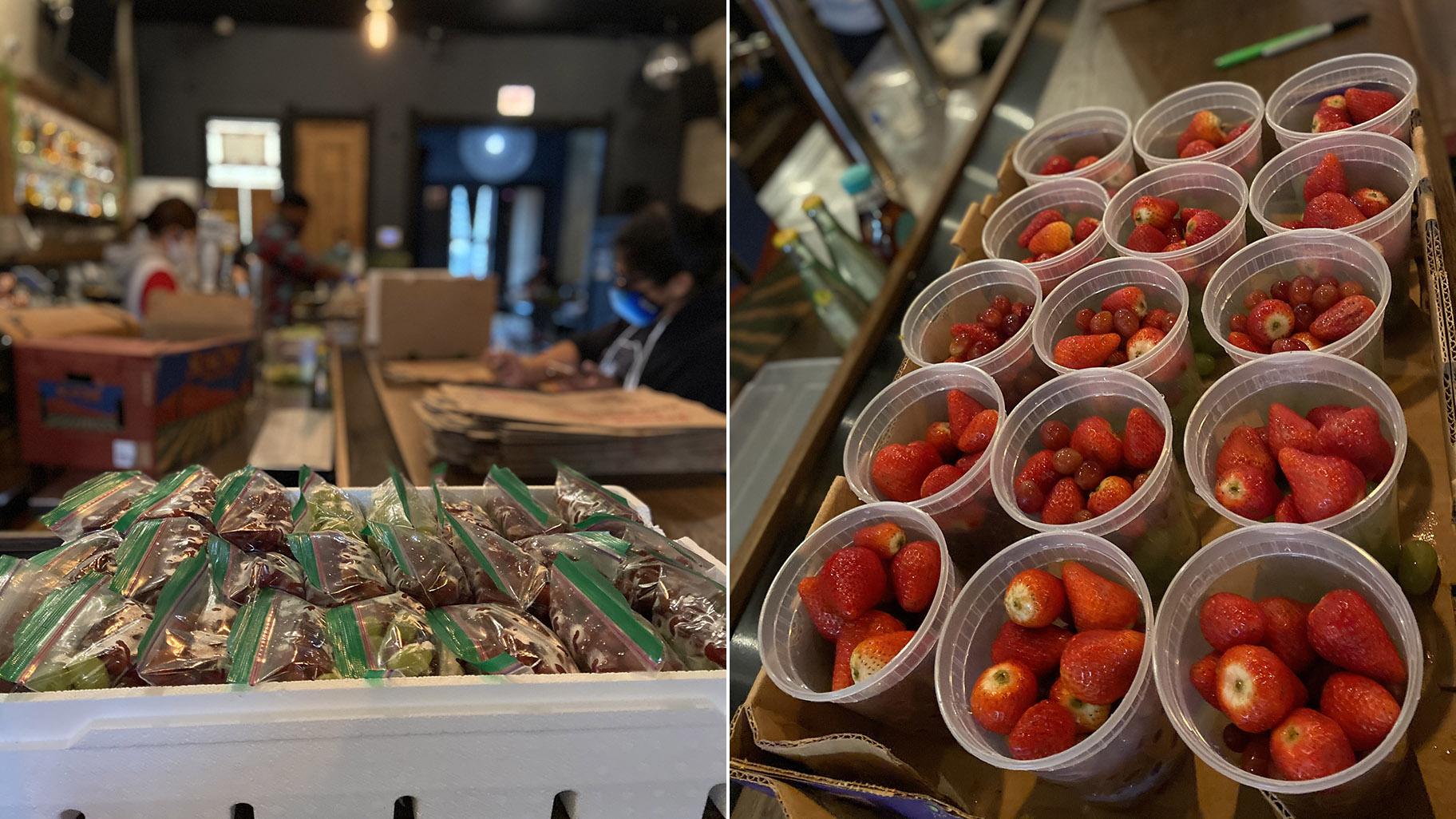 Del Dia Chicago volunteers prepare bags of fresh fruit and vegetables at Pilsen bar Twisted Cantina as part of its partnership with AIDS Foundation Chicago. (Courtesy Elizabeth Morales)
Feed the Crib's latest partnership is with AIDS Foundation Chicago. Since its launch on Sept. 16 — Mexican Independence Day — Feed the Crib has been delivering bags of produce each week to 70 families living with HIV who are experiencing homelessness. It's part of a new project launched by AFC, with funding from the Chicago Department of Public Health, called Hotel to Home, which works with downtown hotels to house people living with HIV and to protect them from COVID-19, then quickly connect them to permanent housing options. 
Pete Toepfer, senior vice president of housing for AFC, said his team reached out to Morales after seeing the group's impact in the community — and its potential to help those living with HIV who are facing housing insecurities.
"When we decrease homelessness, we are ensuring that people can then manage other things that are important in their lives, rather than those basic necessities of survival," Toepfer said.
Partnering with Feed the Crib is also in line with AFC's Zero Illinois mission, which aims to end the HIV epidemic by 2030. But that's difficult to do when people don't have access to adequate food, health care, housing and safe sex needs, he said.  
"It's important to lift up individual stories and examples of what is happening right now," Toepfer said. "For us, it's about food insecurity, which stems directly from racial justice issues."
He says during the pandemic, Feed the Crib has gone above and beyond in serving families in need by getting to know them as individuals, including which fruits and vegetables they like best. They even slice produce and individually wrap it for families with children who don't have time to cook or live in a hotel without a kitchen.
True to her educational roots, Morales plans to include recipes with future bags so families can easily prepare healthy meals.
Because the initial effort has gone so well, Feed the Crib will now start serving 230 additional clients in the AFC network who live in more permanent housing across the city.
"It's been amazing to see [the impact]," Morales said. "I get choked up thinking about it because seeing how far something simple that we already had at our fingertips has gone so far in our city."
Morales and her volunteer team of 13 — which includes her mother, who nearly died from COVID-19 but has since recovered — are happy for the mission that keeps on giving. But they need help delivering food to the new AFC families. Those interested in helping with delivery can sign up online. 
As Feed the Crib grows, Morales said it represents the power that can be created when everyone lends a hand. And at a time when it seems that adversity can be found at every corner, we need to keep pushing together, she said. 
"We believe in collective work because as a unit we have seen that we work so much more effectively with other organizations," she said. "We also wanted to teach our youth that when you put two and two together, you can make so much happen."  
Ariel Parrella-Aureli is a freelance contributor to WTTW News: @ArielParrella
---